This report covers:
Back story
A mouse gun?
Bullard holster
The range
Discoveries
What it means
More shooting
|Summary
I have a very different one for you today. What a great way to start the new year!
Back story
Remember that I started this report series because I carry a Sig P365 9mm pistol as my concealed carry weapon in my duties as a watchman at my church. Here is how I started Part 1.
"This report was never supposed to become a series, but because of the events that have occurred that has happened. I started out by using the Sig P365 BB pistol as a trainer for my P365 9 mm firearm that I carry concealed. I'm a watchman at my church and the pistol is an unfortunate but necessary accessory for that job. We all know I can shoot a handgun pretty well, but what about in a defensive situation? That's very different than target shooting."
Well, as time passed I wondered how well I could do with the firearm, so after training with the Sig BB pistol I went to the firearm range and started drawing and firing my 9mm P365 for time.
In that training I learned several useful things. I am fast enough on the draw from concealed to get the job done (3 seconds) and I'm pretty accurate with my firearm. I found two Sig magazines that failed to feed because of weak springs. I have upgraded those magazines with stronger aftermarket springs and the gun seems to function as it should again.
The Sig P365 9mm pistol is ideal for my purpose. It's accurate, easy to rack (pull the slide back to chamber a round), has a decent trigger pull and at 24 feet (remember that I backed up from the target in Part 3) I can keep them all in the 10-ring of a bad guy. I can also double tap which makes the shots stay closer together.
A mouse gun?
The 9X19mm Parabellum round is a lower-powered pistol round that really isn't in the "mouse gun" category like a .32 ACP and a .380 ACP. Modern 9mm rounds have good defensive bullets and the round is in the .38 Special category for power.
I have always favored the .45 ACP cartridge for its proven success in the field of defense, but until recently the pistols chambered for that round were too large to be easily concealed. Sure, there are concealable holsters for 1911s, but how fast can a sword-swallower run when he has a cutlass hilt sticking out of his mouth? My P365 conceals easily in a Bullard leather holster.
But I wondered about a .45 because my late wife, Edith, carried a Glock 36 in .45 ACP in her purse. The only time she was without that pistol was when it was illegal to carry it, such as in the Post Office or a municipal building. I still have that pistol, of course, and I wondered if it would make a good defensive sidearm. It's almost as small as the P365 and the few times I have shot it I was impressed by the accuracy and by how light the recoil felt. See where this series has taken me? And you guys call ME the great enabler!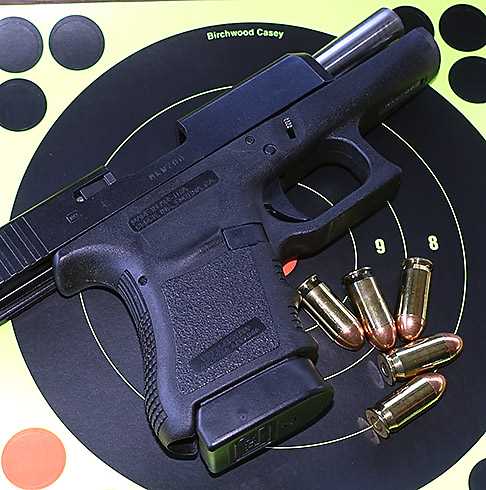 My Glock 36 is a .45 ACP.
The Glock 36 holds 6 cartridges in the magazine and one in the chamber for a total of seven shots. That's roughly half of the 12 shots my P365 holds, but because it is a .45 a double tap isn't needed.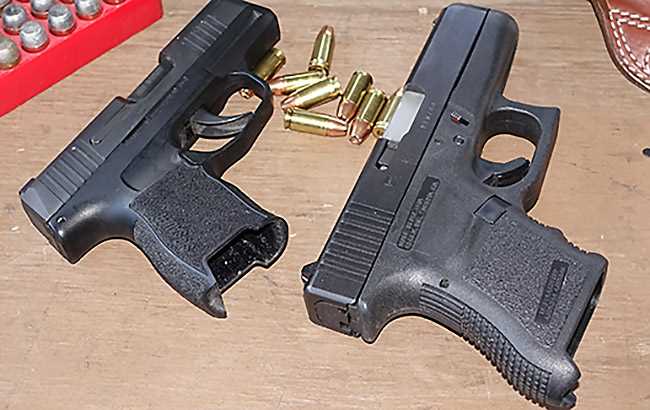 The Glock 36 (right) compares favorably with the Sig P365.
The Glock is extremely hard to rack. But it is safe to carry it cocked with a round in the chamber, and that's how I do it.
Bullard holster
This got me wondering whether it was worth investing in a Bullard holster for the Glock. I decided it was and wrote the cost against this blog series, though I paid for the holster out of my own money. I just figured that a couple reports made it worth my investment.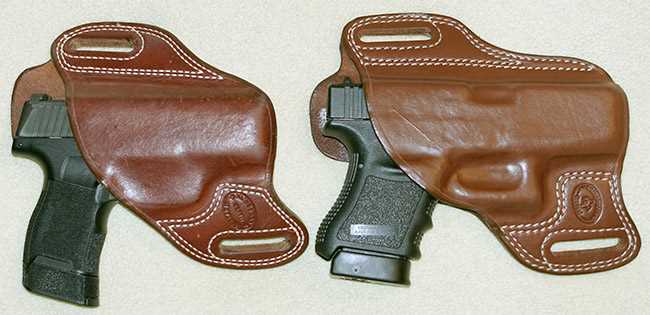 The size comparison between the P365 and the Glock 36 is easier to make when they are holstered. Glock on the right.
I tried the holstered Glock on for size and it fit nicely. But how did it do on the range?
The range
This time I stood at 21 feet from the target again because this is a new pistol I'm not familiar with. When I drew the pistol it seemed larger and clumsier and it didn't seem to point naturally like the P365.
The first shot felt light and went close to the point of aim, so no problem there. But the Glock's sights are not as easy to acquire as those of the P365 so perhaps a half second more time was spent acquiring the target.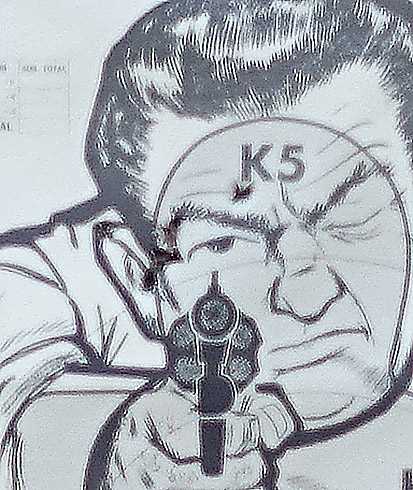 With the Glock I tried single shots to the head. In self-defense there is a saying, "Two in the head and you know they're dead." This is six shots in the target's head from 21 feet. One gave him a pierced ear and the other five went inside the K5 ring where they were supposed to.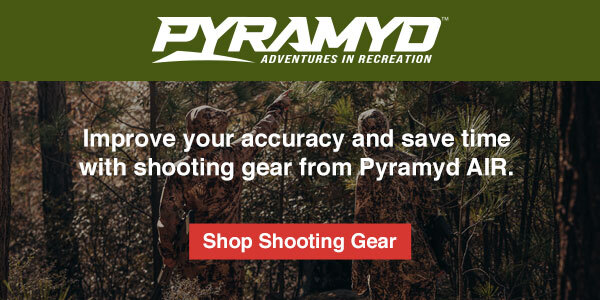 Discoveries
I did discover that the Glock is extremely picky about the ammo it will feed and chamber. I'm used to the 1911 platform that feeds ammo like mercury through a sieve. The Glock is more like a Whack-a-Mole game. It likes just certain rounds and no others. And forget reloads — especially mine. Fortunately for me my Wilson Combat 1911 that is even more accurate than the Glock accepts all my handloads with ease.
The Glock 36 is quite accurate, and the recoil is minimal. But the grip is awkward for my hands and the sights are extremely difficult to acquire quickly. In my mind that makes the pistol a no-go for self defense.
What it means
What this means is I will continue to carry my Sig P365 as my concealed carry weapon. It's faster out of the holster, has a more natural grip and has better sights than the Glock. Those are all important reasons to stay with the 365.
More shooting
I also shot the silhouette's body. My shots go to the left whenever I go fast. After shooting the Glock I went into action with my P365. My neighbor Denny gave me a 12-inch Shoot-N-C bullseye to paste on my target's chest.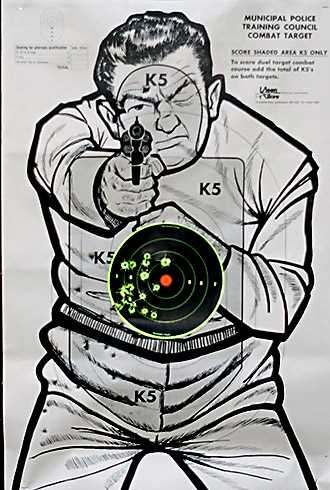 I shot both the .45 Glock and the 9mm Sig at the silhouette target many more times that day.
Summary
I find the Glock 36 to be an excellent sidearm, but perhaps not one for me to use for defense. I was surprised by its accuracy when used intentionally, but not as much when called on in a hurry — at least not for me.
I do plan on giving this pistol another chance. There is no Glock 36 BB pistol that I know of, so I won't be able to go that route. Oh, if you search you will find Glock 36 airsoft pistols and the people who sell them call them BB guns, but we know they aren't. They are airsoft, and only because the Asian makers call their 6mm plastic balls BBs so these guns get called BB guns. You may have a Trane air conditioner but good luck getting a ticket to ride it anywhere!