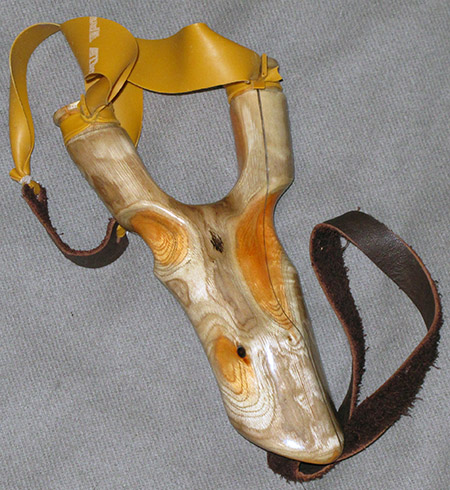 Slingshot reader Vana2 made for me of buckthorn wood.
This report covers:
Ammo
Ooops!
Targets
How hard
The shot
I got better
Notes to myself
Summary
Today I begin to shoot the slingshot that reader Hank made for me. I figured this would be a short little report because how hard could it be? I am, after all, BB Pelletier. I figured I would start out at 10 feet and within a few minutes I'd be shooting the center out of the smallest target I could find at probably 50 feet, if not farther.
Ammo
I wrote in Part 1 that I ordered two types of ammo — some 8mm steel balls Hank recommended and some 8mm (roughly) clay balls that I found on eBay. Both arrived before I shot the slingshot for the first time last Thursday. But I thought I should just stick with one type of ammo, just to keep my groups under one inch at all distances.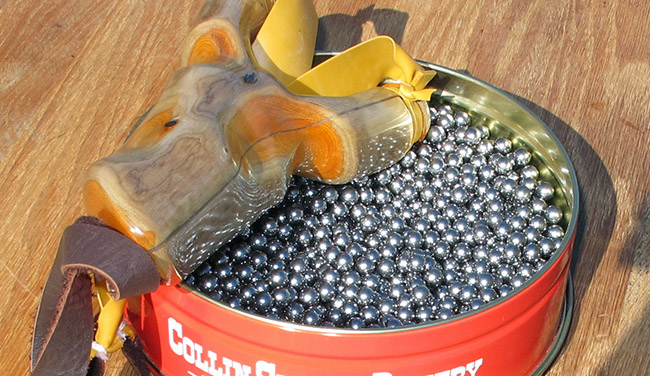 There were roughly 1500 8mm steel balls when I started.
Ooops!
The steel balls came in a sealed plastic bag inside a small cardboard box. Fifteen hundred balls weigh about 9 pounds which is important to my story because I carried them into my tile-floored kitchen prior to taking them outside to the back yard. I carried the box with one thumb inside the box and the rest of my hand pinching the outside of the lip of the box. That's also important to know because the tensile strength of the cardboard box was about 8 pounds. So, just as I crossed the threshold of my kitchen, the box ripped out of my hand dropping the sealed plastic bag of steel balls onto the tile floor where it became unsealed, spilling about 1,000 steel balls in all directions. Had it dropped just a few feet before, the bag would have hit my padded living room carpet and perhaps not opened at all, but if it had opened the steel balls wouldn't have rolled too far. But, steel balls on a tile floor? Disaster!
I spent the next 20 minutes going around the kitchen floor with a powerful magnet on a 3-foot string. Why do I have a powerful magnet on a 3 foot string? I'm an airgunner. As the father in the movie A Christmas Story told little Ralphie Parker who was loading his Christmas present Daisy Red Ryder, "Be careful. They go everywhere." They do, indeed! I was still picking up balls a day later.
Targets
I went to a local sporting goods store to buy Shoot-N-C targets. I bought a pack of 12-inchers that I figured might be good when I backed up to 50 feet. A pack of 8-inchers were for closer encounters and a pack of 6-inchers for the 10 meter shots. After all, how hard can it be?
For a target trap I selected a 10×15-inch cardboard box that I filled with rubber mulch. As you will see, the 12-inch Shoot-N-C target didn't completely fit on the face of the box.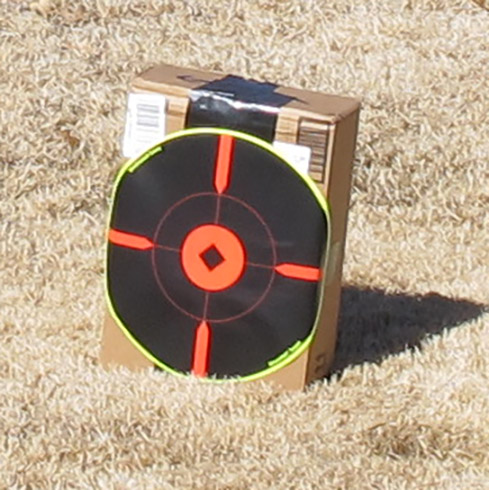 The 12-inch Shoot-N-C target was wider than the backer box. Oh, well, how hard could it be?
How hard
Based on what I watched on You Tube I saw that I had always held a slingshot incorrectly. Or at least that is what the experts said. And they all agreed. Hank said the same thing. So in an uncharacteristic move, I listened. No problemo.
I moved up to 10 feet from the box for my first shot. Naturally I was going to put the ball in the center of the target, but in the infinitesimal possibility that I missed the whole box, having the box sitting down on the ground gave me the entire lawn to stop the ball. But surely I wasn't going to miss. How hard could it be?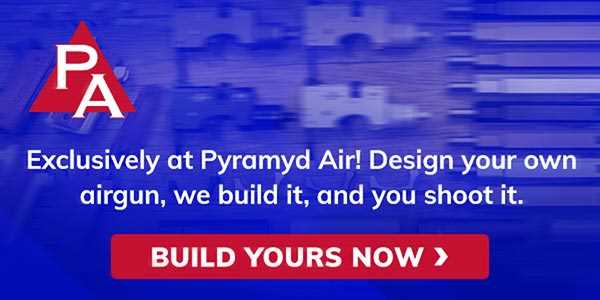 The shot
I shot. Nothing.
I missed the entire box! Not once. Not twice but four straight times. From 10 feet. Then I grabbed the slingshot the way I always held them and put a ball into the target. Yeah, I can hit the target that way, but my old way isn't the way to be accurate. Now I knew how hard it can be.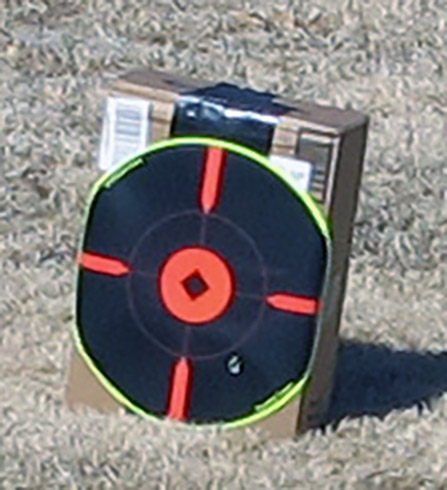 When I held the slingshot the old way (like a hammer) I at least hit the target, but not where I wanted.
What was I doing wrong? Well it's pretty hard to watch yourself when you are the one doing the thing you want to watch, so I called my neighbor, Denny, over to watch and take pictures. He took 10 minutes to get there, so I shot some more — using the recommended grip. And it began to dawn on me — I was shooting way low. So I raised the right fork leg of the slingshot until I was afraid of shooting over the fence. When I did that I hit the box for the first time. While holding the slingshot correctly I connected low on the box.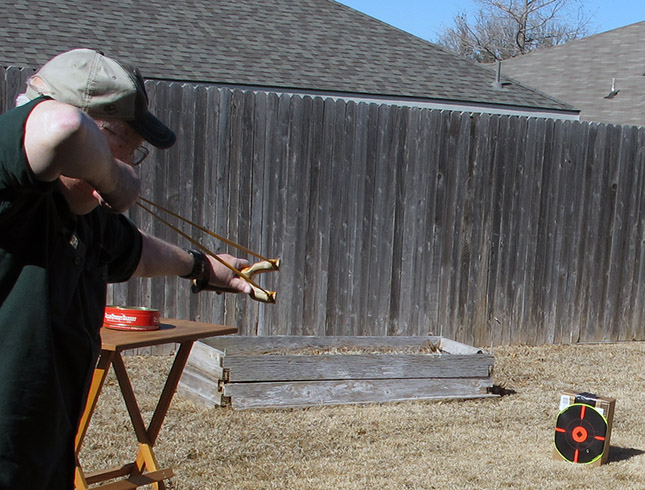 Now that I see this picture in the comfort of my office I see that I am holding the right leg of the slingshot low. I didn't see that when I was shooting. I was "aiming" by sighting over the top band, which is how the experts say to do it. I think I need to revisit this next time.
I got better
After this experience I got better quickly. I backed up to 15 feet and shot a lot, now that I knew where to hold the slingshot. I also found that I was shooting instinctively, rather than sighting along a specific plane.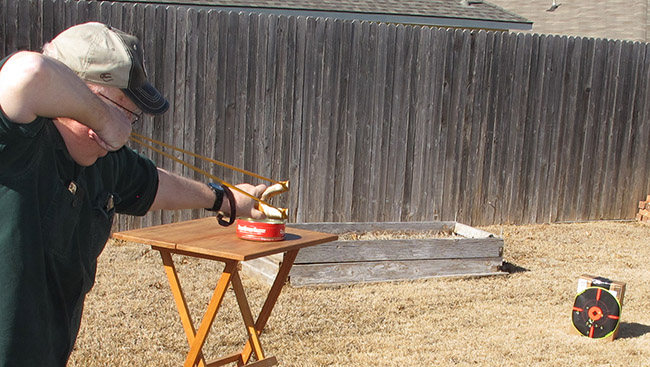 Once I got my bearings I started hitting the target where I wanted, or close to it.
I'm not proud of my target except for one thing. At the bottom of the target there is a small "group" where at least a dozen steel balls passed through. The aim I was taking felt weird, but I did it so consistently that I put a dozen balls out of 23 into the same place.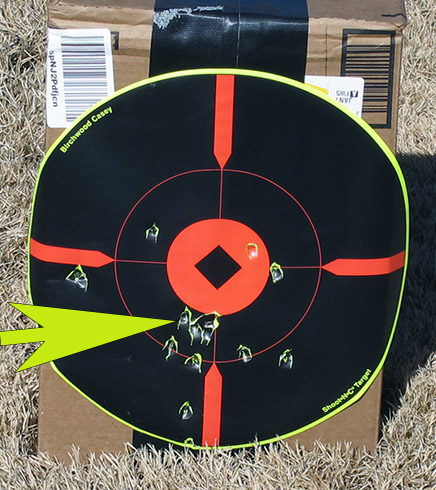 You're looking at 23 shots on the target, with at least 12 in the small group indicated by the arrow and two more on the left just above the arrow.
Denny tried his hand at it, too and had nearly the identical experience as I did. He started out missing the box from close up and ended by hitting the target.
Notes to myself
This report is a series of notes to myself about how to shoot a slingshot. I have to remember to not sight the way the experts recommend (or at least how I thought they recommended), but to modify my hold until I can repeat the hits. Instinct shooting seems better than sighting. In the end though I think it is a combination of sighting and instinct shooting that will win the day.
Next time I want to back up a little and also to try the clay balls I also have.
Summary
There is more to shooting a slingshot than I imagined. And the accuracy that's possible is greater than I imagined. I think this is going to be a fun series.