This report covers:
Rolex watches
Fakes
Airguns?
Where is the B40 today?
No politics
Summary
Today we're going to take a not-so-sentimental journey through the recent history of airguns. The "not-so sentimental" part of this journey is the pie in the face that some (many?) will get as we explore the development of airguns in recent years.
Rolex watches
And of course the natural place to start our journey is with the Rolex watch. Now, Rolex hasn't published the number of watches they make per year for many years. But since each chronometer they make must be individually certified by Controle Officiel Suisse des Chronometres (COSC — the official Swiss Chronometer testing institute), and, when they last published the number for Rolex in 2015 it was 795,716, everyone agrees that today it's probably about one million watches per year.
Most Rolex watches are not dress watches. They are rugged timepieces suitable for explorers, scuba divers, cowboys, Mike Rowe, soldiers and anyone who works in a rough environment. But they have become fashionable to wear on all occasions and therein lies our story.
Rolex watches cost a lot of money. And, because the demand for them exceeds the supply, they sell for twice to even three times their official retail price. With some going for up to just over a million dollars (and most models going for $35,000 or less) they may seem expensive, but when you compare them to Patek Phillippe, Audemars Piguet and other premium brands they pale, in comparison. Try $10,742,000 for a rare Patek Phillippe!
Fakes
When something is both desirable and expensive you get fakes. Thirty years ago a fake Rolex was a quartz watch that could be spotted across the room because its second hand jumped forward with each passing second. The mechanical Rolex second hand sweeps around the dial smoothly. The name on the fake's dial could have been Brolex. BB has owned such watches.
Today a "fake" Rolex isn't called a fake. It's a clone. Rolex clones sell for $200, $500, $900, $1,100 and the very best of them, which are called 1:1 super clones, sell for $3,000+. The best ones use the same Swiss watch movement that Rolex uses, the same case materials, the same sapphire crystal and the same bracelet materials. They weigh the same and keep time just as well. You can see them on You Tube (look for 1:1 Rolex clone), with people magnifying them up to 200 times to show how they differ from the real thing, and now some super clones have certain features that are even better than the same features on the Rolex models they imitate.
When You Tubers asked the clone watchmakers in Asia how they were making such vast improvements in their clones, they said they watched You Tube and saw the discrepencies people were pointing out. Hmmmm. I guess you could do it that way.
What this has done is turn around the luxury wristwatch market. People used to say, "Some folks can't afford a Rolex, and these fakes are great for them." Now they are magnifying the clone watches 200 times and saying, "If it's just as good as a Rolex, less expensive and available — why buy a Rolex?"
Airguns?
And what has this to do with airguns? Everything, as it turns out. Just yesterday Ian McKee showed us that his $320 standard Airacuda is just as accurate as his $1,695 Daystate Wolverine. And it hasn't been too many weeks since I showed you that my $665 PCP named "BB's Goldie" that is a painted version of the $350.00 Air Venturi Avenger is slightly MORE accurate than my $1,800 Air Arms S510XS with Laminate Stock. Now, the triggers on both low-priced airguns were not as good as the expensive ones, so where do you think the manufacturers should concentrate their efforts next?
Do you see where this is going? If not, here is another hint. In the early part of this century I owned a BAM B40 underlever air rifle. Let me show you a picture of it.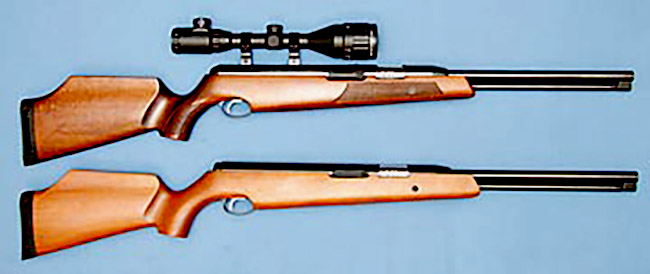 That's my beloved TX200 Mark III on top and the BAM B40 below. Not only did the B40 look like the TX200 — it was just as accurate and the trigger was almost as nice!
Where is the B40 today?
Well, as it turns out, to make an airgun that's nearly as nice as the TX200 Mark III, you have to spend a lot of money. And people don't like to pay a lot of money, so the B40 went away after a few years. As I recall the B40 last sold for around $250 when the TX 200 was selling for around $350. Hey! How is that different than the three-thousand dollar 1:1 super clone Rolex that copies the $13,000 Rolex Submariner (that really sells for $18,000 because of the high demand)? How is it different, you say? Because the fake/copy/clone is made in China or Malaysia and you wouldn't buy anything from them!
Oh, yeah? What about your Chevy truck?
"My Chevy truck was made in Fort Worth, Texas," you say! Yep, and it probably contains computer chips that were made in China! In fact there has been a computer chip shortage in the US that has slowed and even halted automobile production in this nation in the past few years. However, in 2021 the US passed the CHIPS Act that provides $52 Billion in grants and loans to create computer chip manufacturing capability. And guess what, chips are now abundantly available — from Asia! Hmmmm — maybe there wasn't a shortage after all?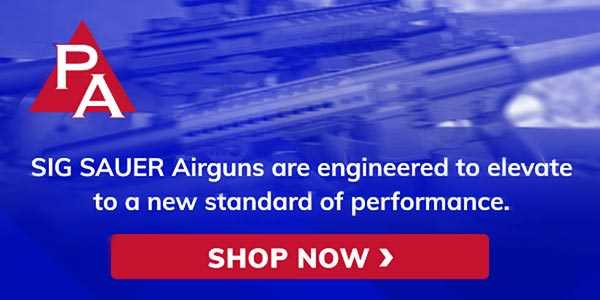 No politics
I don't want to get into politics in this report, but listen up, because here comes the "not-so sentimental" part of today's report. Maybe, before we say we will never buy products that are made in certain countries, we should examine things. Airguns are back burner items compared to wristwatches and way back burner to automobiles, but the lesson is every bit as germane. The "other guys" (foreigners, them, those who are not us) aren't stupid. We airgunners have derided the Chinese airgun manufacturers for decades when it was really the clueless American airgun buyers who were holding us back. The Chinese watched the market, too, and they discovered what we airgunners said we wanted. And some companies like Snowpeak and Nova Vista caught on. And American companies like Air Venturi have used real airgunners like Tyler Patner to get with these companies and give us airguns like the Dragonfly Mark 2. That is the real story today.
Yes, shoot the spy balloons down BEFORE they cross our borders. Don't put it to a committee. Yes, fund NASA if you want to retain a presence in space, and quit getting angry about SpaceX poking their finger in your eye. Turn it around and reward them for doing the job you were created for (but were too underfunded, politicized and afraid to do).
Summary
Guys, the world airgun market is changing. The world everything markets are changing, but we're just talking about airguns today. We see some older and established companies following failed marketing plans that were good twenty years ago but are the kiss of death today. And we see some smaller companies that understand rising to become the new kids on the block.
There — that should give you something to talk about this weekend! Talk amongst yourselves and smoke 'em if you got 'em!