This FN_90 PDW is a modern example of a bullpup.
This report covers:
Not used for black powder
Nelson Lewis combination gun
Blew it up
Back to today
Why bullpups?
Reader Mel said,
Reader RidgeRunner said,
Reader ISCC said,
Reader hihihi said,
Bullpups today
Airguns
BUT
Triggers
Summary
Today we're going to look at the bullpup rifle design because I sense from the comments that some of you don't know what they are. From what is said it seems to me some of you think they came from airguns. They did not. Bullpups came from firearms, and you have to go back at least to the late 1940s to see the first ones.


This Winchester model 70 in .257 Roberts caliber is a bullpup from 1954. Look where your cheek sits!
The early bullpups were mostly bolt actions like the one shown above. That meant that your cheek sat on the action where 45,000 to 50,000 psi of pressure was generated with every shot. The bolt action design drove that fact home.
Not used for black powder
The bullpup design was never used for black powder, as far as I know. You may find black powder bullpups today, but I am talking about the arms that were made in the 19th century and earlier.
I think I know the reason for this. A percussion black powder firearm has a nipple for the percussion cap, so on a bullpup your kisser would be sitting next to a hollow tube behind which is 25,000 psi of pressure on every shot. Trust me — I know because my 1865 combination gun made by Nelson Lewis blew up in my face several years ago! Time for a sidebar.
Nelson Lewis combination gun
Back in 2012 and 2013 I shot my Nelson Lewis combination gun for you several times. I was trying to teach you things about accuracy. But that gun was made around 1865 and in October of 2012 I did something stupid with it. I blew it up! Let's see.

My Nelson Lewis combination gun.
Blew it up
That's not entirely accurate. What happened is the nipple that accepts the percussion cap was blown out of the barrel and right past my face. When it went, it sheared off the hammer lug that connects the exposed hammer to the sear. I never found the nipple, but the hammer was lying on the shooting bench next to the gun. When my shooting buddy, Otho, asked me if I was okay (he was standing behind me, having a premonition that something bad was about to occur), I answered, "NO" for the first time in my life. Usually, guys will say everything is okay right after they've sliced off their thumbs with a circular saw, but this event was so startling that I wasn't really sure what my condition was. "No" just popped out.
Okay, get ready to criticize and tell me what I did wrong because I haven't got a clue. Do you remember me telling you that airgunner Mike Reams can make swages to make conical bullets of almost any caliber? I learned that at the 2012 Roanoke airgun show. And do you remember that I wanted him to make a set for the Nelson Lewis gun? Well, what I did this day on the range was called a "proof of concept" test. I loaded a conical bullet in the rifle — partly to confirm the diameter requirements for Mike and partly just to see if the gain twist rifling really would stabilize a conical. But the only conical bullet I had was a 250-grain lead bullet for my 38-55 Ballard, which coincidently has almost the identical size bore as the Nelson Lewis rifle.
I'd been shooting a patched .375-caliber swaged round ball in the rifle up to this point. That ball weighed 80 grains. So, 250 grains would be heavier — about 3 times heavier. What I did was load a proof load into my 160-year-old gun and shoot it. Nothing wrong there, right?
When the gun fired, it recoiled more than usual (no kidding!), but that wasn't what I noticed. I noticed a jet of fire about a foot long coming out of the nipple hole that had been so recently vacated. Then there was the verbal exchange between me and Otho, and then he cautiously walked around to my front and looked at my head — mostly to see if it was all there.
I'd been wearing shooting glasses, which I always do whenever I shoot a black powder arm (and after this event, when I shoot anything else, too), so my eyes were fine; but above my right eye was a large patch of black powder that embedded itself in my skin. I looked like the "murdering coward Tom Chaney" from the movie True Grit, who coincidentally had a black powder Henry rifle blow up on him. The powder had to be picked out of the skin with tweezers over the next few weeks and there is still some of it in there today, more than 4 months later. But I was okay.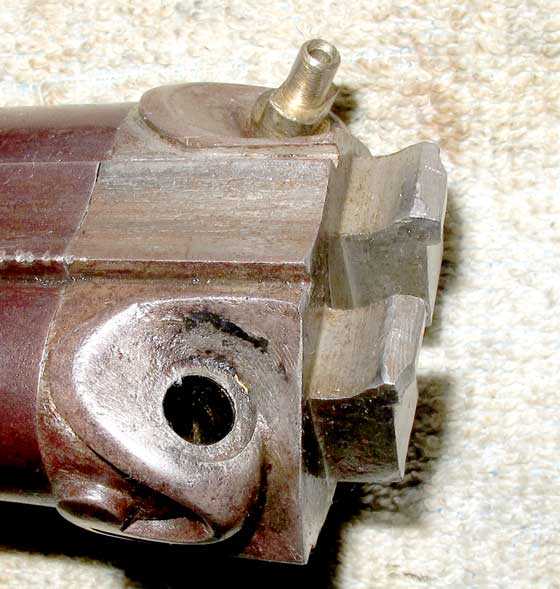 The nipple was blown out!
My Nelson Lewis gun, on the other hand, was broken. And, as far as I know, Nelson Lewis doesn't work on his guns anymore, having been deceased for the past 135 years or so.
Back to today
Okay, I survived that stupident and Otho fixed my rifle for me. I shot it one last time and it now hangs on the wall in my living room. Otho has since passed away and I feel my luck with this gun might have run out. But the point is — what if this had been a bullpup? Instead of a 12-inch long jet of fire coming out in front of my face the jet would have been inside my head. Ouch!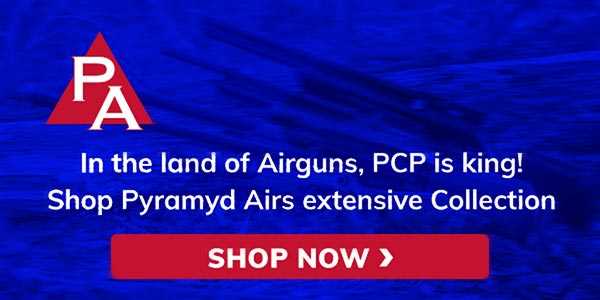 Why bullpups?
Bullpups were created to be compact hunting weapons. The military didn't adopt them for several decades, but when they did they jumped in with both feet. They did it just after going from bolt action to select fire weapons. And therein lies the issue I will discuss in a bit.
The small size of a bullpup makes it ideal for carrying inside vehicles. In the past submachineguns that were smaller for purposes like that were only made in pistol calibers that had limited range. But today's bullpups can be and are full battle rifles.
Now let's read what some of out readers think
Reader Mel said,
"Bullpups may be fine if you are a soldier. You get the bore in line with the shoulder (better recoil management) and the large distance between barrel and sight is not an issue because your targets are people sized and may be anywhere along the bullets trajectory bow anyway.
"An airgun has no need for recoil mitigation, and the targets are typically smaller than the distance between bore and line if sight in a bullpup. And you don't shoot an airgun from inside an IFV or whatever."
"So my 50 cents on that topic – bullpup designs offer no advantage in the airgun world."
Reader RidgeRunner said,
"Mel83,Even with inflation, I could only come up with 25 cents.
"The bullpup design in airguns allows for a longer barrel which allows the report to be quieter and allows the air to act upon the projectile longer, thereby increasing velocity.
"There are also those who will argue that a bullpup allows them to maneuver the air rifle in thick brush easier. What do they think they are doing in that thick brush, I do not know.
"The design also appeals to the couch commandos who want their air rifles and air pistols to look like real weapons."
Reader ISCC said,
"I can tell a bullpup is a great configuation if you are a hunter. My Artemis P15 is easy to point and shoot, easy manouverable, even from tight spaces, like shooting from inside a truck.
Note. This is not a target or benchrest gun, is a 30 FPE hunting gun.Just my 2 Mexican Pesos."
Reader hihihi said,
"To design a carbine with a long barrel seems like genius to me!
But less so to name it bullpup, ie how close is 'pup' to 'poop' (or was it inspired by a literal bullpup)?
I like the idea so much that I have tried to overcome my preference for the look of a traditional long arm layout, and this Hatsan Flashpup QE even has nice wood and metal (which I like), yet I think I'm too long in the tooth, ie I failed."
Bullpups today
Bullpup firearms today are mainly military. And, because they are either semiautomatic or select fire (both semi and full auto), the action is hidden inside a metal receiver. Indeed, many younger gun writers think the problem with bullpups is the fact that they throw their expended cartridges in an inconvenient direction for left-handers. While that is true, shooters are still putting their faces next to an explosion that today ranges upward of 55,000 psi. My Nelson Lewis gun blew up at 25,000 psi. A firearm cartridge explosion today will take off most of the shooter's head.
Airguns
Ironically enough, airguns come nowhere near those pressures. A pneumatic that's filled to 3,000 psi probably puts no more than about 1,500 psi into the barrel at any time. That makes airgun bullpups much safer than firearm bullpups. So safety isn't an issue.
BUT
And this is a big but — do we need them? Well, need often turns out to be a subjective term. But are there real reasons for bullpup airguns? I can think of one for certain — barrel length.
Like black powder arms, pneumatic airguns develop their power with longer barrels. We know from testing that CO2 guns stop increasing velocity somewhere between about 14 and 19 inches of barrel length. The number depends on several things like the caliber, the ambient temperature and the firing valve setup, but we know for a fact that smallbore CO2 guns do not gain velocity with barrels longer than about 20 inches.
On the other hand pneumatics keep increasing in velocity out to just past 30 inches. I have heard the figure 36 inches quoted in the past. Now who, besides the shooter of a Kentucky rifle, wants a barrel as long as 36 inches?
Well, people who want power want velocity and with a pneumatic a longer barrel is the easiest way to get it. But at some point the rifle becomes cumbersome. Oh, you'll hear airgun hunters talking about maneuvering through thick brush, but they're not hunting cape buffalo! Very few squirrels have been known to charge a hunter from concealment and gore him.
But once you understand that fact further discussion is pointless. You either will or will not own a pneumatic with a long barrel. If a long barrel is what you want, a bullpup is one convenient way to get it.
Triggers
My last point will address triggers. On bullpups of all kinds the triggers are notoriously poor. Back in the 1950s and on through the end of the century the bullpup trigger blade was ahead of the sear, so a long bar connected them. That bar flexed, adding travel to the trigger blade, plus the connection joints added both travel and friction. Has that been resolved? Well, the Hatsan Flashpup I'm testing has a decent trigger, so I guess the answer is yes. I doubt a mechanical bullpup trigger will ever rival a great standard action trigger, but they now seem to be capable of getting pretty close. I say capable of, and not that all bullpup triggers are now good, because like everything else it still depends on the manufacturer, how close they can actually get.
Summary
That's my brief look at bullpup rifles. What did I forget?