by Tom Gaylord, a.k.a. B.B. Pelletier
Every airgun show has one or more themes. Some shows have piles of new-old-stock airguns that have been recently found. I remember at one show seeing stacks of S&W 78G and 79G target pistols that had never been sold. They were over 30 years old and still new in the box. At another show, there was a pile of Johnson Indoor Target Guns in the same condition, only the boxes were disintegrating after 60 years in storage. And, once, at Little Rock, a guy pulled up to the door and unloaded about thirty LNIB airguns that he'd purchased 20 years earlier. They were all high-grade guns, and he wanted exactly what he'd paid for them. Imagine being able to buy a Beeman R1 at a 1985 price!
At this show, the theme seemed to be entrepreneurial airgunners and what they've done. Paul Watts was the first table I visited. Edith and I remember when Paul Watts was just getting started as an airgun tuner. He had no idea then who he would turn out to be. But his friend brought the first major tuning job he ever did and had it on display at the show. It's an R1 with a special steel base block that allows you to swap barrels!


Paul Watts' first major airgun modification was this Beeman R1. He made it accept barrels of different calibers, plus he stocked it in this beautiful figured walnut stock. A friend found it for sale on Gun Broker.
Another major entrepreneur is Mike Reames, who works in CO2 like nobody else. Where others have been content to reseal and tune guns, Mike's been making his own designs for many years. This year, I was attracted to one of his ball-flask pistol creations on a collector's table. I'm sure the design of the gun will surprise many of you, but that wasn't what caught my eye.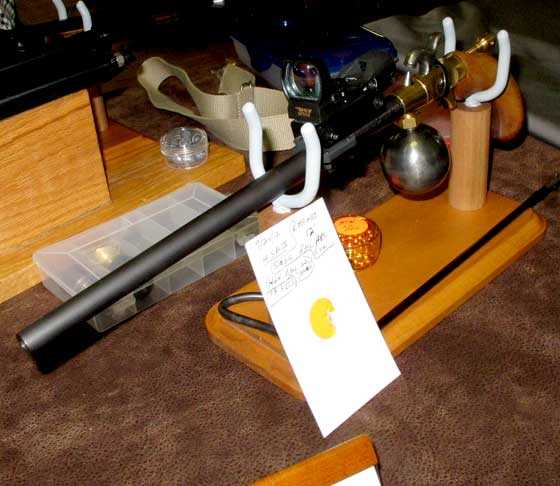 Mike Reames made this CO2-powered ball-flask pistol that has interchangeable barrels.
What really startled me was finding out that Mike was making the swaging dies for the bullets that fit the several interchangeable barrels for the pistol. If he can do that, I wondered (aloud) if he might also make a custom swage for my Nelson Lewis rifle barrel? Mike was enthusiastic about the project, so I now have a source for a die that cannot be obtained anywhere else! Why do I need it? Because the original Nelson Lewis dies don't work very well, and Mike's apparently are very easy to use! You know there will be a full report coming!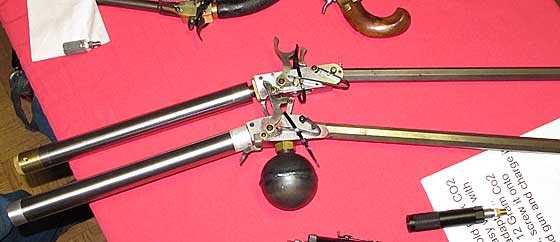 Mike Reames is working on these two outside lock designs. Can you believe things like this are being made today?
Two of our regular readers — Ridgerunner and Fred from the People's Republik of New Jersey — came to the tables Mac and I shared and spent a lot of time with us. Both men brought guns to sell, and both walked out with cash or different guns! Both had been to this show before, and I think they'll agree that it was larger this year than last.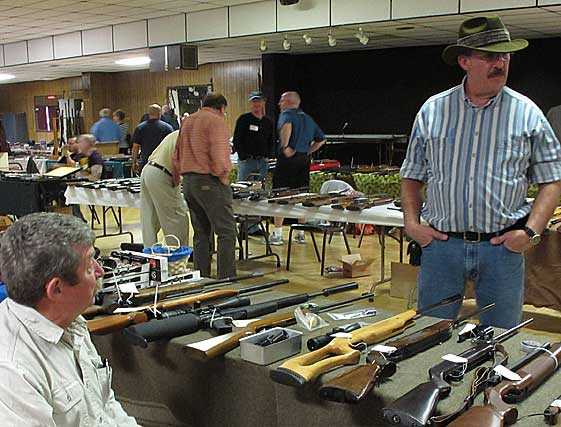 Mac (seated) talks airguns with Ridgerunner. They were about to strike a big deal!
Ridgerunner brought his FWB 601 target rifle, among other things. He was looking to turn it into a Talon SS. Mac was selling a real sweetie that I built for him years ago. It has a special 26-inch, .177-caliber HW barrel and is an extremely good long-range airgun. The two of them did the tarantula dance for a couple hours (really — I'm not kidding!) and then deal was done.
Literally minutes after the deal was closed, Mac put his new gun in the rack (it still had Ridgerunner's pricetag on it), and a young man asked him for the full tour. The gun had everything, and Mac pulled it all out of the box to show him. Then he shrugged, looked at his wife, thanked Mac and walked away. I sat down and started planting the seeds of desire in Mac's mind, telling him of the treasures I would give him for the gun and why he needed to write a guest blog about it. Then, after an hour, the young man and his wife reappeared at our table, and he said he guessed he had to have it! It was bittersweet! I was glad to see Mac score so soon, yet I wanted to be the one who got the gun.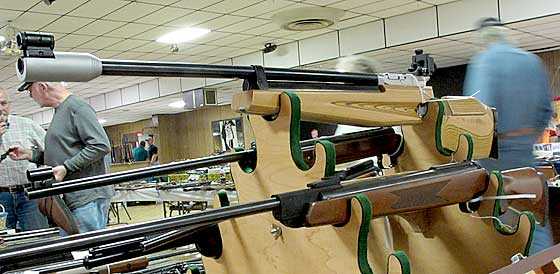 Ridgerunner's FWB 601 and Fred's 350 Magnum.
I once wrote that we're only temporary caretakers of the airguns we have. If you think about it, 30 years before now others enjoyed many of the guns in your safe. I just wanted to be the caretaker of that 601 for a couple years — just to be able to say I had one.
Without a doubt, Friday was the day with the heaviest traffic, as buyers have learned to come early to get the best deals. In fact, I sold two guns on Thursday evening as we were setting up. The sales came both early and often for Mac and me. But not everybody had the same experience. Price was a bigger concern this year than at any time in the past, and our stuff was priced pretty low. As I walked around the show, I saw tables where the other dealers had figured this out, as well, and they seemed to be selling, too. But the tables with higher-priced guns just seemed to have more tire-kickers than usual.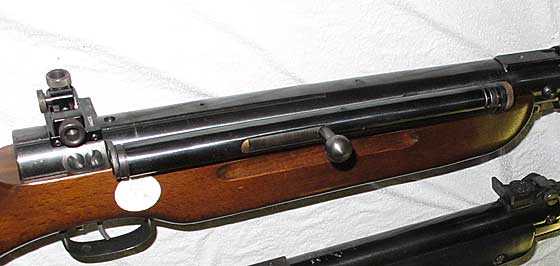 This ether-injected HW Barakuda was priced at only $700! That's about $300-400 off the normal asking price for one.
On Saturday, I bought a beautiful Chinese sidelever springer that I'll show you very soon. I was surprised by the high level of finish the gun has (it's like new in the box). When the dealer put a price of $40 on it, I almost bought it on the spot. The only thing that stopped me was that another dealer was there and saw the gun, too, and he said he had one at his table that he needed to reduce, if that one was going for only $40. But when I went to his table, the price was still higher — so I marched back and bought the first one. Wait until you see it!
There were also guns that were for display only. Crosman collector Tom Slocum showed the only known model 1400 that was ever made in .177 caliber. It has a beautiful walnut stock. Not only does he have the rifle, which is in new condition by the way, but he also has the original bill of sale that proves this is a .177-caliber 1400. And there's a letter from Crosman documenting it as well.


This Crosman 1400 is the only known .177. The stock is walnut.
Another innovator is our own Lloyd Sykes, of Benjamin Rogue fame. Lloyd now runs AirgunLab.com and is best-known for offering the Disco Double — an extra air reservoir tube kit to expand the capacity of your Benjamin Discovery. But there was a .25-caliber, 90 foot-pound rifle on the table, too. So Lloyd is becoming another source for reasonably-priced custom airguns. We talked and agreed that I'll test one of his inventions soon.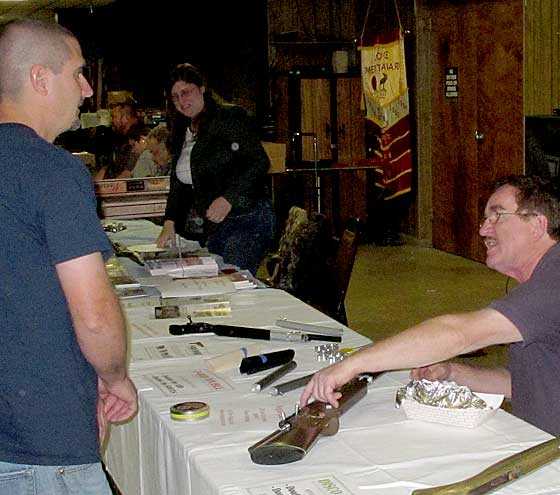 Lloyd Sikes (seated) shows his new 90 foot-pound rifle to a customer.
This year, many readers of this blog stopped by and introduced themselves. A lot of you don't make comments on the blog, but you say that you read it regularly. I want you to know that seeing you at this show was one of the high points for me. It's nice to know there are real folks out there enjoying the same things I do.
Any regrets?
I was very parsimonious at this show. I only bought one gun, though I saw several I liked. One of them was so good it's going to give me regrets, I am afraid. A cased FWB 65 with all the equipment in a factory case was offered for just $250. I had other places for my money to go or I would have broken my hand paying that price!
The other regret is one that unfortunately cannot be avoided. When Dennis Quackenbush read off the names of the airgunners who are no longer with us, a thousand images flooded my mind. Even Dennis got choked up as he read the long list of those who have left the range. And the really sad part is that it was just the list for one year! The older airgunners are starting to leave us in numbers that are too great to bear.
Of course, the show came to a close all too soon. Like old-time settlers in a wagon train, we all broke camp and packed our guns away. As we headed out, each of us was thinking of the next show and what we might see. I hope to see some more of you readers at next year's show.