Bug-A-Salt 3.0 Black Fly Edition.
This report covers:
Salt
Fine grain table salt
Mosquito hawks
Ring sights can also be used on main battle tanks
Targets change as time passes
Trigger
Final remarks
Today we look at the Bug-A-Salt 3.0 Black Fly Edition for the second time. This report can't be like a normal test because the velocity is too low and the projectiles are too small. So I have to tell you about things that do apply. There are several of them.
Salt
We know that these insect weapons shoot salt. I have heard from several readers and from others as well that wives won't allow the Bug-A-Salt to be fired in the house because they don't want salt on the floor. I thought that was a little extreme because the Bug-A-Salt 2.0 that I've had for many years (9?) doesn't fire enough salt to make any difference. But the 3.0 changes that.
The Bug-A-Salt 3.0 seems to hold at least twice as much salt as the 2.0 and I have watched it come out. That means there is a lot more salt per shot. Let's talk about that.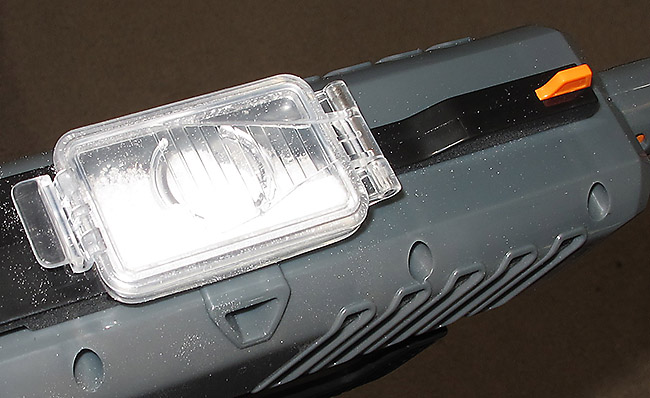 The salt hopper on the Bug-A-Salt 3.0 is large. It needs to be because the 3.0 shoots a lot of salt with each shot.
Fine grain table salt
One last thing to mention about the salt you use — make it fine grain. I discussed in Part 1 how using coarser salt crystals rendered my 2.0 less effective.
Mosquito hawks
A lot of folks call these guys skeeter eaters, but actually they are neither mosquito hawks nor skeeter eaters. Their proper name is crane fly. They do not kill mosquitos, nor do they bite humans. They only live a couple days, but they are a nuisance when they get indoors.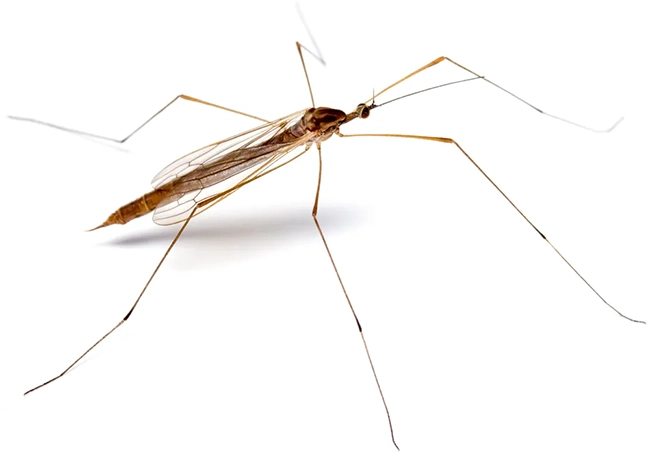 Crane fly.
For some reason this year north central Texas is overwhelmed with these critters. When I go on my daily walk it is not unusual to see 50 of them every 10 feet as I walk around the neighborhood. My front porch has 25 at any one time and when I open the front door they slip in. The thing about them is they never seem to land. They seem to want to hover, but unlike some insects like carpenter bees, these guys never stay in one place. They are constantly bobbing and weaving like a prizefighter. Therefore shooting them with sights is difficult.
I didn't want to shoot them with instinct shooting but I had to for two reasons. First and foremost, crane flies never stay in one place. They're always on the move. If you do see one that has landed, sneak up carefully and quietly because they seem to have a sense of what you are trying to do.
The second reason it's difficult to shoot crane flies with the Bug-A-Salt is the sights are hard to acquire. Both the front and rear sights on my 3.0 are orange, which isn't a color that stands out — at least not for me. Also, the rear sight isn't there until the gun is cocked. So, when I sneak up on a crane fly the gun has to be cocked already or I'll have no rear sight to reference.
Sights are something the Bug-A-Salt folks need to improve. I could recommend some form of ghost or ring sight. In 1948 shotgunners had such a sight. It was branded the Nydar sight and it functioned much like a modern dot sight. This is what the sight picture looked like.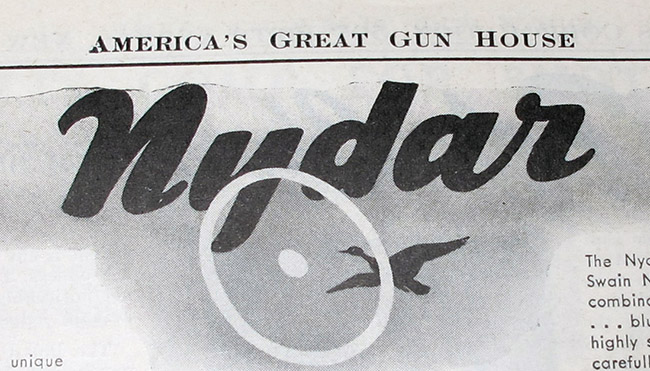 This is the sight picture of the Nydar sight.
The sight itself looked like this.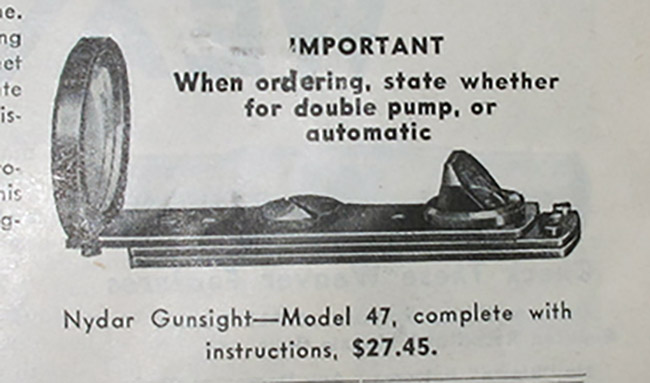 And this is the Nydar sight.
Ring sights can also be used on main battle tanks
The tank commander and gunner on an M60A1 main battle tank have what is known as an infinity sight. It's just a lighted circle seen through the tank's optical sights. As long as the 7.62 mm (.308 Winchester) coaxial machinegun is boresighted coaxially with the main gun, putting an object inside this circle when the machinegun is firing gives a good probability the object will be hit. This is how one tank can clean the enemy infantry off another tank. The tank commander or the gunner just slews the main gun until the target(s) are inside the circle and then pulls the electric trigger. That infinity circle is quite similar in operation to the Nydar sight shown above.
I'm not saying the Bug-A-Salt needs anything as costly or complex as a Nydar-type sight, but something along that line might be good. Lord knows, we are only shooting 3 feet! Since this gun is a shotgun and not a rifle a sight like this is more appropriate.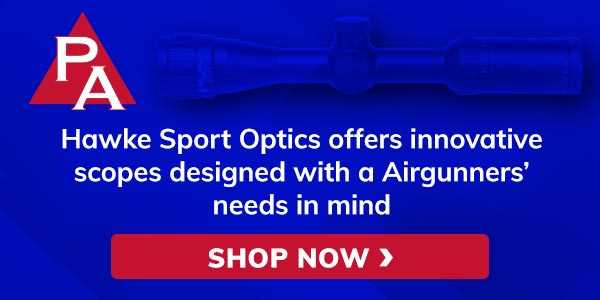 Targets change as time passes
The time of the crane fly will pass and, here where I live, the June bug will arrive. June bugs are similar to or perhaps even are what some call Japanese beetles. They are very slow and really don't require the Bug-A-Salt. With them, though, also come houseflies, wasps, spiders and other creepy crawlers. BB is ready for all of them!
June bugs are armored all over and perhaps impervious to the Bug-A-Salt. But those insects I just mentioned are not. Wasps have somewhat hard bodies, but the Bug-A-Salt will put holes in their wings, making them fall to the ground which makes them easier (and safer) to stomp on. They are another reason for the new sights to be put on this insect weapon, because they like to hover and move around like the crane flies, if they are somewhat less hectic.
Flies, spiders and creepy crawlers, on the other hand, do stop to rest, which makes them fair game. I live alone, so nobody tells me not to shoot in the house. But when she was with me my wife Edith was a bug killer extraordinaire. In fact she is the one who bought our first Bug-A Salt 2.0, which I told you is still going strong 9 years later.
And you guys in the east who have carpenter bees — we want a report. They look a lot like bumblebees. The ones we had in Maryland were aggressive and would hover right in your face at two to three feet — the perfect distance. This weapon has got to at least shoot holes in their wings. Come on, guys. Talk!
Trigger
I know the folks who make the Bug-A-Salt 3.0 say that the trigger is lighter than the trigger on the 2.0, but I find the trigger on mine to be just as hard to pull. The safety, however, no longer comes on every time the gun is cocked and that is a positive thing! Nobody who shoots wants a safety to come on automatically.
Final remarks
I tried to get the Bug-A-Salt folks to talk to Air Venturi at the SHOT Show this year. I succeeded with the Labradar folks and we will hopefully see some results from that, but I don't think Air Venturi talked to Bug-A-Salt. It's a shame if they didn't because the quarter of a million readers of this blog worldwide are the exact people who will buy and use this insect weapon.
This is probably my final report on the 3.0, unless something cool comes up. Maybe, if some new kind of sights that make the gun more of a shotgun, come to the market I would write some more. Let's hope so!