This report covers:
First thing
The fill
JTS Dead Center
Loaded hard
Muzzle report
H&N Baracuda
JSB Exact King Heavy
Shot count
Trigger pull
Summary
Today we look at the velocity of the JTS .25-caliber Airacuda Max, plus a couple other things.
First thing
Reader Mister AP noticed a small hole in the end of the screw-on cap that covers the male Foster fill connector on the front of the reservoir tube. I said I thought it was possibly there to relieve air pressure, should a leak develop there. I don't know if that's correct, but here's that hole.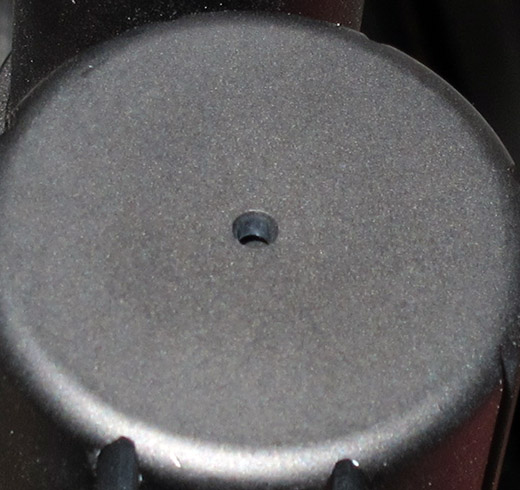 There is a small hole in the removable cap that covers the fill connector.
The fill
The Airacuda Max is filled to 3200 psi, not the 3000 shown on the outside of the box and in the manual. I checked with JTS on this. So I filled the reservoir and then set the rifle aside and proceeded to fill the circular magazine. The magazine is quite easy to fill because there is no spring-loaded cap to fool with. But the bolt still works after the last pellet has been loaded. Sorry, Yogi, but either you have to count the shots or risk shooting blanks.
After filling the magazine I checked the rifle's pressure gauge once more and was shocked to find it had dropped to 2200 psi in the brief time it had taken me to fill the mag — perhaps 3 or 4 minutes? I then listened for leaking air but couldn't hear any. After that my eye came to rest on the reservoir's pressure gauge that still read 3200 psi.
Ooops! Yes, there are two gauges on this rifle and the second one that's located back by the triggerguard is for reading the pressure to which the regulator is set. I noticed the two gauges as I set the rifle down.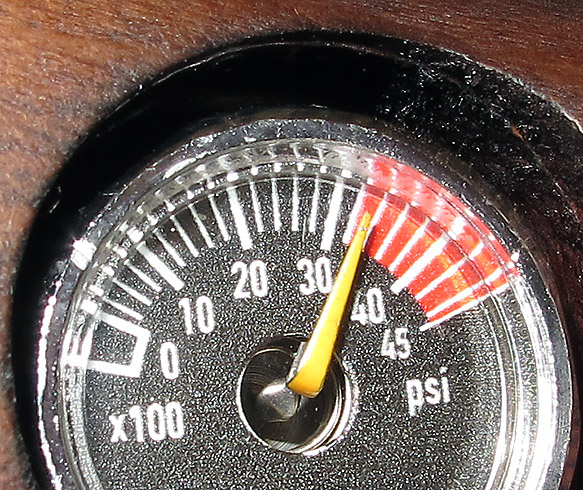 Reservoir gauge. I took this picture slightly from the side so the needle appears to register higher than 3,200 psi.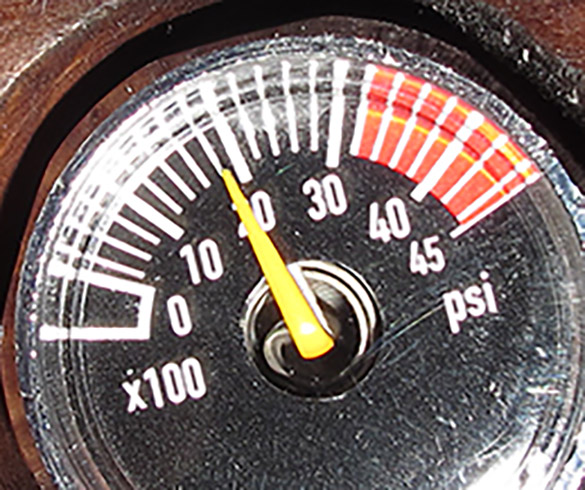 The regulator gauge. This is another angled camera shot. This one reads lower because I shot it upside down and flipped the image for you. The needle is really sitting over 2200 psi. I have to photograph off-axis when I use the flash or the image will flare out on the gauge's glass.
JTS Dead Center
Okay, let's start testing. The first pellet is the JTS Dead Center. You'll recall that I tested this pellet for accuracy in my Benjamin Marauder, which is my only other .25 caliber repeater. I also tried to use the Labradar Doppler Chronograph for that test and that was the one in which I learned that I can't both shoot for accuracy and chronograph the pellets when I shoot from 25 yards. So as far as I'm concerned that velocity test is bogus, but the accuracy test after I shut down the Labradar is valid.
In the Airacuda Max 10 JTS pellets averaged 878 f.p.s. That's good for a muzzle energy of 43.47 foot-pounds at the average velocity. The spread went from a low of 874 to a high of 882 f.p.s., a difference of 8 f.p.s. That's slightly slower than the 900 f.p.s. JTS advertises, but I haven't tried every pellet on the market, either. I would call their estimate correct.
Loaded hard
I noticed that the JTS pellet was hard to load, even with the sidelever. The resistance was quite uniform, shot-to-shot, so I got used to it. I could still chamber a pellet with the butt on my shoulder.
Of course the whole reason I have the Airacuda Max is to test this pellet. I also shot them in my Marauder, just to see how they went. And later I may try them in an AirForce single shot to round out the test.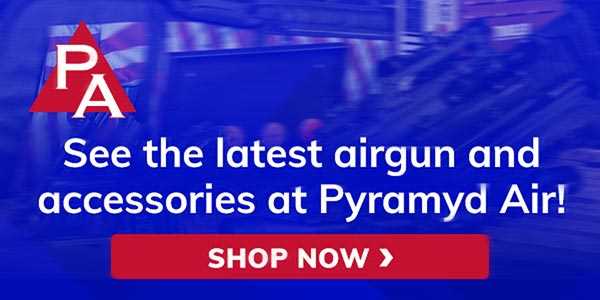 Muzzle report
Obviously this rifle is powerful. How loud is it? I tested the third shot from the first string and got a sound meter reading of 96.3 dB. That's loud enough but not that bad.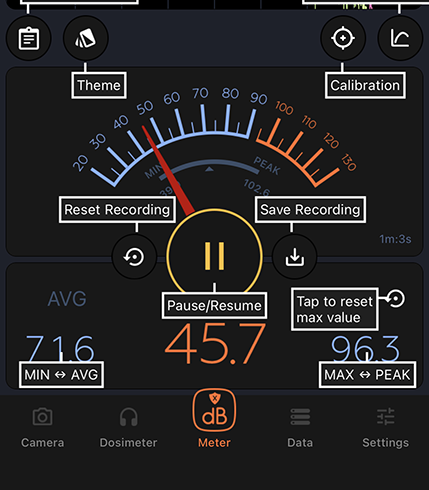 That's louder than conversation but not too loud for use in a large back yard.
H&N Baracuda
The next pellet I tested was the 30.86-grain H&N Baracuda. Ten of them averaged 826 f.p.s. At that speed the muzzle energy is 46.76 foot-pounds. The low velocity was 824 f.p.s. and the high was 828 f.p.s. That's a 4 f.p.s. difference. Remarkable!
Baracudas loaded quite easily. If they also prove accurate they will be a pellet for this rifle.
JSB Exact King Heavy
The final pellet I tested was the JSB Exact King Heavy that weighs 33.95 grains. If you're concerned whether a pellet this heavy will fit into the rotary magazine, don't be. It fits with room to spare. They were also the mama bear pellet — loading slightly harder than the Baracudas but not as hard as the JTS Dead Centers.
Ten Kings averaged — well, we have something to discuss.
Shot count
I checked the air that remained before starting to shoot this pellet and I saw that the reservoir was down to 2,200 psi. That's the pressure the regulator is set to, and even if the two gauges don't agree exactly, we are pretty close to the last shot.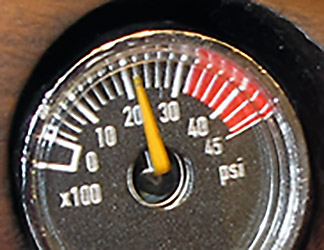 After 22 shots this is what the reservoir gauge read. I tried very hard this time to point the camera as straight down on the dial as possible.
I need to tell you now that I also got one super-slow reading on the very first shot of today's test with JTS pellets and I didn't include it in that string. That pellet went out at 768 f.p.s. I also shot one blank shot, Yogi, so there you go. BB can't count either. What that means though is at this point in the test there are 22 shots on the fill. Now let's look at each shot in the next string of JSB King pellets.
Shot……….Vel.
1…………….770
2…………….784
3…………….788
4…………….773
5…………….767
6…………….768
7…………….755
8…………….748
9…………….748
10…………..720
Obviously the Airacuda Max has dropped off the power curve on this string, but where? Was it at shot 4 (in this string)? Shot 5 or 6? The only way to know for sure is to refill the reservoir and shoot another string. Let's do that.
Shot……….Vel.
1…………….793
2…………….791
3…………….790
4…………….784
5…………….786
6…………….789
7…………….787
8…………….786
9…………….784
10…………..790
Well, that was a surprise. The slowest shot in this string was almost as fast as the fastest shot in the previous string. Does that make all shots in the previous string too slow? Does it give us a shot count of 20, which is two magazines' worth? I don't think it does. And the real shot count depends on what you are doing. Are you shooting groups at 100 yards or are you just plinking?
The average for this string is 788 f.p.s. At that speed this pellet develops 46.82 foot pounds of energy at the muzzle. The lowest velocity in this string was 784f.p.s. and the high was 793 — a 9 f.p.s. difference. The Airacuda Max is consistent!
Unless you are shooting groups beyond 50 yards I would say there are at least 25 good shots on a fill. The website says to expect 40, but that seems optimistic. I say 25 good shots and no fewer than 20 shots for anything you want this rifle to do.
Trigger pull
The two-stage trigger requires 1 pound 2 ounces to get through the first stage and exactly three pounds to fire the rifle. Stage two has an abrupt beginning and I could only feel an ever-so-slight bit of creep in that stage.
I did not try to adjust the trigger because it's extremely nice right now. In the past I have attempted to adjust triggers only to mess them up. This one is too nice to fool with.
Summary
This was a nice long test of the Airacuda Max. For several reasons I want to take a closer look at this rifle. First, because it offers so much at what I believe is an affordable price. Next, because the company has gone out of their way to introduce a new line of premium pellets, and we can always use more of those. And finally because this rifle is made in China. I know that chaps some readers and I understand why, but I'm giving the devil his due. If the Airacuda is accurate and if it holds up during testing we will have another fine lower-cost precharged pneumatic.