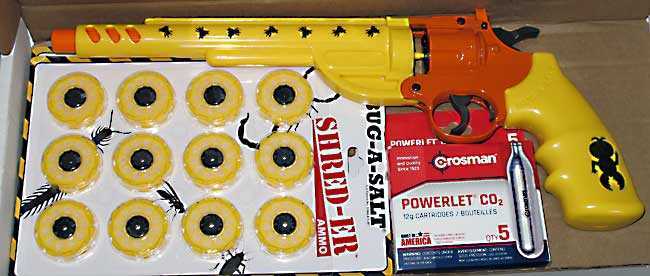 The SHRED-ER from BUG-A-SALT.
This report covers:
Targets change as time passes
And we're off
How large?
SHRED-ER shot count
Store boughten ammo
The SHRED-ER is a bug killer!
Summary
Today is a report I actually thought might never happen. I told you in Part 2 of the report on the Bug-A-Salt 3.0 that…well, let's see exactly what I said.
Targets change as time passes
The time of the crane fly will pass and, here where I live, the June bug will arrive. June bugs are similar to or perhaps even are what some call Japanese beetles. They are very slow and really don't require the Bug-A-Salt. With them, though, also come houseflies, wasps, spiders and other creepy crawlers. BB is ready for all of them!
June bugs are armored all over and perhaps impervious to the Bug-A-Salt. But those insects I just mentioned are not. Wasps have somewhat hard bodies, but the Bug-A-Salt will put holes in their wings, making them fall to the ground which makes them easier (and safer) to stomp on. They are another reason for the new sights to be put on this insect weapon, because they like to hover and move around like the crane flies, if they are somewhat less hectic.
Flies, spiders and creepy crawlers, on the other hand, do stop to rest, which makes them fair game. I live alone, so nobody tells me not to shoot in the house. But when she was with me my wife Edith was a bug killer extraordinaire. In fact she is the one who bought our first Bug-A Salt 2.0, which I told you is still going strong 9 years later.
And we're off
So I'm walking through my kitchen last week when I saw this guy.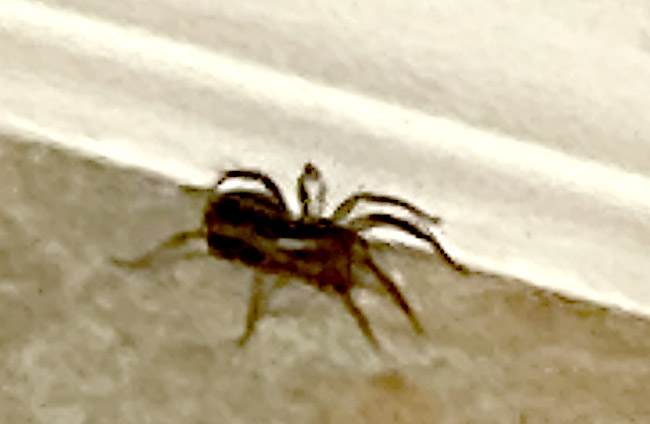 This picture was taken with my phone from about seven feet distance. I obviously had to enlarge it greatly to this size.
He was a wolf spider. A "guy" he probably was, because at this time of year female wolf spiders have large egg sacks on their backs. They carry them there to regulate the temperature of the eggs.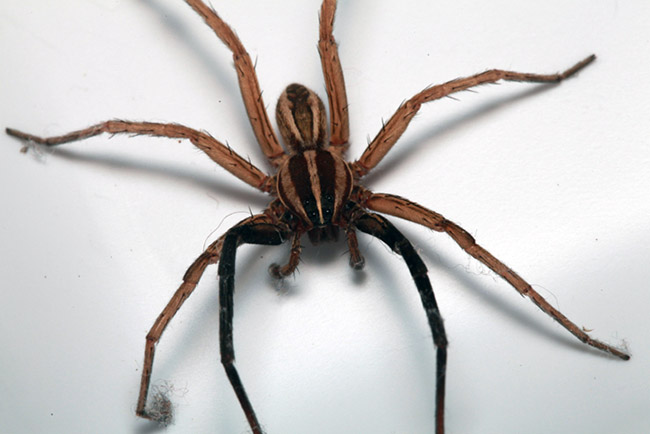 This is a better picture of a wolf spider. You might be able to see some resemblance to the guy in the first picture, but you'll definitely see it with the next one.
How large?
You might be able to tell how large this guy is in the first picture because you have the baseboard to compare to. I will tell you he was almost an inch and a half long.
SHRED-ER shot count
Fortunately I had just installed the SECOND CO2 cartridge in my Bug-A-Salt SHRED-ER just a day before this encounter. That would be about 60 shots over 18 months on one cartridge! So there's your shot count. Yep, I keep the SHRED-ER loaded and charged all the time. As Rooster Cogburn said to the judge after he killed a murderer, "Well, a gun that's unloaded and cocked ain't good for nothin'." So, when I saw this guy on my floor it was open season.
I shot him from 5 feet away. On the first shot all his legs curled in and I thought he was finished. About 30 seconds later he started unfolding his legs, so he wasn't gone yet. I didn't want to hurt him. I wanted to kill him! So I got within three feet and shot him again. That finished him. Wanna see what he looked like?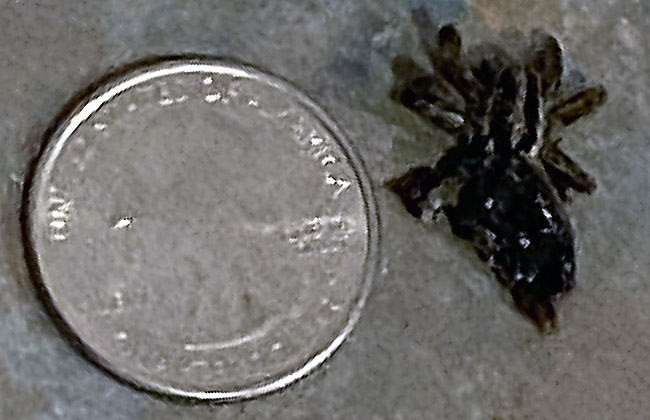 That's an American quarter dollar coin next to the dead spider. Quarters are 0.955-inches (24.257mm) in diameter. That's close enough to one inch for me. This guy still has his legs curled in, and would be around 1-3/8-inches (34.925mm) in diameter when alive.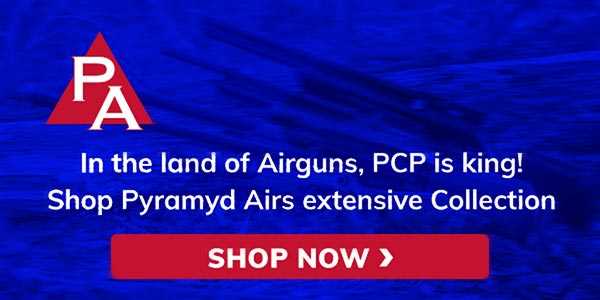 Store boughten ammo
Back when I started this series we all talked about reloading the empty salt cylinders. Why? Because we are airgunners and cheap is what we do. But since I've been using the SHRED-ER I've come to realize that ammo bought from Bug-A-Salt is the only way to go. You don't plink or shoot targets with the SHRED-ER. You kill pests. I'm still on the first card (12 cylinders of 10 shots each) of salt cylinders I bought with the pistol back in 2021. And like I said earlier, I just loaded the second CO2 cartridge. This puppy is cheap to shoot!
The SHRED-ER is a bug killer!
This wolf spider is the third big critter I have taken with my SHRED-ER. The first two were crickets and both were one-shot kills. I know the domestic resistance to salt on the floor, but I'd rather have that than crickets and spiders in my house.
Why?
Why am I telling you this? I'm telling you this because the northern hemisphere is warming up and critters are beginning to emerge. We airgunners are the first line of defense and we need to be ready.
The Bug-A-Salt long guns are perfect for houseflies and similar pests, but they are not nearly as destructive to larger bugs as this SHRED-ER revolver. It's the CO2 power that makes the difference, not the barrel length or anything else.
Summary
This revolver gets the job done every time. And that is all I ask of a bug killer. It's accurate, powerful and always at the ready. Pyramyd Air doesn't carry the line of Bug-A-Salt products — YET. But they are airguns and they belong in our arsenal.