This report covers:
Pre-test frustration
The test
Something unusual
JSB Exact King Heavy
JTS Dead Center pellets
Trigger pull
H&N Baracuda Hunter Extreme
Wake up — BB!
Summary
Today we start looking at the accuracy of the .25-caliber JTS Airacuda Max precharged pneumatic (PCP) air rifle. I know how this one ends and I think you'll be excited about it.
Pre-test frustration
First I had to scope the rifle. I had a scope in mounts from another report that was over, so I thought I would swap it over to the Airacuda Max and be done in 10 minutes. Two hours later I finished, after rejecting two scopes, and one set of mounts. I won't bore you with the details, but let's just say everything that could go wrong, did. I finally took a scope from a rifle that's still being tested; that's how desperate I was. I had to laugh when it was all over.
The test
Today's test was never going to be conclusive. It was just a test to get the scope mounted and zeroed and even that didn't work out as planned. I had shimmed the third scope that was finally mounted on the Airacuda and all of today's groups landed more than an inch above the aim point. So, before the next test, the shims have to be removed. That is quite unusual, but it means that this Airacuda Max has NO barrel droop!
I shot from 10 meters today. The rifle was rested in a sandbag rest on the shooting bench. Each pellet was fired 10 times into its group and of course they were all shot from the magazine. The Airacuda Max doesn't have a single shot tray that I know of.
Something unusual
You know how I usually put an American dime next to the group to give you a size reference? Today I also used a single coin for the entire test but it wasn't the dime. Today the silver three-cent piece that's called a trime was the coin used for scale. That's right — all pellets made 10-shot groups smaller than two-tenths of an inch, which is 5.08mm. That's the distance between the centers of the two holes that are farthest apart.
JSB Exact King Heavy
The first pellet tested was the JSB Exact King Heavy dome that weighs 33.95 grains. Ten went into 0.19-inches between centers at 10 meters. The group is nice and round, indicating the Airacuda Max likes this pellet.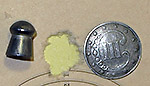 The Airacuda Max put 10 JSB Exact King Heavy pellets into a 0.19-inch group at 10 meters. Yep — that's a trime. The other pellets have their work cut out for them!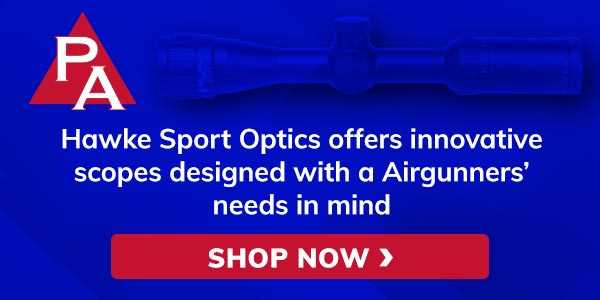 JTS Dead Center pellets
Next up was the pellet that is the reason for this test. I don't just mean today's test; I mean the test of the Airacuda Max rifle altogether! The .25-caliber JTS Dead Center pellet is one of those special domed pellets I brought back from the SHOT Show this year, and as I told you, the Benjamin Marauder is the only repeating .25-caliber PCP I own. This Airacuda Max was loaned for me to round out my test of the .25-caliber JTS pellets.
The Airacuda Max put 10 of these JTS Dead Center pellets into a group that measures 0.186-inches between centers at 10 meters. Truthfully, there is so little difference between this group and the last one that it's difficult to say which one is smaller. This one looks bigger until you realize that nine of the ten shots are in a perfectly round 0.0-inch group. Only one shot — number six or seven — strayed out to the right side, and no, it wasn't a called pull. Guys — I'm not this good a shooter! Until shot six I never saw the first pellet hole enlarge.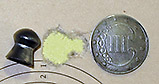 Ten JTS Dead Center .25-caliber pellets are in 0.186-inches at 10 meters, with nine in a hole too small to measure.
Trigger pull
After shooting the second group I noticed that the trigger has smoothed out. Stage one is light and stops abruptly at stage two. Stage two no longer has that ever-so-light creep I mentioned in Part 2. I can feel it moving but it's absolutely smooth.
H&N Baracuda Hunter Extreme
The last pellet I tested today was the H&N Baracuda Hunter Extreme hollowpoint. I haven't tested this pellet very much — both because it's a hollowpoint and also because this one is .25 caliber. Like the JTS Dead Center pellet, the first five of these went through the same hole. The ten-shot group measures 0.181-inches between centers, and in this instance I believe I can say this one is the smallest group of the test. I know I measured it that way but even with the possible measuring errors, this one just looks smaller!


The JTS Airacuda Max put ten .25-caliber H&N Baracuda Hunter Extremes into a 0.181-inch group at 10 meters.
Wake up — BB!
I only filled the rifle at the start of today's test. Including the four sight-in pellets, I fired 34 shots total. That's more than the 25 shots I mentioned in Part 2. Of course I'm only shooting at 10 meters so I get away with a lot more carelessness.
This is my reminder to refill after 20 shots when I back up to 25 yards for the next test. Since I'm going to have to sight in all over because of de-shimming the scope for the next test, I will refill right after that and after shot 20, so every pellet has the best chance to excel.
Summary
This JTS Airacuda Max is a real contender, folks! And the JTS Dead Center pellet in .25 caliber is also a contender. There is genuine quality here, and that's always good. I think I can say that we have another premium pellet brand.
For the next test my plan is to remove the scope shims and re-zero the rifle. I'm leaving this UTG AccuShot SWAT 4-16X44 scope right where it is. Then I will back up to 25 yards and we'll all see just how accurate this Airacuda Max really is.