When I spotted this fill coupling in my airgun toolkit it inspired today's report.
This report covers:
Benefits of a PCP
PCP limitations
Threaded fill fittings
Fill probes
AirForce Airguns fill device
The Air Arms "huh?"
Foster fitting
However
Only rifles
Summary
Today I want to discuss precharged pneumatic (PCP) fill adaptors. This is one thing that keeps many airgunners at bay, where PCPs are concerned.
Benefits of a PCP
The benefits of a PCP are many, starting with accuracy. A PCP is more accurate than any other powerplant, plus easier to be more accurate than any other airgun powerplant.
PCPs are more powerful. They are easier to make powerful.
PCPs recoil very little. Oh, they all do recoil, despite what people think. Unless the airgun has a recoil canceling device installed, such as the one on my FWB P44 target pistol, there is some movement, even if only a little.
Big bore airguns recoil noticeably. For example, when I shot the new Umarex Hammer Carbine it kicked the poo out of me. I was unprepared for the recoil that felt greater than a 30.06, but less than a .375 H&H. A combination of extreme bullet weight and the light weight of the carbine were the contributing factors.
PCPs can be lighter in weight than spring guns.
PCPs don't require much technique to shoot well.
PCP limitations
The lack of standardization of fill devices is a huge problem in the PCP world. It's even worse than you may know, which is why I want to discuss it today.
Threaded fill fittings
In the beginning of the modern PCP air rifle era that started with Daystate in 1980, the fill fittings were threaded hose connectors that, of course, screwed onto threaded fittings on the guns. Someone looked at those fittings and said, "That's too simple!. Everyone will be able to fill airguns with those! We can't have that!" I think the guy who said that used to manage supermarket chains, where he invented the concept of rearranging the shelves every few months, after seeing that the seniors had learned where things were.
Fill probes
Yes, fill probes were early, but not the kind you know today. The early ones were needles that attached to scuba tanks. The air rifles were jammed down on them, the needles went into the end of the rifles' reservoirs and opened valves and filled the reservoir in seconds! The fill was too fast and too hard on seals that heated from the rapid compression, so this type of fill device never went far. I wish I had a picture of this type probe to show you.
The second type of fill probe was and still is called a safety probe. It's safe because it can't be blown out of the gun and at the person doing the filling. That may sound trite but there was a time when fill-hose blowoffs were pretty common. Unfortunately nearly every airgun manufacturer who used this type of probe made it proprietary for diameter, length, placement of holes for the air and location and size of the sealing o-rings.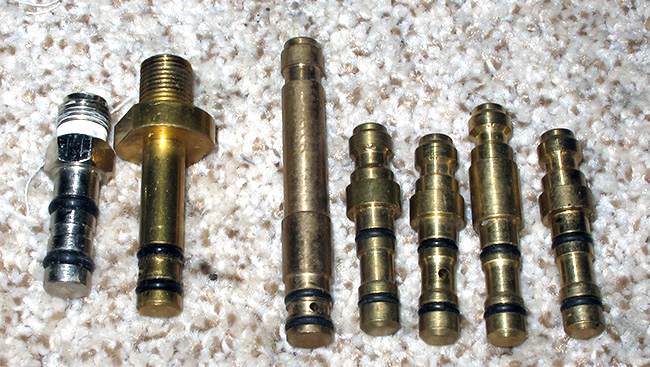 "Safety" fill probes. Try finding two that are alike.
That picture may bring a smile to some dark-siders. Unfortunately it's not half of the story! The problem with the safety fill probe was and still is that every company made/makes a different one.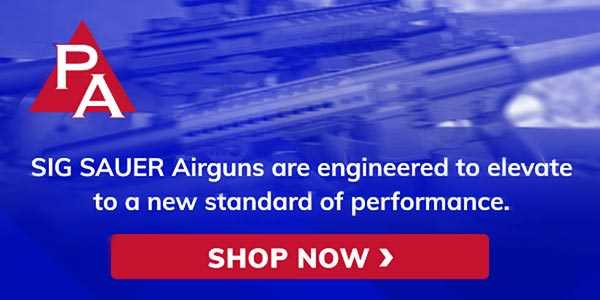 AirForce Airguns fill device
AirForce gave us the air tank that unscrewed from the back of the rifle. It needed a proprietary fill device of its own.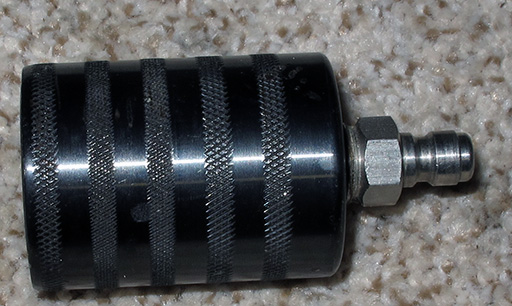 Early Airforce fill device.
Like many other airgun manufacturers AirForce recognized their mistake and, as soon as practical for their business plan, they brought out rifles with the most common male Foster fitting permanently attached to the airgun.
The Air Arms "huh?"
Air Arms has been singularly unique in the PCP filler device world. While most of the rest of the world, except the Koreans the Turks, and the other Brits have realized that the Foster quick-detachable filler is the way to go, Air Arms has remained a staunch opponent to standardization.
When the Air Arms Shamal was made a long long time ago, quick-detatchable fillers didn't exist. So no shame for Air Arms creating what they did to fill that rifle. It was a simple and straightforward male threaded fill port, to which a threaded female coupling was attached. But when most of the rest of the world went to a standard Foster, I think Air Arms held a secret company competition for the craziest fitting anyone could design. The winner is what I call the Air Arms "huh?".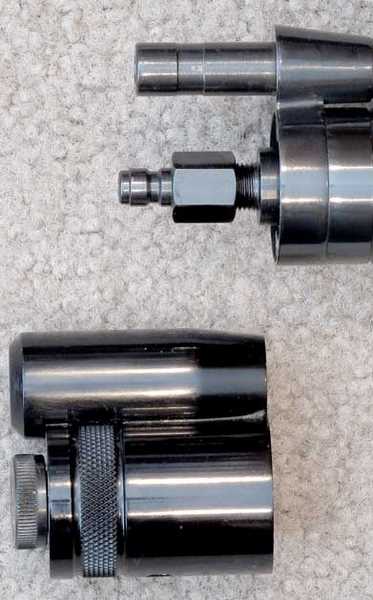 The Air Arms Shamal had a threaded fill port. Remove the cap and attach your hose to the threaded port. Dennis Quackenbush made the Foster adaptor seen above.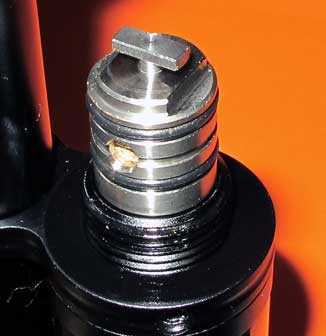 The fill port on an Air Arms S510XS.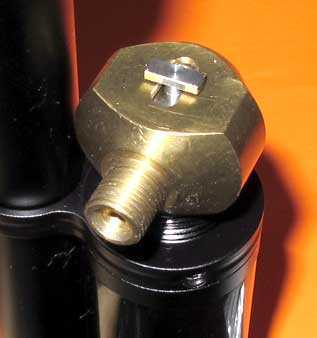 The Air Arms "huh?" fill adaptor.
Foster fitting
Now I come to what we often refer to as the almost-universal Foster fill fitting. The smarter PCP makers have installed these on their airguns.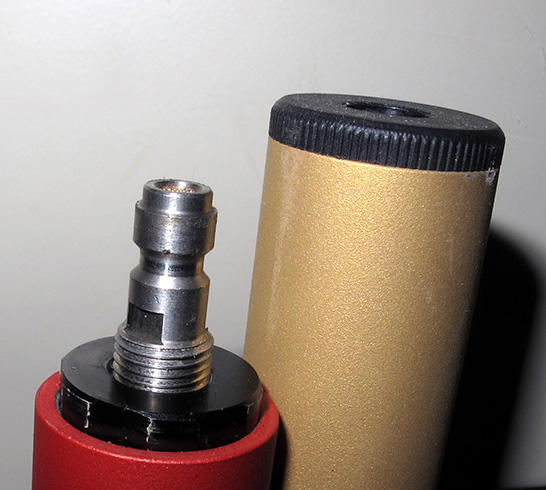 Many makers of PCPs fit a male Foster fitting to their rifles. This is BB's Goldie from Air Venturi.
Yes, the Foster fitting set, male and female, is an elegant fill solution. But there is a "however".
However
Not all male Foster fittings are the same. I have encountered several that will not accept some female quick-disconnects. This seems to be a standardization problem with the specified dimensions.
Only rifles
I haven't even attempted to address filling PCP air pistols. It's just as much a mishmash, but with other complications thrown in. All things considered the filling of PCP airguns is the biggest hinderance to a whole-scale customer conversion.
Summary
As I wrote today's report it became clear that I was writing an open letter to airgun manufacturers. Some companies like AirForce and Crosman have figured it out and standardized on the Foster. Others use fill probes and even the "huh?".
There are other issues like fill pressure levels, removable air tanks and so on, but the fill device remains the world's biggest hindrance to greater public acceptance.
Or, I'm wrong. You tell me.