The Integrix 2-12X36 34MM FFP scope that I am testing.
This report covers:
Time to evaluate
HOWEVER
Returned
Sad BB
It arrived!
Description
Expensive?
Summary
I told you last Friday that I would have a surprise for you this week. This is it. I have the new Integrix IX6 2-12X36 34MM First Focal Plane scope to test for you. This scope is not available for purchase yet, but it should be soon. Until then I have one to test and evaluate, just for you. And I have more to tell you about than just this one model. Let's get started.
At the start of April Leapers sent me the first of their new Integrix scope line. It was the LPVO 1-8×28 FFP scope.


Integrix 1-8X28 FFP scope.
You will recall that I saw the Integrix line of scopes at the SHOT Show in January, where I told you:
"THESE INTEGRIX SCOPES ARE GREAT! They are clear; they are bright and for their power they are small! But they ain't cheap! The lineup I was shown at SHOT will retail between $1,400 for the 1-8 power up to $2,200 for the 4.5-27 power."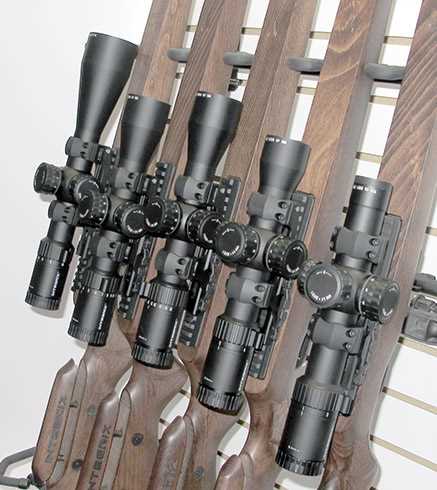 The Integrix lineup so far. The 1-8 is closest to the camera and the 4.5-27 is in the back.
All Integrix scopes have 34mm tubes which gives them uncanny light transmission. And remember our discussion about the illuminated reticles killing your night vision? Well, these seem the same to my eyes, on or off."
Now, you can't look through a scope on this blog so you'll just have to trust me. The field of view in all of these scopes is amazing — even at high power. At low power it's like looking through a picture window! If it wasn't superb it wouldn't get out of the factory."
One big "secret" is the German glass they use. Remember when I told you what glass like that costs? You don't? Well several years ago it was $100 per lens blank — BEFORE GRINDING! And that's just one secret."
Time to evaluate
How much time did I have at SHOT to really examine these scopes? 50 minutes? Well, back at the beginning of this month, I received the LPVO 1-8×28 FFP scope that I told you about a moment ago. I wanted to test that scope so much for you — I really did!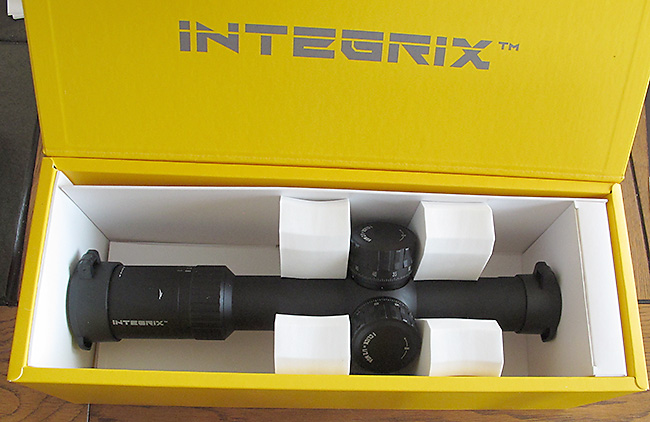 Integrix 1-8X28 scope, in box.
Folks, the BOX it came in was made so well that I searched for reasonable ways to test the scope for you. I held it up to my eye and, like I said at SHOT, it is like looking through a picture window. The glass is crystal clear and the image is bright. The reticle is on etched glass, so it is razor sharp. It is first focal plane, so the reticle increases in size as the magnification goes up. But sadly there was a however.
HOWEVER
That particular scope model has its parallax set at 100 yards. There is no adjustment. Yes, the image looks sharp at 1X magnification, but when are you ever going to use that power? You all know we are going to crank up the power to 8X and when we do the image is no longer in focus at the typical airgun distances that I define as 10 to 50 yards.
I went through all kinds of machinations, trying to come up with a legitimate way to test that scope for you. I could have mounted it on an accurate centerfire rifle. Lord knows I have plenty of those. While I have tested some centerfires for you in the past, this line of scopes is too important to leave it at just that. Could I scope a big bore airgun and shoot at 100 yards? Again, yes. An AirForce Texan is fully capable of remarkable accuracy at 100 yards. But, would any big bore shooter put a $1,400 scope on a $1,310 big bore rifle? Probably not.
Returned
So sadly I returned that scope without testing it. The truth be told no airgunner is going to purchase a scope at that price point if it doesn't focus at the ranges at which we typically shoot. I took that one picture of the scope in the box because I have never seen a riflescope packaged that well. That box has a magnetic closure! It's like a jewelry box– a scope box people will keep even if the scope never goes back inside.
That scope is ideal for hunters of bigger game. The low magnification means a huge field of view that hunters can use for shooting at running game. And the greater-than-92 percent guaranteed light transmission puts several minutes of hunting time on both ends of the clock. And those fringe light times are the prime times for deer and similar woodland game to be out.
Sad BB
I was so sad, because I had plans that included a need for a great scope. Of course I always need great scopes, but my budget doesn't permit it. I had hoped to mount a great scope on the Norica Omnia ZRS breakbarrel we have been testing, because the accuracy seems to warrant it. In fact right now there is a Bug Buster 3-12X32 in 11mm scope rings in my shop, just waiting to go on that rifle.
Then on Thursday (yes, last Thursday) I received an email from Nick Lee at Leapers. Would I like to test their new Integrix 2-12X36 scope? WOULD I??? I was about to mount a 3-12 Bug Buster on the Omnia and Leapers was offering to send me a 2-12 Integrix to test. Oh, and by the way, this one focuses down to 9 YARDS! Yes, please, send me that scope!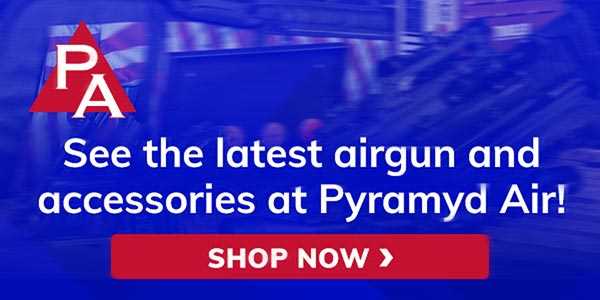 It arrived!
It arrived last Friday at 10:01 a.m. Reader Bill, I was referring to mounting this scope on the Norica Omnia ZRS when I said to you in the comments that the ZRS test is on schedule for next week (which is this week). However, when the scope arrived it was already mounted in a one-piece 34mm cantilever ring set that has a Picatinny base. Since I have no other 34mm scope rings, I have to use this set. Unfortunately the UTG Weaver to 11mm scope mount adaptors do not fit the base of this mount. There are extra locking lugs on the mount base that are in the way.
Therefore this base negates the possibility of mounting this scope on the Omnia, so back I go to the Bug Buster for that rifle. I tried to mount this scope on BBs Goldie. But this Integrix scope mount is fully mil-spec and BB's Goldie (which is an Air Venturi Avenger with a Cerakote paint job) has a compromise base that is supposed to accommodate both 11mm and Picatinny rings. But it really doesn't fit many scope rings well. So no dice there.


The bottom of the 34mm Accu Sync Quick-Release Cantilever Mount. See the additional locking lugs? They make installing the UTG Weaver to 11mm adaptors impossible.
You know what air rifle this mount fit? Ironically, it its fits the Sig ASP20, because Sig, being Sig, put a real mil-spec Picatinny base on their rifle. Of course they did. So, until I can acquire two-piece 34mm rings with Picatinny bases that fit on air rifles or rings that will accept the UTG Weaver to 11mm adaptors, this scope goes on the ASP20.
Description
This scope is 10.75-inches long. A Bug Buster 3-12 is 8.1-inches long. That means that this Integrix scope is on the smaller side for its power. Remember, I mentioned in the SHOT Show report that Integrix scopes are small for their power.
The scope tube is 34mm. That means I need the 34mm rings Leapers has included because until now 34mm isn't a ring size I've had.
The reticle is one that Leapers calls an A2. It has MOA scales both horizontally and vertically with 10 MOA on the vertical line above and 60 MOA below the horizontal line. Left and right are an identical 30 MOA. This means instead of mils the markings are in minutes of angle. At 100 yards the difference is small, but it increases with the distance.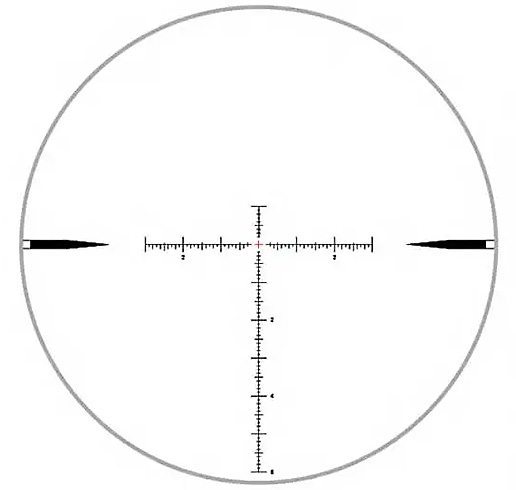 The A2 reticle has MOA scales in both directions. Because this is a first focal plane scope, the size of this reticle enlarges and decreases as the scope's power is changed.
The eye relief is a fixed and very generous 3.94-inches. And I have tested it. It really is that long! That may not mean anything to you but it sure does to me! I specifically asked David Ding at the SHOT Show this year if he would lengthen the eye relief of his Integrix Bug Buster that I showed you and he told me he was working on it. This must be what he meant. Short scopes need longer eye relief because their shorter tubes mean they often have to be mounted farther away from the shooter's eye.
The field of view at 100 yards is 57.2 feet at 2 power and 9.4 feet at 12 power. I wish you could look through it with me but until you can think of looking out a picture window. It's that bright and sharp.
Expensive?
Yes, this scope also retails for $1,400, the same as the 1-8X28. I'm sorry about that, but there is no helping it. Given what goes into it I'm surprised they can do it for that and still turn a profit.
This is a scope with the quality of a Swarovski that retails for $2,500 to above $3,000. Integrix plays in a very exclusive sandbox and it costs to play. I want to report about things most of us can afford like the Dragonfly Mark 2, but when something special like this comes along, what can I do? Don't forget, not everyone has a problem at this price point. Some people want the very best and this scope is ideal for them.
Summary
Right now my plan is to mount this Integrix scope on The ASP20 and test it there. If I can acquire some 2-piece 34mm rings that have plain Picatinny bases with just one locking lug and will accept the UTG 11mm adaptors I might also try it on the Omnia. But the ASP20 is next.