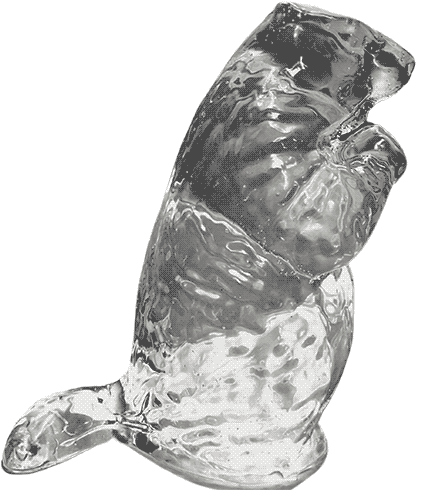 Clear ballistic gel groundhog 3-D target.
This report covers:
Today's test
Denny
The tests(s)
Uniform target
Start testing
Daisy 499
Springfield Armory M1 Carbine
What we now know
The Diana 27
Walther LGV Challenger
The reason I stopped
Summary
BB asked for help with this Ballistic Gel target and you gave him help. As expected, 75 percent of your comments were ludicrous, but the 25 percent that were legit gave me some great ideas.
Today's test
Actually there might be two tests today, it all depends on the outcome of the first one. Before we proceed there are some things I need to clarify. First, I'll tell you about the the test I hope to conduct. And before that, a word from Denny.
Denny
My neighbor, Denny, told me the chuck is just a simple target and all people want to do with it is shoot at it. Bang — whack! He also agrees that for $73, it's way too expensive for just that.
I told him that I expected for that price I would find a mold in the box with the target, so that after 50 shots or so we could melt it down and recast it. In the past I told you that Denny worked on the B2 bomber and the C17 cargo plane projects, but what I may not have mentioned is, he is a pattern maker. In other words — he made molds!
He talked me through the process of making a mold to recast Mr. Jelly Chuck, once it got shot up. It took him five minutes to go through the process one time with me being quiet, so I asked him how long he thought it would take to make a mold for this guy — 40 man-hours? No, he said, more like 100.
I had thought this might make a great blog series and perhaps some of you might follow along and make your own molds, but forget it. If it's going to take 100 man-hours to make a mold then nobody will do it — even if Yogi urges them on or Fish explains how molds are made faster in Europe!
The tests(s)
The test I will conduct today will be the penetration of various projectiles that hit the target at various velocities. Someone suggested shooting a Daisy 499 at it. Now, we know from testing that my 499 shoots a Daisy Match Grade Precision Ground Shot at 240-250 f.p.s. According to Army experiments done in World War II, that's too slow to even break the skin — not that it won't hurt a lot and will break softer tissue like that which covers eyeballs. So, what will it do to Mr. Jelly Chuck? We shall see, and BB will be wearing safety goggles.
Next I will select a higher-powered BB gun like my M1 Carbine from Springfield Armory. Daisy Premium Grade BBs average 413 f.p.s. from this gun. That's not quite double what the 499 does, but it's in the neighborhood!
Now I do also have the $100 PCP that's capable of launching a BB at more than 900 f.p.s., but since I am the only person on this planet who owns a gun like that, what's the value of a test? Yeah, I know — curiosity. Well, as the man in black said to Inigo Montoya in the movie The Princess Bride, "Get used to disappointment."
After the two BB tests I will start testing pellet rifles. I think I'll begin with my Diana 27.
Wait a minute, BB! The Diana 27 is a .22-caliber pellet rifle while the first two BB guns are both just under .177 caliber. Won't that make a difference? I really don't know. But what it does do is make my test(s) start to branch apart. Now I also need to test the penetration with different calibers — hopefully shooting at the same speed.
In my Diana 27 the RWS Superpoint pellet averages 468 f.p.s. in the Diana 27. WAIT A MINUTE, BB! You want to use a pointed pellet? Won't the shape of the pellet make a difference in penetration? Possibly. We branch apart again. Do you see what I meant when I said there could be more than one test today? In fact I think both of these things — caliber and pellet shape — need to be tested. But maybe not all on the same day, because BB wants to get some sleep tonight!
To keep things reasonably similar I shot RWS Superdomes instead of Superpoints. Domes are round like BBs. I'll assume they also average 460-470 f.p.s. because I really don't have any test data for them after the last tune on that rifle. But both pellets weigh the same and both are made by RWS, so one should be pretty close to the other.
When we get to that point in today's test I'll make a call as to where we go from there.
Uniform target
To test relative penetration depths we need all projectiles to impact the target in a place where they will encounter a uniform depth of ballistic gel. Take a look at Mr. Jelly Chuck. The only thing uniform about him is his lack of uniformity! Whadda we do? Well, I have a thought.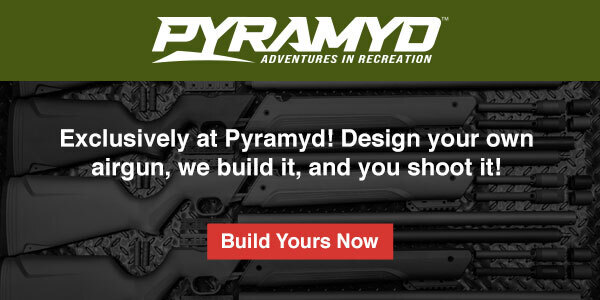 Start testing
To test today I'm selecting a small portion of the relatively flat bottom of the target and I plan to shoot just for penetration, without caring about caliber, though within each caliber I will shoot the same pellet to maintain a sense of normalcy. Let's just start and see what happens.
Daisy 499
First to be tested was the Daisy 499 with Precision Ground Shot. According to the US Army tests in World War II, the velocity of the BB from this gun is too slow to even break the skin. It takes at least 300 f.p.s to do that. Since ballistics gel is supposed to be like flesh I'm betting it won't even leave a mark, or if it does it will be a very small dent. To see that, I positioned the camera so it would take a downward angle shot on the base of the target. That way maybe we can see a dent if there is one.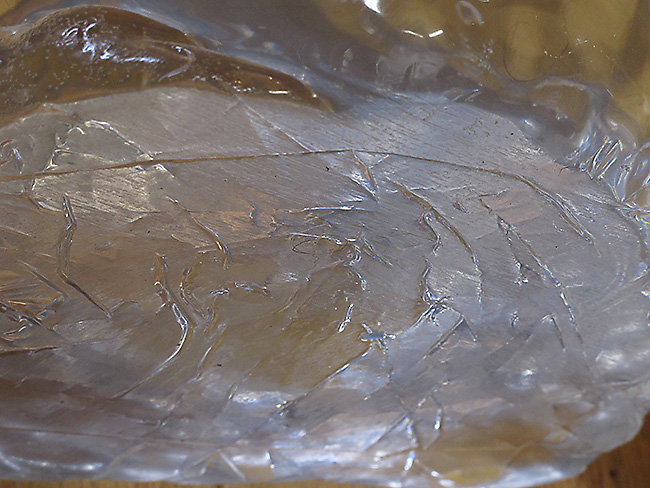 This is the target base before I shot it with the 499. I know it's hard to tell what you're looking at but here goes. This is a glancing shot, looking down on the base of the target. The top edge (highest that's closest to the camera) is the curved line in the top half of the picture. You can see the table the target sits on at the bottom right of the image. That's about 10 inches from the camera lens.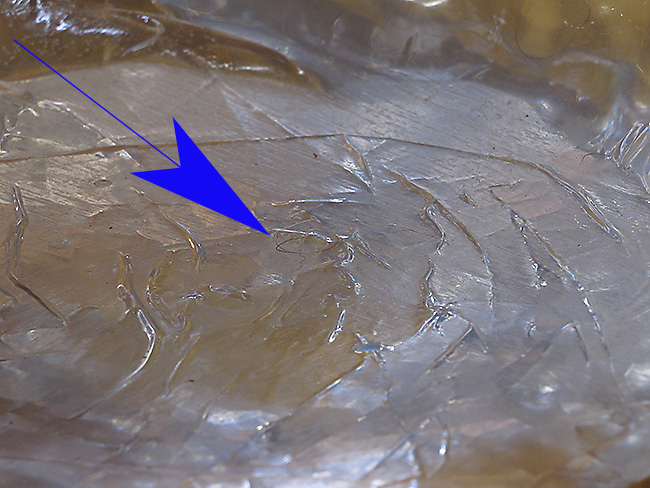 This is nearly the same view after I shot the gel target with the 499. See the blue arrow that points at a small hair on the target? The 499 hit just to the left of that arrow point. I don't see a mark.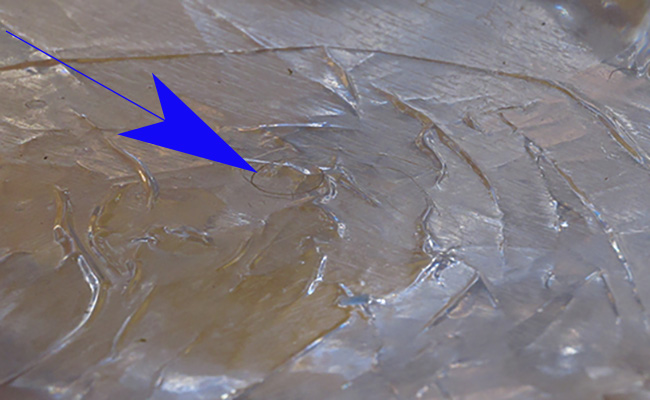 In this view I have enlarged the target base even more. See how the small hair has grown? But still no sign of a BB dent in the gel material.
I must conclude that the BB shot from a Daisy 499 with the muzzle held about one-half-inch from the target base did not leave a mark. The Army data is correct.
Springfield Armory M1 Carbine
Moving up to the M1 BB Carbine from Springfield Armory, I know that this CO2-powered BB gun shoots Daisy BBs at an average 413 f.p.s. What does that do to the target?
Well, going that fast the BB does penetrate the gel. It is next to impossible to photograph the BB inside the gel, but I did try.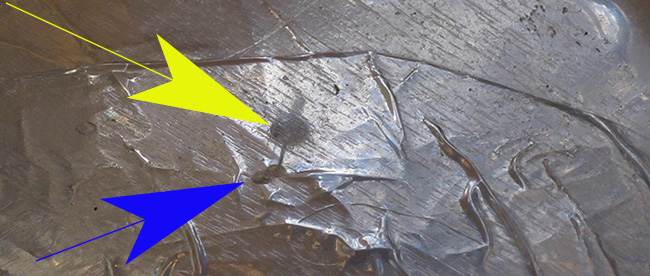 The BB shot from the M1 Carbine BB gun went into the gel target. The blue arrow points to the entrance hole. The yellow arrow points to the BB inside the target.
I tried to photograph the BB inside the target, but no matter how I positioned the camera it didn't work. So I took a 2mm Allen wrench and pressed it into the hole until it touched the BB. I can see through the gel very easily. The back of the BB was just under one inch inside the target.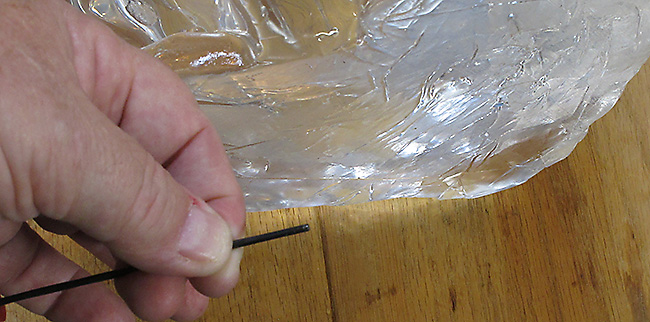 I inserted the Allen wrench until it stopped on the BB. Then I pinched it where it entered and took this picture. That's just under an inch of penetration.
What we now know
We know that 250 f.p.s. is too slow to penetrate a gel target. And it's also too slow to kill any living thing bigger than a large insect. And we know that a steel BB going 400 f.p.s. goes into the gel about an inch. What we don't know is what a heavier and larger pellet will do when it goes in about 50 f.p.s. faster. That comes next.
The Diana 27
Next to be tested is the .22-caliber Diana pellet rifle. I'm shooting RWS Superdomes that weigh 14.5 grains. That's close to three times the weight of the 5.1-grain steel BBs. This time the pellet that left the muzzle at about 460 f.p.s. went into the target about two inches. Not only was there penetration, the pellet also opened up a small shock wave in front of its nose.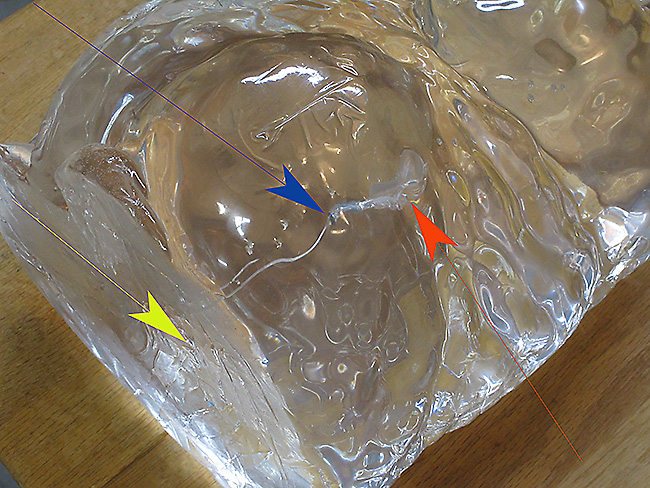 You are now looking at the right side of the target — not the base. The pellet went in and stopped at two inches (blue arrow). The entrance hole is at the yellow arrow. The red arrow on the right points to the shock wave.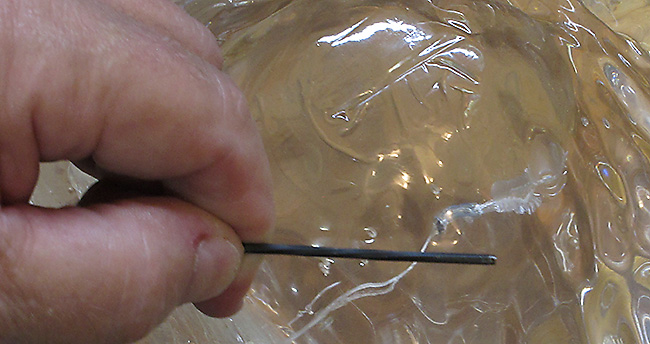 That's how deep the Diana 27 pellet went in. It's almost exactly two inches.
Walther LGV Challenger
The .22-caliber Walther LGV Challenger is the last rifle I tested today. I will explain why as we go.
I never chronographed the Challenger with Superdomes, but .22 Premiers that are made from hardened lead and weigh 14.3 grains go out at an average 587 f.p.s., while soft lead Hobbys that weigh just 11.9 grains average 664 f.p.s. Let's be conservative and guess that soft lead Superdomes go out at 600 f.p.s. Keep in mind that the Diana 27 put them out at around 460 f.p.s., so this is the same pellet going 140 f.p.s. faster.
This time the pellet penetrated the target almost 4 inches! Yep, 140 f.p.s. more speed resulted in almost twice the penetration. That tells me something more about the gel target. It can't take a lot of energy, if you want the pellet to remain inside. In fact, that could even be another test by itself! What happens when…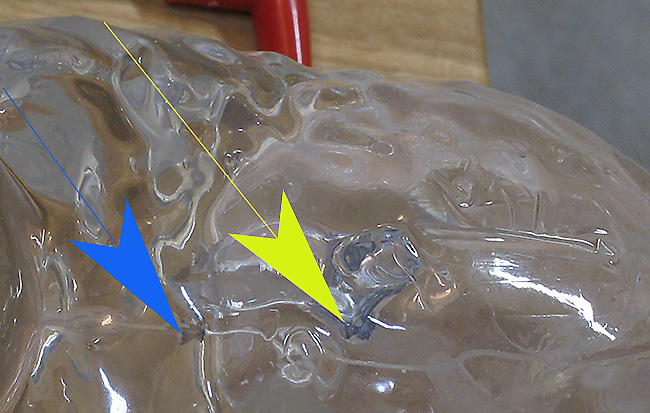 Diana 27 pellet (blue arrow) and Walther LGV Challenger pellet (yellow arrow).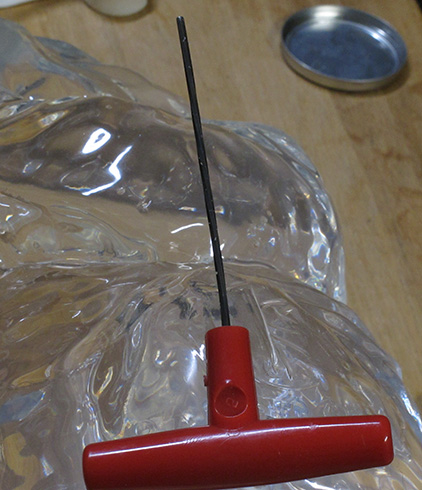 The pellet from the Walther LGV Challenger went into the target the full depth of the Allen wrench plus about a quarter-inch more.
The reason I stopped
That, my friends, is why I stopped this test. I had no idea that such a small increase in velocity would have such a dramatic affect on the pellet's penetration. I need to stop at this point and listen to your comments, plus I need to ponder this some more.
Summary
Well, given how I tested today I think I'm going to get all hundred shots in this target before reaching the end and perhaps more. Thank you for your comments. I'm so glad we took the time to think this through!