by Tom Gaylord, a.k.a. B.B. Pelletier
Part 1
Part 2
Part 3
Part 4
Part 5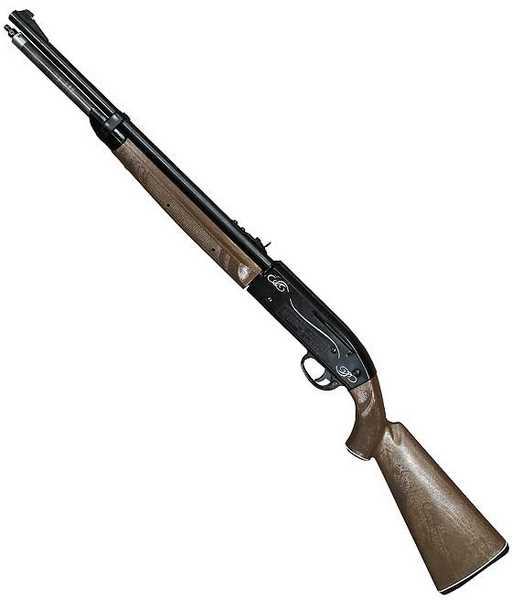 The PCP is built on a Crosman 2100B chassis.
This report addresses:
• Mounting a scope on the rifle
• Shooting Air Arms Falcon pellets at 25 yards
• Grouping in smaller pressure bands
• Shooting Crosman Premier lites
• Marketing the $100 PCP
This will probably be the final report on the $100 PCP. It's been an interesting project, and today I'm capping it off with a test at 25 yards with the rifle scoped. I selected a UTG 3-9X40 scope with illuminated reticle and a one-inch tube. This is a wonderful scope for just under $100. It's smaller size suits the test rifle perfectly.


The $100 PCP looks good with the UTG 3-9X40 scope.
Falcon pellets
In the previous report, I shot at 25 yards with open sights, and the best group of 10 I got measured 1.144 inches between centers with RWS Hobby pellets. For some reason, I overlooked Hobbys in today's test and began with Falcons, which gave a previous group of 1.912 inches.
It took just 2 shots to get on target, and the next 8 went into 0.992 inches. I was filling to 2000 psi and shooting 10 shots between each fill.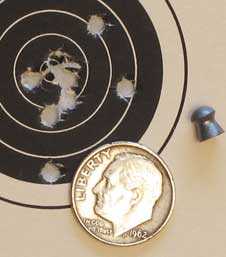 The first 8 Falcon pellets went into 0.992 inches at 25 yards.
Next, I refilled the rifle and shot 10 more Falcons. This time, the group was 1.72 inches between centers. That's better than the group with open sights, but nothing special.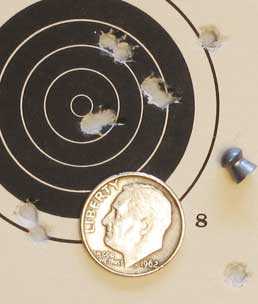 The first 10-shot group with a 2000 psi fill made this 1.72-inch group.
As I shot this group, I thought the last 5 shots went closer than the first 5, so I decided to fill the rifle to 1500 psi and shoot 5 more shots — then repeat, for a 10-shot group. These 10 shots went into 1.373 inches, which is a significant improvement.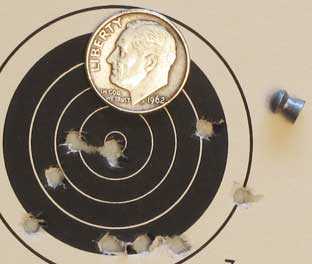 On this group, I filled the rifle twice to 1500 psi and shot 5 shots per fill. The group measures 1.373 inches, so it's a little better than the last one.
But I thought this time that the shots were scattering more than before. So I decided to boost the fill pressure to 1800 psi and shoot just 5, then refill and do it again. This gave me 10 shots in 1.577 inches, which is not an improvement.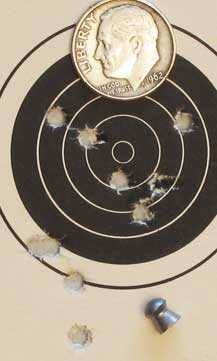 This time, I twice filled the gun to 1800 psi and shot 5 rounds with each fill. The group measures 1.577 inches between centers.
Last try
At this point, I remembered that this is just a proof-of-concept gun. We aren't trying to make the final article here — just prove that it works good enough to be worth the effort. I hadn't yet tried Crosman Premier lites in the scoped rifle, so that was my final group. This time, I filled to 2000 psi.
Ten Premier lites went into 1.607 inches; but the strange thing was that the first 5 went into 0.629 inches, and the second 5 went into 1.098 inches. And the 2 groups are centered in 2 separate places! Clearly, there are tuning issues that have to be addressed with this rifle. But I don't care about that. As far as I'm concerned, the $100 PCP concept has been proven.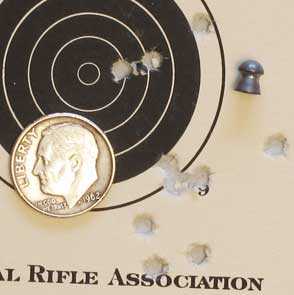 The bottom 5 pellet holes are the first 5 shots fired with Premier lites. Though the group measures 1.607 inches in all, the bottom 5 measure 0.629 inches between centers!
The groups I got aren't as small as the ones you're used to seeing from a PCP at 25 yards, but this one will sell for under $100. So, the accuracy is not expected to be world class. And this rifle's barrel is held in place by Gorilla Tape and a shim of cardboard. Certainly, there's more to be done to finish the rifle!
The last comment I'll make is that this rifle is noisy. A barrel shroud would be welcome.
Marketing the $100 PCP
From the responses we've gotten and the things I've heard while attending airgun events, I know the $100 PCP is worth trying. I realize there's a marketing plan to be constructed, so I'd like to start the ball rolling with this:
• Keep the velocity with Premier lites to no more than 800 f.p.s.
• Make the reservoir larger and balance the valve to get 20 good shots (730-800 f.p.s.).
• In every way possible, retain the features of the 2100B.
• If the fill pressure can be made even lower, say 1800 psi, that's better.
• Consider shrouding the barrel.
• Come out with a hand pump that will retail for under $100, but use a Foster fitting on the rifle so any of the current pumps can also be used.