This report covers:
What doesn't work
Make it better
Lighter pump effort
Accuracy
Power
Cost
Dragonfly
Diana two forty
Air pistols?
Do not copy!
Summary
Today I would like to discuss what works in the airgun market and why we/I think that it does.
What doesn't work
To start a discussion of this topic let's start with things we know didn't work. That may be the easiest way to see what works.
I said did not work intentionally. We don't need to step on the toes of current products and sometimes things come from behind to surprise us. So — what is a good example of an airgun that did not work?
I have one and it's the only one we need to discuss — the Daystate Sportsman Mark II.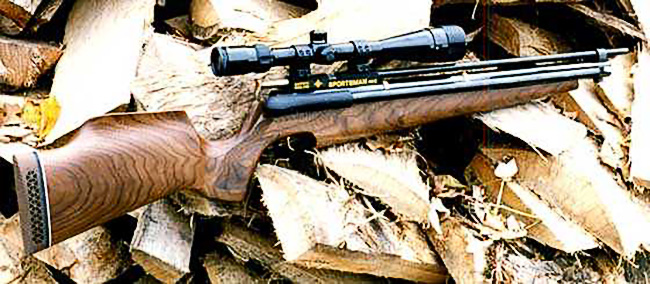 Daystate Sportsman Mark II.
This was a multi-pump air rifle that was built like a precharged pneumatic (PCP). Titan, a maker who has left the range, originally made this sidelever multi-pump, but it didn't sell well, so not many were made. And, as soon as it went off the market many airgunners said they wished they had bought one when they could. When it was available those same people had said they liked the idea but it was just too expensive. So along came Daystate and resurrected it and the Sportsman Mark II.
The US version of the rifle could be pumped up to five times. On one pump the .22-caliber rifle developed 6.5 foot-pounds. On five pumps the rifle got up to 25 foot pounds. The effort to pump was considerable. Pump number three required about 67 pounds of effort. Pumps four and five took about 77 pounds of effort. Even pump number two took between 55 and 64 pounds of effort, so the 12 foot-pound UK-spec gun was no delight, either.
Make it better
The rifle was beautiful, as the picture shows. It had a wonderful trigger. But airgunners wanted a few changes. Everything I'm about to say is exactly what was said about this Daystate air rifle when it was available.
Make it lighter.
Make it pump easier.
Make it an undelever rather than a sidelever.
Make it more powerful.
Add a port so the rifle could also be filled from a scuba tank.
Make it a repeater.
Make it in .25 caliber.
In other words, make it everything that it isn't. And this is the way it goes, more often than not. The naysayers are also the non-buyers who are just-a-gonna but never get around to it.
However, in examining that airgun's history, we do learn a few things.
Lighter pump effort
First, with multi-pumps, a lighter pump effort is important. It always is. The Sharp Ace was also a multi-pump with a lighter pump effort, but the retail price was 2-3 times that of, say, a Sheridan Blue Streak. Oh, no! Can't have that! Gotta make it cheap, BB.
Accuracy
The Sportsman Mark II was dead-nuts accurate. There was no argument there.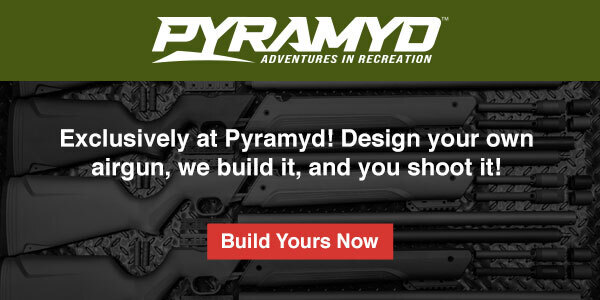 Power
Airgunners will always want more power. Look at the big bores. They already shoot through Elk and American bison and people still want more power. This is a feature whose value is asymptotic — you can approach it but you will never reach it.
Cost
Cost will always be a factor in the airgun market. It's the nature of the game, so companies have to keep it in the forefront of everything they do.
Dragonfly
And then along came the Air Venturi Dragonfly Mark II. In terms of pump effort, accuracy and, yes, price, it IS everything airgunners say they want. Even the build quality is off the charts for what you pay. The cost is dead center of where it needs to be. So, the airgunners buy them and the wannabes stand on the sidelines and criticize it for what it isn't.
Needs better wood in the stock.
Should be made in .25 caliber.
Ought to take a scope more easily.
Yeah? Well, it doesn't make good coffee, either. Let's get it for that!
Diana two forty
I'm currently testing the Diana two forty. It's not powerful, it shot large groups with open sights and it has a heavy trigger. Cheap Chinese junk! Yeah, and what did you say about the Air Venturi Bronco? It's weak, it's made in Mexico and it has a funny trigger. Oh, yes, and I wish I had bought two! If only…
So, I'm testing the Diana two forty and, thanks to you guys, I will test the Norica Titan. It seems at least some of you get it. An air rifle doesn't have to look like an M16A4 to be good. In fact, if it does look like one BB Pelletier will probably hang back. Why — because he's a dinosaur? Yes, but also because he looks for classic airguns — not those with the word classic in their names — real classics that are accurate, have nice triggers and nice sighting systems that have been well thought out.
Air pistols?
What about air pistols? Don't they deserve a look? Yes, but instead of looking at a failure, this time let's look at a success. As before, this airgun has left the range, but because it was a success it is still on everyones' list as a winner. I'm talking about the Crosman Marks I and II.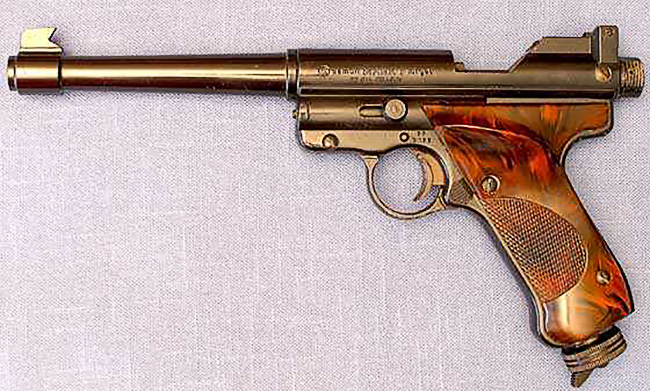 Crosman Mark I was a better copy of Ruger's Mark I pistol.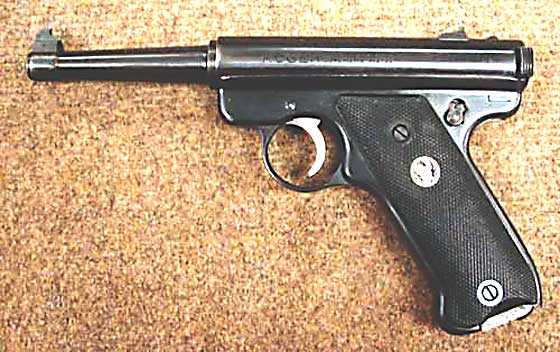 Ruger's Mark I was a pistol worthy of being copied.
We have looked at the .22-caliber Crosman Mark I and the .177/BB-caliber Crosman Mark II many times in this blog. I think most airgunners acknowledge it to be the perfect air pistol — or at least one of them. It fits the hand, is accurate, has a nice adjustable trigger and adjustable sights. Even those who don't care for CO2 guns like these!
This pistol that copies (and improves upon) Ruger's Mark I pistol is the most ergonomic air pistol ever made. Not "one of." I said "the most ergonomic ever made," and I meant it! It is the German Luger of the airgun world.
Do not copy!
With an airgun this iconic the worst thing a company could do is to try to copy it. Even Crosman would fail if they tried to copy the Mark I and II today. Unless they copied it EXACTLY, airgunners would nitpick each and every departure. And you can forget trying to justify any change as an improvement. Airgunners would simply not tolerate it!
And that is curious, because in the firearm world there is a very famous handgun example that went just the opposite way. I refer to the Colt Single Action Army. It's a handgun that the public will not let die. When Colt walked away from the design around 1940, popular demand caused others to replicate it — with success! Colt had to admit the SAA was desirable and brought out the second generation in 1955. Western TV series of the 1950s were instrumental in bringing the SAA back.
In 1974 Colt made the last second generation SAA, but the public wasn't finished with it, so in 1976 the third generation came out. Talk about a company being drug into success, kicking and screaming!
Of course there are good business decisions for not making a product that is deemed as iconic. It may bring in very little profit compared to other lines. On the other hand, should Rolls Royce abandon their Spirit of Ecstasy hood ornament, simply because it creates high air drag? Well, maybe not abandon it, but redesign it to be retractable like they did in 2004 and sleeker like they did in 2022. But Rolls Royce has an edge on Crosman — they don't sell that many automobiles to airgunners.
Summary
We are talking about why airguns are REALLY desired, as opposed to what people SAY they want. The difference is important to companies that want to stay in business.