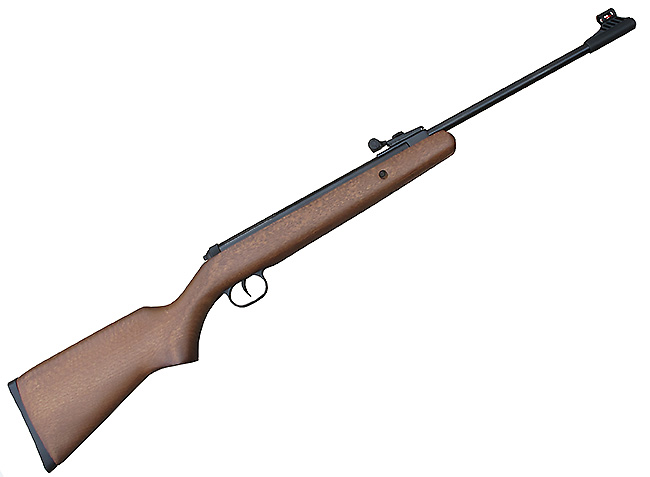 The Diana two forty.

This report covers:
The test
RWS Superpoint
Air Arms 8.44-grain domes
The trigger
JSB Exact Express
Firing behavior
H&N Excite Econ II
Sig Match Ballistic Alloy
Discussion
Summary
Today we shoot the Diana two forty for accuracy for the first time. Have you been waiting for this? I know I have.
The test
I shot from 10 meters with the rifle rested directly on a sandbag. I did not sight in the rifle because I've found that when they come with open sights, they are pretty well on target from the get-go.
I shot 10-shot groups with each pellet tested. I used a 6 o'clock hold that proved easy because of how the target was lit. The fiberoptics had no chance to illuminate.
RWS Superpoint
The first pellet I tested was the RWS Superpoint. After the first shot I looked at the target through the spotting scope and saw the pellet hole in the center of the bullseye for elevation and just outside the right of the bull at 3 o'clock. I decided to shoot the remaining nine shots before adjusting the rear sight.
Ten pellets went into a group that measures 0.757-inches between centers at 10 meters.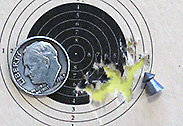 The two forty put 10 Superdomes into a 0.757-inch group at 10 meters.

After this group I adjusted the rear sight two clicks to the left. That was the last adjustment I made.
Air Arms 8.44-grain domes
Next up were ten Air Arms 8.44-grain domes. They made a 0.725-inch group at the same 10 meters.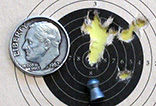 The two forty put 10 Air Arms 8.44-grain domes into a 0.725-inch group at 10 meters. The height of this pellet was caused by the pellet, because the rear sight was only adjusted for windage by two clicks.
The trigger
At this point in the test I noted that the two-stage trigger seems to be getting a bit lighter. It is still hard. It is very smooth but the blade does move in the second stage, just like most single-stage triggers. It reminds me of a vintage El Gamo trigger that took 3,000 to 4,000 shots to break in, but once you got there it was a beautiful trigger!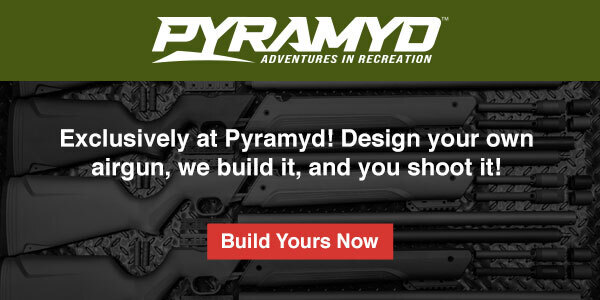 JSB Exact Express
Next I tried ten JSB Exact Express pellets. These weigh 7.87-grains, nominally and I tend to think of them as 7.33-grain RS pellets. But they're not. I haven't had any luck with these, but I keep trying.
Ten of these made a 0.897-inch group at ten meters. It's the largest group of today's test.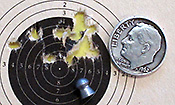 Ten JSB Exact Express pellets went into 0.897-inches at 10 meters.
Firing behavior
The two forty is almost dead calm when it fires. There is just a tiny hint of vibration with the shot and the rifle moves ever-so-slightly forward. All things said, this two forty is a very smooth breakbarrel.
H&N Excite Econ II
The next pellet I tested in the two forty was the H&N Excite Econ II wadcutter. At just six dollars for a tin of 500, the Excite II is enough to excite me, too! Ten of these 7.4-grain pellets went into a 0.869-inch group at 10 meters. I will take that and I'll tell you why in just a bit.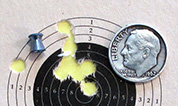 Ten H&N Excite II pellets made a 0.869-inch group at 10 meters.
Sig Match Ballistic Alloy
The last pellet I tested today was the Sig Match Ballistic Alloy wadcutter. The two forty put 10 of them into a 0.817-inch group at 10 meters.

The two forty put 10 Sig Match Ballistic Alloy wadcutters into a 0.817-inch group at 10 meters.
Discussion
First thing — do you see how similar in size these groups all are? I think this two forty is not pellet-picky.
Next, while none of these groups is what we would call good, most of them show a tendency to be better (i.e. a large number of pellets in a smaller group within the overall group). I think with a scope I can do better. That's why I will take the accuracy we see today.
The trigger is still too heavy, but it feels like it's going to lighten up.
The two forty is small and easy to cock, but it feels like a larger air rifle. It's the thickness of the wood that does it, I think.
Summary
I always look for air rifles that are inexpensive and good in the important areas, which would be accuracy, nice sights and a good trigger. The two forty is one such gun except for the trigger that I think will get better. And yes, I will look at the Norica Titan!