Today reader Ian McKee, who signs in as 45Bravo tells us more about his experiences at the 2023 Pyramyd Air Cup.
If you'd like to write a guest post for this blog, please email me at blogger@pyramydair.com.
Take it away, Ian
The 2023 Pyramyd A.I.R. Cup as seen through my eyes: Day 2
by Ian McKee


Today we continue with day two of the Pyramyd A.I.R. Cup through my eyes.
This report covers:
Wind
Benchrest matches
Gunslynger matches
My first match
Interview during the match
It's over
Back in the saddle
Living in Houston Texas, these past few months have been unbearable, with daily temps well over 100 deg F (about 38 deg C) almost every day and high humidity driving the heat index to well over 110 deg. regularly (about 43 deg C). At night it would drop to the high 80's (about 29 deg C) if we were lucky.
It was a welcome reprieve to wake up to Ohio temps in the mid 60's (about 19 deg C) topping out at about 90 deg F (about 32 deg C) during the day.
The Gunslynger event didn't start until after 3 p.m., so we decided to take in the Benchrest event. Benchrest shot in 3 groups, with each group shooting 2 "cards" (target sheets) today. Each card was 25 scored shots in the scoring section, and as many sighters you needed in the sight-in section.
Wind
The first group to shoot had relatively calm winds, it was a great day for shooting (any day is a great day for shooting). What little wind they did have was almost straight at the shooter's face. By the times group 2 and 3 had shot, the winds had picked up considerably as the temps climbed.
When the wind picks up to 20+ mph (over 9 meters per second) and starts blowing from 3 different directions between you and the target, you find out who has spent untold hours shooting in adverse conditions and has learned to judge the wind, and the effect it has on their pellet down range.
The winds were blowing in your face at 25 yards, at 50 yards they were quartering at about the 11-10 o'clock position, at both 75 and 100 yards the wind was blowing full value from your left to right.
Some shooters were having to hold one full target to the left just to hit their bull.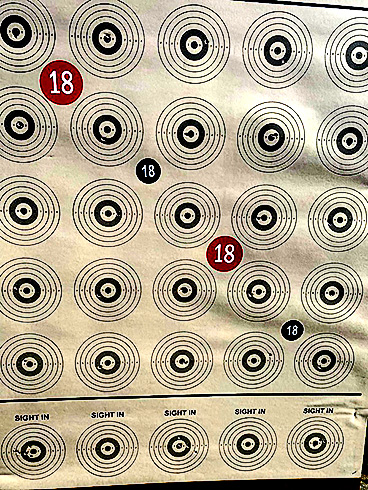 The red and black markers are your bench number, they are there to remind you what target you are supposed to be shooting. But crossfires did happen.
Benchrest matches
There were many different manufacturers represented on the line, some competitors were factory sponsored shooters such as FX, RAW, AirArms, Skout, and the new Saber Tactical Red Panda. Others used their favorite rifles, the ones they knew best as their daily shooters such as Daystate, Thomas, BRK (formerly known as Brocock), Walther and others.
But the cost of entry does not have to be that high, there were several Marauders, I also saw a JTS Airacuda Max in .25 and a base model Air Venturi Avenger in .22 on the line as well.
With the right ammunition and time spent with the gun, and with a few tweaks and minor mods, any of the guns mentioned could make a good showing in a 100-yard Benchrest event if the shooter does their part.

With a retail price of $420 this regulated, accurate, well made air rifle can be a great entry into the precharged air rifle arena.
Gunslynger matches
The Gunslynger event is a 20-target silhouette match where two shooters are pitted against each other for time. Each of the three categories was shot to completion, meaning the Springer single load event was shot from start to finish, then the PCP single load event, and finally the Magazine fed PCP event.
With only 8 shooting lanes dedicated to the Gunslynger event, things went faster and faster as the skill level of the shooters floated to the top.


The size of the Gunslynger targets in relation to a US dollar bill. Left to right the targets are shot at 10 yards, 25 yards, 40 yards and 55 yards respectively.
After every round the competitors that had been eliminated picked up their belongings, and the next group made ready, as the number of shooters lessened on the line, there was less time between heats to move to your new bench, and make your rifle and equipment ready.
Speed
Now let's look at what real speed is. This is the final round of the single load PCP class, a Daystate against an Air Arms rifle. Nic Gregorias who wins is a shooting Machine! Twenty shots with no misses.
I refilled my rifle after each heat, because I had tuned the rifle to give me 56 accurate shots before needing to be refilled (there were only 20 targets to knock down, but I wanted a buffer just in case I had a lapse in concentration, so I had 56 total rounds loaded in mags.)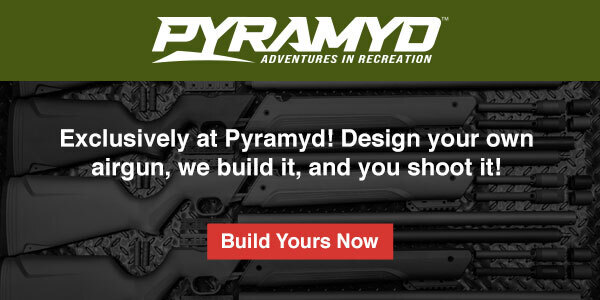 My first match
When I saw my first matchup, my first words were "Tyler Patner hates me."
My first matchup was against the American Airgunner himself, Rossi Morreale. (great, I get paired to shoot against a guy that has his own tv show about airgun shooting. I just knew I was toast.)
I don't know what happened to Rossi after Tyler said GO. All I knew was suddenly my targets were all down and I raised my hand saying TIME!
After I realized I had survived the first round, my heart rate started to return to something close to 100, I started to block out everything and concentrate on making ready for my next round.
The same thing happened in round 2, focusing on the target and squeezing the trigger. The first magazine could not have more than 10 pellets and in every round I forgot to count shots, and had at least 1 blank.
Yogi, I know I need a mag with a shot counter. My rifle does have one, but I was concentrating on the targets not the mag. The gun sounds different when the chamber is empty. If anyone posts a video online, you will hear me saying out loud as I change mags, 10 rounds, 10 rounds!
Interview during the match
After the 2nd round a Youtube content creator asked for a short interview. I tried a couple of takes, but I was concentrating on getting ready, and asked him to please catch up with me after the event, or after I was eliminated. He was good with that.
I survived round 3, and got ready for round 4. By this time the skill level of the remaining shooters was quite high, and I knew I was on borrowed time.
It's over
Round 4, and once again I forgot to count 10 shots, then got back into the groove. Then I started missing on the 40 yard turkeys due to a lapse in concentration. When I heard TIME from the shooter next to me, it was over.
I shook his hand, congratulated him, and put up my rifle.
I caught up with the Youtube content creator and gave him an interview and a brief overview of the airgun I had used (the only one of that make and model at the competition.)
It was now time to relax and enjoy the rest of the weekend as a spectator.
My equipment performed flawlessly, I have no excuses, my shortcoming was through lack of prep and practice.
Back in the saddle
I had not set foot on a competitive firing line since the late 90's. Sure I have friendly challenges at the range with friends, but to actually shoot for a score against unknown people, as they say now, "it's been a minute…"
I had said realistically I would like to finish in the top half. I surpassed that by quite a bit, I am happy with 7th place, [Ed. – out of 56 shooters.] and it gives me room for improvement for next year's Pyramyd A.I.R. Cup.
I hope some of the readers can make it to the next Cup. It would be great to shake hands, and put a face with the name.
Remember, there is no admission cost to the public if you aren't shooting.
Shoot Safe, and HAVE FUN!!
Ian