by Tom Gaylord
Writing as B.B. Pelletier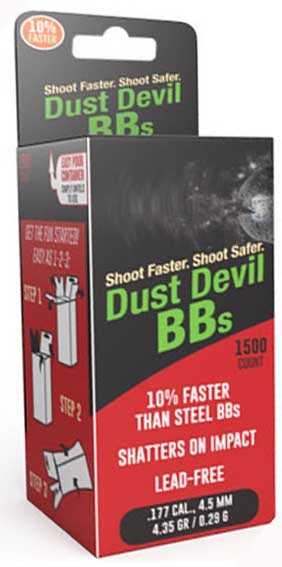 .
Air Venturi Dust Devils will hit the market in a few months.
This report covers:
BBs rebound
Smart Shot
Weight
Composition
Accuracy?
Hard Target?
Do they work?
Acid test!
Application
What they will and won't do
Long-term test
Summary
Today we are going to look at something entirely new — the Air Venturi Dust Devil BB. It's a BB that can be fired at hard targets with little fear of rebound, because the BB disintegrates on impact. I have been playing with these for several months now, and they do deliver on that promise!
BBs rebound
Ask anyone who shoots BBs and they will tell you — BBs rebound from hard targets. They can come back at the shooter almost as fast as they went downrange. You may recall that little Ralphie Parker discovered that when he fired the first shot from his Red Ryder in the movie, A Christmas Story. Well, he wasn't the only one! Little BB Pelletier busted his lower lip when a BB fired from an Anics revolver rebounded from 10 meters away. That BB left the pistol twice as fast as Ralphie's — 500 f.p.s.! I shouldn't have shot it into a steel bullet trap to begin with, but do as I say — not as I do. I said, "Aww — it'll never come all the way back here." Right! Reminds me of guys who shoot .22 long rifle ammo at golf balls and get surprised in exactly the same way.