Crosman .177 Cal Steel Breech Reviews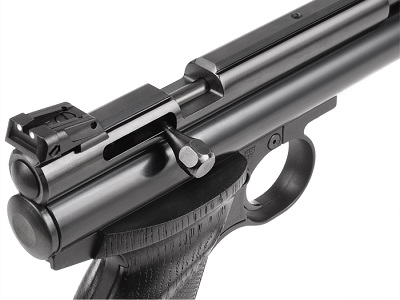 Average Customer Review
4.5
(16 reviews)
Create an online review   and share your thoughts with other customers
The most helpful favorable review
0 of 0 people found the following review helpful:
By Martin from USA on 2014-12-10 09:46:07
Things I liked:
I have installed three of these and all worked excellently. Turned a pretty good pellet pistol into a tack driving monster.They work equally well on the 1377 and 1322 models, as far as accuracy increase. Also seem to be much better in the balance area.
Things I would have changed:
All three of these have the issue of bolt being very difficult to close or open when handle is screwed in tight. This cleared up on all three after about 50 shots fired. There were small irregularities in the slot for the handle which smoothed out on their own with use. I polished this slot on my own 1377 and did not encounter this problem.
What others should know:
I have been an avid air gunner since the middle sixties with the purchase of a Bennie 342 in 22 ca. Still a great gun today. These Crosmans are one of the greatest values in airgunning today, although with the addition of the steel breech and adjustable rear sight they are a little pricy. A prebuilt gun with these accessories at a discounted price would be great. But even $140 total cost for the accuracy and power is not a bad deal. Will someone please make nice wood replacement stocks and forearms for these fine guns?
The most helpful critical review
0 of 0 people found the following review helpful:
By Mickey from USA on 2018-07-18 17:44:21
Things I liked:
The individual components are well made and the technique, instructions and tools for changing out the receiver were fine.
Things I would have changed:
The interface of the LPA sight and the receiver was not well thought out and needs to be redesigned, Three screws are used tighten down and adjust the sight on the receiver. However, in doing so, you wind up lifting base of the sight off the receiver platform. The only interface is now the bottom edges of the sight dovetail with the top edges of the receiver dovetail. I had no confidence in that arrangement what so ever. I finally just glued the sight to the receive. Of course the end result of that is I have no elevation adjustment capability.
What others should know:
Don't buy it if you're really looking for a fully adjustable sight.