Shooting Chrony Alpha Chronograph, Red Reviews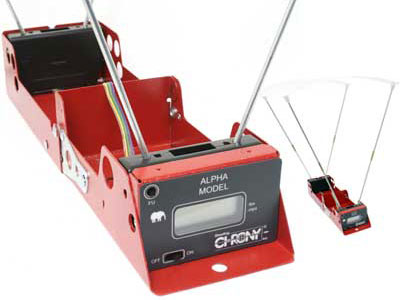 Average Customer Review
4.5
(26 reviews)
Create an online review   and share your thoughts with other customers
The most helpful favorable review
1 of 1 people found the following review helpful:
By JOHN from USA on 2009-02-16 10:28:56
Things I liked:
A necessary tool for getting to know my airguns' capabilities (and shortcomings). I may use it outdoors in the Spring to check muzzle velocity of my .22 rim fire saddle gun!
Things I would have changed:
I added the CHRONY lights for best indoor readings - would have bought the LED light set if I had known about it as they tend to be more durable and very long-lasting.
What others should know:
I ran CHRONY tests on my Crosman Classic pistol at 3x pumps, then 4x on up to max 10x pumps and recorded all the averages, mins and max, etc. Now I know exactly the number of pumps needed for accurate 10 meter target shooting at home!
The most helpful critical review
0 of 0 people found the following review helpful:
By Brandon from USA on 2017-06-04 12:11:52
Things I liked:
The chronograph is very easy to setup and use. All you need to make it functional is a single 9v battery. The guide rods and diffusers are easy to put together and into the chronograph.
Things I would have changed:
Make the fps/mps show to the same placement, instead of tenths and hundredths. Would also suggest putting a cord cover over the wire between the sensors so it is not easy to close it in the case when you fold it up, not a huge deal but a simple detail that would make it a little nicer.
What others should know:
One thing to note is that the fps and average are shown down to the tenths place but when you pull up extreme spread and deviation it shows the numbers down to the hundredths place so if you re-run the fps through another ballistics program you will get different numbers for extreme spread and deviation. The diffusers snap/click together or apart fairly hard and at times so it feels like the little tabs might eventually wear off or break.