Beretta M9A3 Reviews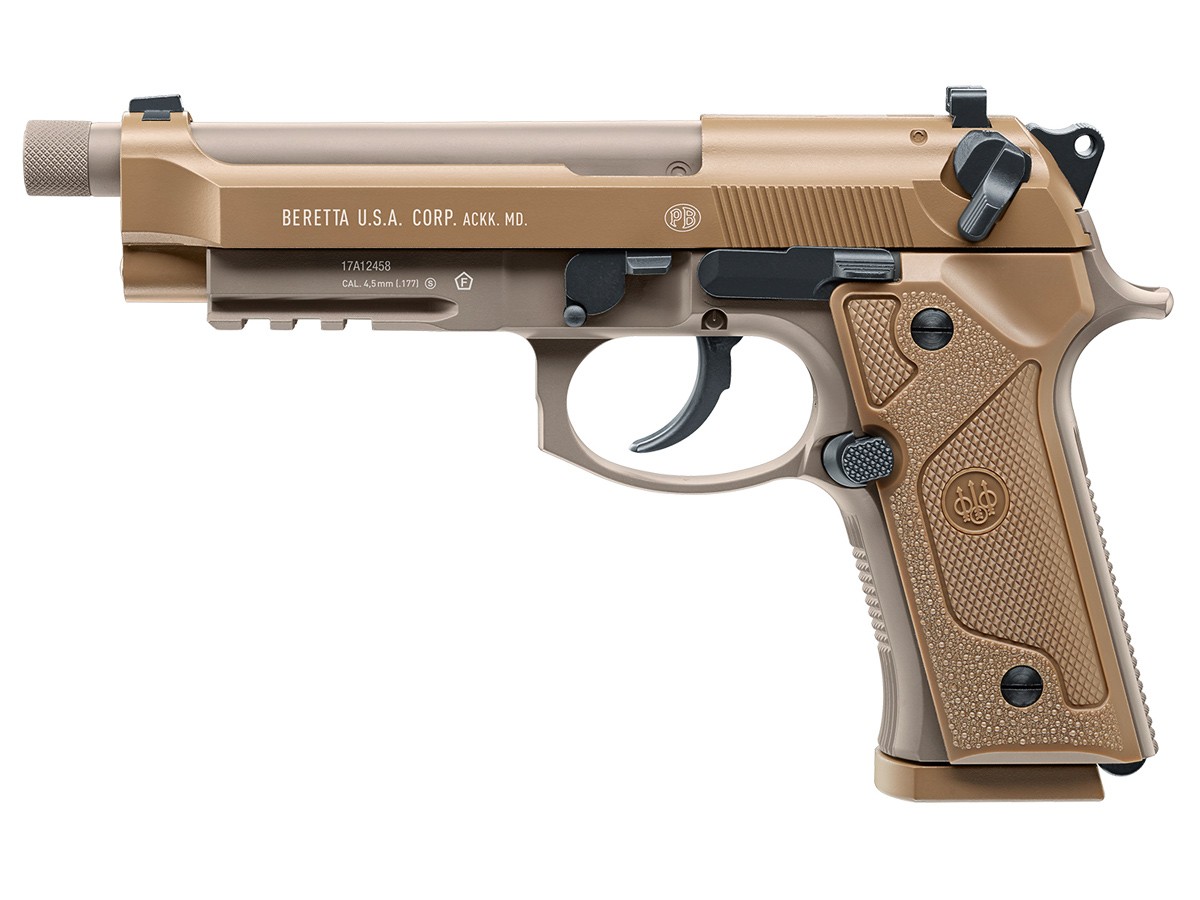 Average Customer Review
4.5
(44 reviews)
Create an online review   and share your thoughts with other customers
The most helpful favorable review
2 of 2 people found the following review helpful:
By Charles M from USA on 2019-04-14 11:14:26
Things I liked:
There is much I like about this M9A3 beginning with it being another variant of the classic M92. Except for the grips and other minor parts, this M9A3 is all metal. The bicolor finish is excellent and very attractive. The grip back strap is straight which make the pistol a little more comfortable in my hand. The safety is ambidextrous. The M9A3 has the same semi-auto / full auto selector as found on the M92A1. The M9A3 and M92A1 magazines are interchangeable. The blowback is strong, and the slide locks back when the magazine is empty. The M9A3 can be field stripped. Despite the low point of impact using the open sights, the M9A3 shots group well. Shooting Black Diamond BBs from a bench rest at 18 feet to target produced a 1.25" 10 shot group. Total shot counts using either Umarex or Crosman CO2 are about 60 whether shooting slow semi-auto or rapid full auto.
Things I would have changed:
Front and rear sights are fixed and non-adjustable. The rear sight is a separate piece mounted in a dovetail with the mounting screw apparently inside the slide. Although the front sight appears to be mounted in the slide using a hex screw, there is no indication that it is adjustable for windage. The owner's manual does not say anything about either sight being adjustable. The consequence of the fixed sight is that shooting from 18 feet using a 6 o'clock aim on the center spot yields shot groups centered about 2.5 to 3 inches below center and about 1 inch left of center.
What others should know:
To compensate for the low and left point of impact, I attached a LaserMax Spartan Green laser to the M9A3 front rail. Once the laser was sighted in, I was able to use a center aim and hit the point of aim. Shooting from a bench rest at 18 feet to target in single action produced the following shot groups. Umarex Steel: 10 shots: 1.75"; 8 shots: 1.13". Black Diamond: 10 shots: 1.25"; 9 shots: 0.97". Copperhead: 10 shots: 3.06"; 8 shots: 1.44". Daisy Premium: 10 shots: 1.50"; 7 shots: 1.06". Avanti: 10 shots: 1.50"; 8 shots: 1.00". Excite Smart Shot copper plated lead BBs were not a good choice for my M9A3 pistol which produced a 10 shot group of 4.81". Shooting off hand standing using a center aim with the LaserMax laser yielded slightly larger groups that were still well centered on point of aim.
The most helpful critical review
0 of 0 people found the following review helpful:
By Edmond from USA on 2020-07-20 12:23:23
Things I liked:
Feels like the real thing perfect for training, for any LEO or military
Things I would have changed:
Make the rear sights adjustable, shoots low and to the left, make magazines that don't fail. I don't mean a slow leak like gone on 10 seconds.
What others should know:
The magazine failed stuck open after 20 co2's 500 bbs' very disappointed, full auto I believe damages the plastic lower