Tanfoglio Witness 1911 Reviews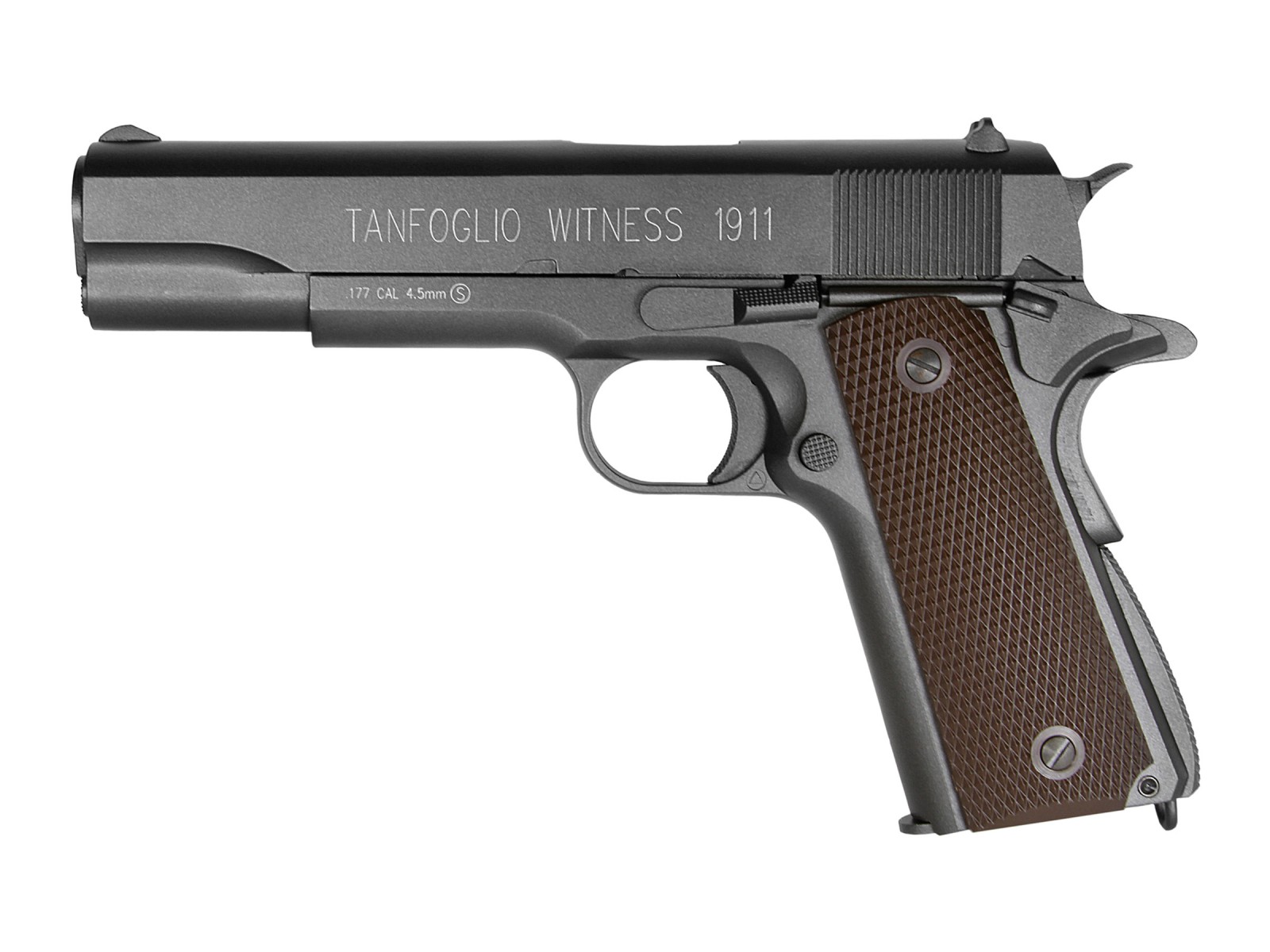 Average Customer Review
4.5
(197 reviews)
Create an online review   and share your thoughts with other customers
The most helpful favorable review
2 of 2 people found the following review helpful:
By randal from USA on 2012-04-08 14:13:53
Things I liked:
I just started collecting replica air guns about a year ago, the 1911 was not my first purchace but having carried one in the service it was on my short list. After some research I purchased the Tanfoglio Witness because it was reviewed as the most acurate reproduction. I was set on a gun with Colt markings being the 100th anniversary but was not disapointed in the least. I find this gun almost as much fun to clean as it is to shoot. The gun fits together very well and the action is great. The blowback delivers a kick that most .22s don't have. The slide locking back after the last shot still brings a smile. Endless 1911 grips to choose from will fit with a little shaping from a Dremel tool. If you are only going to own one co2 pistol this is it.
Things I would have changed:
The only thing I feel could be improved is the magazine. When you pull back and compress the spring during loading the post that's attached to it rises up. You have to push it back into place so it feeds properly. I feel that's nit picking when I look at the hole package.
The most helpful critical review
0 of 1 people found the following review helpful:
By Gregan from USA on 2016-12-25 14:05:59
Things I liked:
Great weight and realistic feel, was really happy until I tried firing it
Things I would have changed:
Maybe it could fire more than a few bbs before jamming
What others should know:
It's a nicely made air pistol to be sure. Mine just doesn't work properly. This is my 4th air pistol, so I'm not some newb who doesn't get it. Oh well 120 bucks down the drain, and Dad's xmas present just a bummer. I'm tempted to try another, cos I like it, and I could skim all the extras, mag and so on, but what if the next one is just as dodgy? Good gamble. Might just replace it with an Umarex for quality's sake.