Posts Tagged 'Hy-Score 805'
by B.B. Pelletier
Before we start…heads up! Pyramyd Air has a shipping promotion going on. Instead of buying $100 to get free shipping, you have to buy only $50 in merchandise to get free ground shipping. This special promo is valid on Jan. 6-7, 2011, and is available only for addresses in the lower 48 states. You cannot combine coupons with the free shipping offer.
Photos and testing by Earl "Mac" McDonald


Mac's little sheet metal Hy-Score 805 air rifle is quite the looker.
Remember that I'm accelerating this report, so today we'll do both velocity and accuracy. This is really parts 2 and 3, combined. So, please don't knock yourselves out looking for Part 3, because there isn't going to be one.
Mac figured that this powerplant is weak enough that it's only suitable for lighter-weight wadcutter pellets, so they were the only ones he tested. And, when he shoots for accuracy, it'll be only at 10 yards. We'll begin with H&N Finale Match Pistol pellets that weigh 7.56 grains.
H&N Finale Match Pistol
These lighter wadcutters averaged 402 f.p.s. with a total velocity spread of 15 f.p.s. The spread went from 391 to 406 f.p.s. The average muzzle energy was 2.72 foot-pounds.
RWS Meisterkugeln Pistol pellets
The lighter 7-grain RWS Meisterkugeln Pistol pellets averaged 372 f.p.s. with an extreme spread of 13 f.p.s. The range went from 366 to 379 f.p.s. The average muzzle energy was 2.15 foot-pounds.
RWS Hobby pellets
The funny thing is that with 7-grain RWS Hobby pellets, the velocity average jumped to 389 f.p.s. The spread was 22 f.p.s., ranging from 371 to 393 f.p.s. The average muzzle energy with this pellet was 2.35 foot-pounds.
RWS HyperMAX pellets
Mac found that RWS HyperMAX pellets were not suitable in this gun. Their velocity fell far below that of the much heavier Hobbys.
Mac reports that all pellets were loose in the bore, which he felt might affect their accuracy. That's up next. He shot 5-shot groups outdoors at 10 yards using 10-meter rifle targets The temperature was around 28-deg. F, but the gun had loosened up during the velocity testing. Please revisit Part 1 to see how crude the sights are.
Finale Match Pistol pellets
Right off the bat, Mac shot the most accurate pellet of the test. To his surprise, H&N Finale Match Pistol pellets put five shots in a group that measured just 0.56″ at 10 yards. Not too shabby for a smoothbore toy-like gun!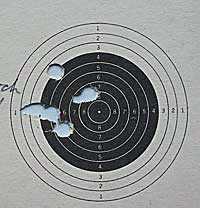 Five shots in 0.56″ from a smoothbore at 10 yards! That's some shooting!
Next, he tried the Hobbys. They didn't do nearly as well, grouping five in one inch at the same 10 yards.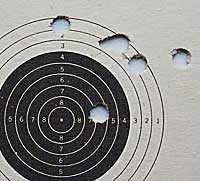 An inch at 10 yards is more like what you'd expect for a smoothbore at 10 yards. RWS Hobbys.
The last successful pellet he tested at 10 yards was the RWS Meisterkugeln. Though it doesn't look all that different than the other two, it grouped five in 2.15 inches, due to what looks like a flier, though Mac did not call it.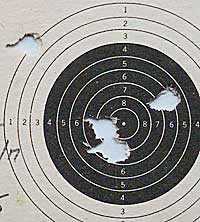 Now the pellets begin to scatter. Five Meisterkugeln grouped in 2.15″ at 10 yards.
Well, this has certainly been a delightful look at an airgun many of you were not aware of before now. The whole thrust of this test was to see how accurate a smoothbore is, and I think we did that. In fact, we were surprised with how accurate it can be at close range.
We were also impressed by the build quality and the quality of the finish on what was considered almost a toy 40 years ago. This hobby of ours certainly contains a large universe of possibilities if guns like this can abound.
by B.B. Pelletier
Photos and testing by Earl "Mac" McDonald
Mac wants to share another vintage sweetie with you. This one is a Hy-Score model 805, which the Blue Book of Airguns identifies as a Diana model 16.


Hy-Score 805 is actually a Diana model 16. It's made of folded sheetmetal but made to a very high standard.
The gun is made entirely of stamped steel parts. The only machined parts in the gun are the screws! There are some laminated parts where several sheets of steel are tack-welded together to form a single part, but we've seen this kind of fabrication on high-end spring guns such as the BSF series. It isn't just a cost-cutting measure.

This is what can be done with folded sheet metal. The Hy-Score breech.
The gun is a smoothbore, which is why Mac picked it. He was curious just how accurate a smoothbore could be. That was the motive for testing this gun. I'll combine parts 1 and 2 and parts 2 and 3, so this will be a two-parter, rather than a three-parter. In this part, I want to get the physical description handled.
The gun has an overall length of 32.75 inches, which makes it just under three inches shorter than a Daisy Red Ryder. The length of pull is 13.2 inches, which seems long for such a toy-like airgun. The barrel length is only 12 inches, and the barrel is a piece of brass tubing that's fastened at both ends by the outer sheet steel barrel shroud.
The gun weighs 2 lbs., 10 ozs. Cocking effort is under 10 lbs., yet the trigger lets go at 59 oz. It's non-adjustable, as you can imagine from the photos. It's not a target gun, by anyone's definition, yet the trigger is reasonably crisp and repeatable.
The sights are plain and simple, but they fit the design of the rifle perfectly. What I mean is that they're not gadgety or quirky — just straightforward sights that you'd expect to find on an older air rifle.

The front sight is just a vertical pin.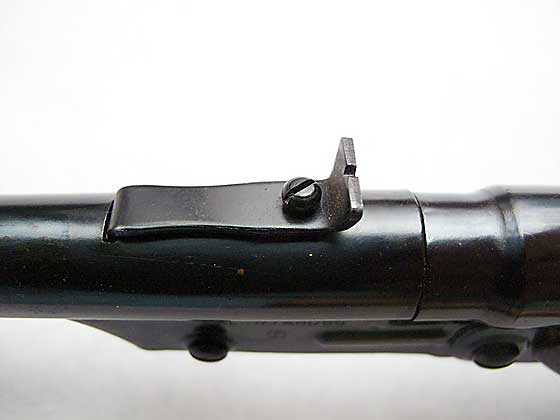 The rear sight adjusts for elevation, only.
Mac reports that the bluing and metal prep are better on this little gun than on his TX 200 Mark III, which is saying a lot. I hope the photos help convey a little of that quality.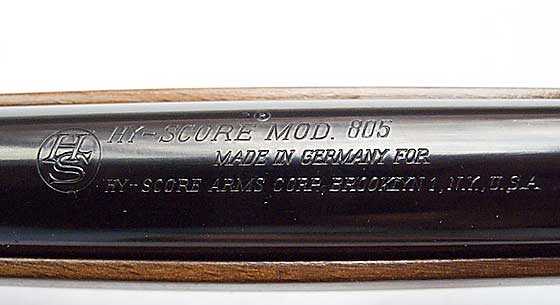 Here, Mac shows us the engraved (or roll-stamped) name and model number. Note the deep, even finish.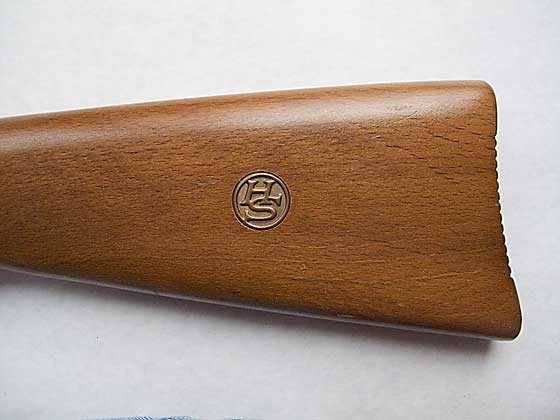 The Hy-Score logo is clearly stamped into the butt.
As simple as the gun is, you might be tempted to discount it. That would be a mistake. Examination of how the parts interact to make the whole gun is a fascinating study. Though this is, without a doubt, a cheap airgun, it has a lot to offer in the way of design education.
And the Diana 16 was widely copied. I once owned a Czechoslovakian variation of this gun that was very similar in all ways, save the stock. The Diana stock is the more robust one. Most copies have a slab wood stock.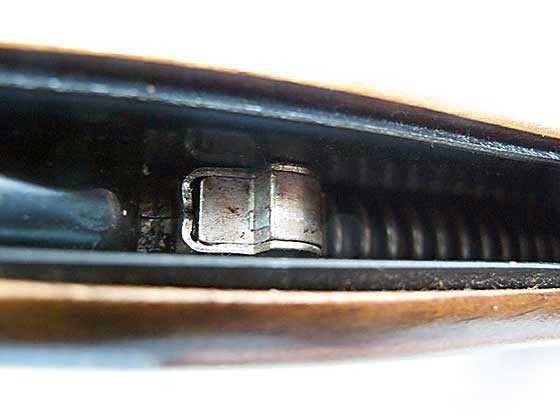 The silver shelf seen here is the back of the piston that is caught by the sear.
When Mac first got the gun at an airgun show, the breech was stuck together. He oiled the breech until the leather seal swelled up and released the barrel for cocking. Had he forced it, the breech seal probably would have torn.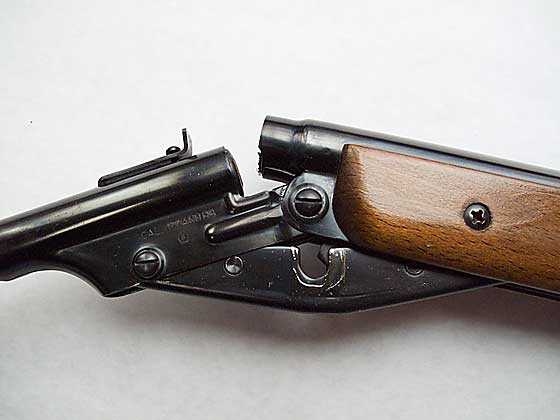 As the breech is opened, you can see how the barrel locks up.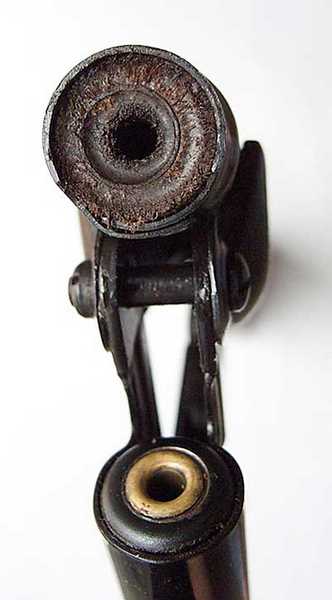 With the barrel broken fully open, you can see how the leather breech seal seals against the rear of the barrel. There are no o-rings — just a leather-to-steel interface.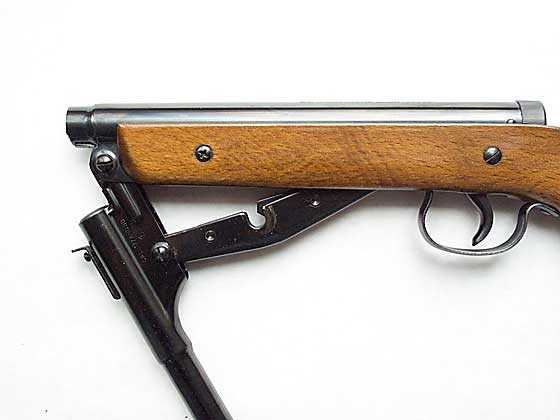 This is what the gun looks like when broken open all the way. You can see the notch in the cocking link that wraps around the stock screws.
Mac asked me this question in relation to this airgun: "When does an airgun become a toy?" I had to answer that I didn't know. As long as it shot something, I always considered any gun not to be a toy. This gun is certainly not a toy, though it does appear toy-like in size and weight. In the next installment, Mac will shoot it for velocity and accuracy.