by B.B. Pelletier
Before we start…heads up! Pyramyd Air has a shipping promotion going on. Instead of buying $100 to get free shipping, you have to buy only $50 in merchandise to get free ground shipping. This special promo is valid on Jan. 6-7, 2011, and is available only for addresses in the lower 48 states. You cannot combine coupons with the free shipping offer.
Photos and testing by Earl "Mac" McDonald


Mac's little sheet metal Hy-Score 805 air rifle is quite the looker.
Remember that I'm accelerating this report, so today we'll do both velocity and accuracy. This is really parts 2 and 3, combined. So, please don't knock yourselves out looking for Part 3, because there isn't going to be one.
Mac figured that this powerplant is weak enough that it's only suitable for lighter-weight wadcutter pellets, so they were the only ones he tested. And, when he shoots for accuracy, it'll be only at 10 yards. We'll begin with H&N Finale Match Pistol pellets that weigh 7.56 grains.
H&N Finale Match Pistol
These lighter wadcutters averaged 402 f.p.s. with a total velocity spread of 15 f.p.s. The spread went from 391 to 406 f.p.s. The average muzzle energy was 2.72 foot-pounds.
RWS Meisterkugeln Pistol pellets
The lighter 7-grain RWS Meisterkugeln Pistol pellets averaged 372 f.p.s. with an extreme spread of 13 f.p.s. The range went from 366 to 379 f.p.s. The average muzzle energy was 2.15 foot-pounds.
RWS Hobby pellets
The funny thing is that with 7-grain RWS Hobby pellets, the velocity average jumped to 389 f.p.s. The spread was 22 f.p.s., ranging from 371 to 393 f.p.s. The average muzzle energy with this pellet was 2.35 foot-pounds.
RWS HyperMAX pellets
Mac found that RWS HyperMAX pellets were not suitable in this gun. Their velocity fell far below that of the much heavier Hobbys.
Mac reports that all pellets were loose in the bore, which he felt might affect their accuracy. That's up next. He shot 5-shot groups outdoors at 10 yards using 10-meter rifle targets The temperature was around 28-deg. F, but the gun had loosened up during the velocity testing. Please revisit Part 1 to see how crude the sights are.
Finale Match Pistol pellets
Right off the bat, Mac shot the most accurate pellet of the test. To his surprise, H&N Finale Match Pistol pellets put five shots in a group that measured just 0.56″ at 10 yards. Not too shabby for a smoothbore toy-like gun!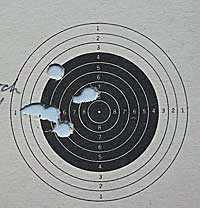 Five shots in 0.56″ from a smoothbore at 10 yards! That's some shooting!
Next, he tried the Hobbys. They didn't do nearly as well, grouping five in one inch at the same 10 yards.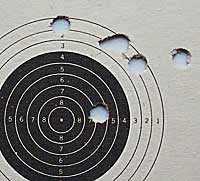 An inch at 10 yards is more like what you'd expect for a smoothbore at 10 yards. RWS Hobbys.
The last successful pellet he tested at 10 yards was the RWS Meisterkugeln. Though it doesn't look all that different than the other two, it grouped five in 2.15 inches, due to what looks like a flier, though Mac did not call it.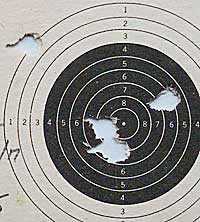 Now the pellets begin to scatter. Five Meisterkugeln grouped in 2.15″ at 10 yards.
Well, this has certainly been a delightful look at an airgun many of you were not aware of before now. The whole thrust of this test was to see how accurate a smoothbore is, and I think we did that. In fact, we were surprised with how accurate it can be at close range.
We were also impressed by the build quality and the quality of the finish on what was considered almost a toy 40 years ago. This hobby of ours certainly contains a large universe of possibilities if guns like this can abound.