Posts Tagged 'scuba tanks'
by Tom Gaylord, a.k.a. B.B. Pelletier
I'm still in Ft. Smith, Arkansas, as I write this, so please excuse the brevity of the report. A while ago, I wrote down this idea as a possible report topic. Those who haven't yet come over to PCPs often wonder how reliable they are, and those who already have the guns sometimes encounter things that are common problems but new to them. Let's talk about that today.
WARNING: The procedures I am about to describe are for those who know what they are doing. In every case, there are proper safety steps to be taken so accidents don't happen. I cannot possibly describe all of those steps, so the following procedures are presented only for your education — not to train you as an airgunsmith. Safety with pressurized air and airguns should always be the No. 1 concern.
I can't fill this airgun!
Boy, have I ever heard this one! It can come to you in a variety of ways, such as, "This airgun is broken — how do I return it?" I used to get at least one of those calls every month while I was the technical director at AirForce Airguns. The first few times I heard it, I was worried; but I got so used to hearing it that I would start telling them the cure before the problem had been fully stated.
The guy would tell me that he couldn't fill his old-style Condor tank. I asked him how he was trying to fill it — from a scuba tank or with a hand pump — and a lot of times that made the guy mad. He wanted to know why that mattered because he should be able to fill the gun from a scuba tank or from a hand pump. Right? When this call came in, I knew he was filling with a hand pump, and I also knew he was trying to fill an empty tank.
The answer to "can it be done" is both yes and no. Yes, you can fill this kind of tank from a hand pump if there's already some air inside it, and no, you can't fill the tank if you start with it empty. That would really anger some people until I explained that the air inlet valve on an old-style Condor tank is also the exhaust valve. It's a door that swings both ways. If there's no air inside the tank, the valve will not recognize the small puff of air from a hand pump and will escape, again.
The valve will not close because it also uses internal air pressure to help it close tight. If you fill the tank from a scuba tank, the incoming air is under so much pressure that it will fill the tank quickly, and the internal air pressure will help close the valve when the filling stops.
A hand pump cannot fill some pneumatic airguns (not just Condors) unless they already have some air pressure inside to hold the inlet valve closed. We would ship tanks out with what we called a maintenance air charge in them — just enough pressure to hold the valve shut. But if the guy received the gun and then proceeded to shoot all that air out, as some of them did, they then had a gun that could only be filled from a scuba tank. It's not funny when it happens to you.
This phenomenon is not just confined to AirForce guns, either. Almost all of the powerful Korean airguns work in a similar way. But the Korean guns can accept a charge by simply cocking the bolt — sometimes. In that case, taking the pressure of the bolt off the valve allows it to close and seal completely.
The newer style of Condor (as well as all other AirForce sporting PCP rifles) has a Spin-Loc tank with a separate inlet valve and firing valve. I'm not certain, but I believe this has solved the problem I just discussed. If I had a tank and pump here with me, I would check it right now. I'll look into it when I get home.
Now you know two things about PCP "leaks" that are both very common problems and often misunderstood. First, they aren't really leaks. They're part of the gun's design. Second, some guns must first be cocked to be filled.
Before you go all — "They shouldn't design them that way!" on me, remember, the SR-71 Blackbird reconnaissance plane leaks fuel until it flies fast enough to heat and expand the airplane's skin. Only then do all the leaks stop. Sometimes, a product can have a quirk that isn't a flaw — it's just the way it works. The Sheridan Supergrade rifle is one that cannot be pumped up unless the bolt is cocked first.
Use a hammer!
I probably shouldn't tell you guys this next one; because when some of you get a hammer in your hands, every problem looks like a nail. But in the world of pneumatics, there are times when a big rubber mallet is exactly the right tool to use. When is that time? When a pneumatic that has been performing well all along suddenly develops a fast leak. It's probably due to a piece of dirt that's gotten onto a soft seal and is allowing air to pass through. To get it off the seal, it sometimes works to tap the end of the valve with a soft hammer. It opens the valve, and the blast of air will probably blow the dirt past the seal.
When I built valves at AirForce, I tested each by pressurizing them in a fixture and tapping the valve stem with a rubber hammer. I had racks of 100 valves at a time, and I went through and did this to each one in turn. That process seated the valve and created a small ring of contact between the synthetic valve and its seat. Sometimes, the valve needed to be hit several times to seat it properly, but it always worked. And it also worked if a valve had a small piece of dirt anywhere in the seals.
When customers would call with a gun that leaked and I determined the leak was a fast one that had popped up all of a sudden, I told them to try this procedure before sending the tank back for repairs. It fixed probably over 75 percent of all such leaks.
But this isn't magic. If your gun has been a slow leaker the whole time you've owned it, this isn't going to change a thing. It's just for those all-of-a-sudden leaks that crop up sometimes. It will work for all guns, but most of them don't allow direct access to the valve head like the AirForce tanks do. For those, you can do the next best thing — dry-fire the gun several times. That usually fixes the problem unless you're timid about it. I sometimes had to get a timid owner to dry-fire his gun by telling him to fill it full and then dry-fire it 20 times in rapid succession. All that was doing is getting him to dry-fire the gun repeatedly without pausing to see if it was fixed yet. When there's a piece of grit on a seal, it takes a lot of air flowing past to dislodge it, and a couple tries are often not enough. Twenty shots is probably overkill in all situations, but it saved me time from having to explain in detail just what the guy was doing — as I have now done for you!
You now know a genuine airgunsmith procedure! It isn't as fascinating as it sounded, is it?
Listen
Okay, let's go back to 1960, when cars had points and copper spark plug wires with (sometimes) poor insulation. Mechanics had a genuine stethoscope in their toolboxes. Or if they were shade-tree mechanics, like me, they had a 4-foot length of small rubber hose. We would put one end of the tube to our ear (the ear that worked best) and move the other end around the engine compartment while the motor was idling. You could quickly zero in on an arcing sparkplug wire or an exhaust manifold leak. It also works for precharged airguns!
You don't need a hose because the barrel is the pipe that transmits the sound. Cock the gun but don't load it. The sound you're listening for is an air leak at the exhaust valve. But here's an important safety tip — never put your ear directly over the muzzle and never do this if the gun is loaded! Listen from the side of the muzzle; so if the gun were to fire, the air would blast past your ear instead of into it! You can use a piece of paper to direct the sound, if needed. That keeps you safe and still lets you hear the smallest sounds.
I've found a number of valve leaks this way. This is just a diagnostic tool — it doesn't do anything to fix the valve.
If your ears aren't that good, or if you just don't want to do it this way, you can also put a few drops of soapy water down the muzzle of a cocked gun. Bubble-blowing solution that you can buy at a dollar store works perfectly for this! If any air is escaping the valve, there will be bubbles at the muzzle. I always had a small bottle of bubble-blowing solution next to me when I worked on guns at AirForce. Of course, you have to clean the barrel and wipe it with an oily patch after doing this.
These little procedures have proven very valuable over the course of time. If the situation is right, they'll fix the problem more often than not. While they seem simple to the point of being somewhat ridiculous, they do work.
by B.B. Pelletier
Today is Friday, when I usually have some fun, but I already did that with the dime article on Tuesday. I'm going to remain serious and address a topic that causes a lot of confusion. I'm going to talk about compressed-air tank capacity and how it relates to airguns.
As this report unfolds, I think you'll see why this subject is so confusing. Every time I instruct a new precharged pneumatic (PCP) airgun owner about compressed-air tanks, their eyes glaze over when we come to this part.
"How can this scuba tank hold 80 cubic-feet of air? It isn't that big!" That's not what 80-cubic feet means.
"Well, why don't they just say what they mean?" Because scuba tanks were developed for divers, who want to know how many cubic feet of air they have available to breathe. They can then calculate how much diving time they have, with a safety reserve built in.
Analogies don't always work
We often use analogies to explain things like the capacity of a scuba tank. One analogy is the gas tank in a car. We might say that just because a car has a larger gas tank doesn't mean that the car will go any faster. And the same is true for an airgun. The size of the air reservoir doesn't relate to the velocity the gun can develop. But after that, the gasoline/compressed air tank analogy breaks down. Because gasoline isn't compressible and air is. By varying the pressure inside the air reservoir of a PCP, we can stuff more air in and get more shots out or get more power from the same number of shots — or some combination of those two. You can't do that with the gas tank on a car. Try to put in more gas than the tank can hold and it just overflows and spills out on the ground.
What do compressed-air tank sizes really mean?
One common size of scuba tank used by airgunners in the 80 cubic-foot tank. What does the term 80 cubic-foot tank mean? It means that 80 cubic-feet of air at sea-level air pressure are contained in the tank. Air pressure at sea level is approximately 14.7 psi. Now, follow this.
If you compress 80 cubic-feet of air to 3,000 psi, that's compressing it 204.08 TIMES. The standard air pressure at sea level (which is accepted as 29.92 inches of mercury and can also be stated as 1013.25 millibar) is not accepted as exactly the same around the world, but it is close enough everywhere for this explanation. Notice the term millibar? That's one-thousandth of a bar, which is a standard measure of air pressure.
A cubic foot of air at sea level on a normal day (and a normal day has a specific definition) measures just over one bar of pressure. Here's the interesting part. If you multiply 14.7 times 200 bar you get 2,940 (psi). But remember that 14.7 psi is just OVER one bar? Multiply 14.5 times 200 and see what you get. The answer is exactly 2,900 (psi). So — 200 bar equals 2,900 psi. And 206 bar is very close to 3,000 psi.
What does that tell you about the 80 cubic-foot scuba tank? It tells you that if it's pressurized to 3,000 psi, it's holding just over 200 bar (actually 206 bar) and you now know that number (206) does relate to how much air the tank is capable of holding if the actual internal volume is around ONE cubic foot!
There are plenty of compressed-air tanks that hold air at 206 bar but are not called 80 cubic-foot tanks. I own a couple of small scuba tanks that hold 6 cubic-feet, each. Guess what? They're pressurized to 206 bar (3,000 psi.), but the internal volume is much smaller than that of the 80 cubic-foot scuba tank. They hold much less air, but it's at the same pressure. What does that mean? It means they'll start dropping in pressure from 3,000 psi much sooner than an 80-cubic-foot tank will — given that they're both filling the same airgun.
Stay with me
I'll make sense of all of this in a moment, but first I need to tell you about one more thing — the carbon fiber tank. Actually, this tank is just wrapped with carbon fiber for strength. It has an aluminum "bladder" inside that holds the air, and the carbon fiber wrapping just adds tremendous strength to the bladder.
A common size of carbon fiber tank is the 88 cubic-foot carbon fiber tank. Okay, so it's 8 cubic-feet "larger" than an 8 cubic-foot aluminum scuba tank. It must hold a little more air, but not that much. Right?
Yes and no.
An 88 cubic-foot carbon fiber tank does hold just 8 cubic-feet more air than an aluminum 80 cubic-foot scuba tank; so for breathing purposes, it holds only a little more air. That's because people who breathe that air do so right down to almost the last cubic-foot — at least from an airgunner's perspective. They use regulators that drop the air pressure that they breathe down to an acceptable level, and that level changes with the depth they dive.
But an airgunner usually needs air that's pressurized to at least 2,200 psi just to start filling a PCP (that's really the pressure at which many of the PCPs finish), and 3,000 psi is a very common maximum fill pressure these days. A tank that's pressurized to 3,000 psi will usually give only one to three complete fills of a gun before the tank's pressure starts dropping. It will still provide many more fills, but each of them will finish at a declining pressure. This is where an 88 cubic-foot carbon fiber tank shines, because more of the air it holds is at higher pressure, so it will give MANY more full fills to a PCP than the 80 cubic-foot scuba tank! How many more depends on which gun you're talking about, but there will be at least 20-40 times as many full fills in the 88 cubic-foot carbon fiber tank.
WHAT? How can something that is only a little bigger hold that much more air?
Actually, an 88 cubic-foot carbon fiber air tank is SMALLER internally than an 80 cubic-foot scuba tank! Remember — we're not really talking about the volume when we quote the size of the tank. We're talking about how many cubic feet of air AT SEA LEVEL PRESSURE the tank will hold. The difference is like the difference between a year and a light year — and it's not just a third less calories!
The smaller 88 cubic-foot carbon fiber tank is squeezing its air like a miser squeezes a toothpaste tube — trying to get the last bit of use out of what's inside. As a result, you get one complete fill after another from this smaller, lighter carbon fiber tank. It holds air at 300 bar, which we can now calculate to be 4,350 psi, but filling stations commonly fill these tanks to 4,500 psi (310 bar). And it takes a long time and many gun fills for the pressure inside to fall below 3,000 psi, where the tank can no longer give complete fills. At that point, it acts just like a scuba tank — and the top of each fill declines from the fill before.
Do you see why low-pressure PCPs are so great?
This is one of the reasons I pushed so hard for the Benjamin Discovery to use a 2,000 psi fill. I actually wanted 1,800 psi as the max. Can you imagine how many more fills a gun like that gets from any compressed-air tank?
What's in a name?
This report was prompted by confusion over the latest carbon fiber tank from Crosman. They call it a 342 cubic-inch carbon fiber tank, which has no meaning in light of the explanation you have just read. It accepts a 4,500 psi fill like most carbon fiber tanks, but I think Crosman is stating the actual internal volume of the tank rather than it's air capacity. I showed you a picture of me holding this tank at this year's SHOT Show, and you can see that it isn't as tiny as it appears in the Pyramyd Air description. I believe this tank probably holds 40 to 50 cubic-feet of air, according to the explanation given here, but we'll just have to wait and see.
Conclusion
What you want for your PCP, Grasshopper, is a tank that holds many cubic-feet of air at very high pressure. Carbon fiber tanks fill the bill. Such carbon fiber tanks weigh only half of what the lesser scuba tanks weigh, but of course they do cost a lot more.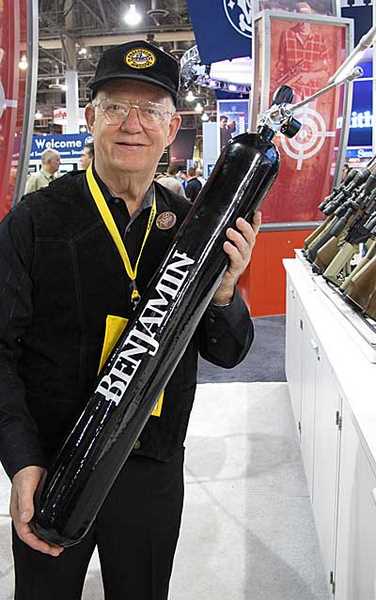 Crosman's new carbon fiber tank is a larger one that should be good for PCPs because it will also be lightweight.