The 1911 platform was designed by John Browning in the late 1890s. It was designed as a military replacement for the service revolvers of the era. The Army wanted a "self-loading" handgun, which today we call semi-automatic, and John Browning took up the challenge to provide it. Several guns were run through competitive trials, and the 1911 beat them all for performance and accuracy.
The M1911 was adopted by the Army, after several modifications and testing rounds, as the official sidearm and put into service in March 1911. The Navy and Marine Corps also adopted its use in 1913. It continued to be the mainstay military sidearm through several wars, finally losing its position in another set of trials in 1985 to the Baretta 92F, though it's still used today by several Special Service units of the US and in other countries around the world.
That long-lived service record anchored it into the hearts and minds of many, and it is that affinity that helps it maintain its popularity today. You can own this iconic gun as a bb gun replica. Have fun shooting your 1911 bb pistol at home to your heart's content at a much lower price of ownership and operating cost. Collect them all and show your friends and family how much the 1911 means to you.
1911 BB pistols are perfect for:
Collectors who want all the 1911 models
Handgun training in the at-home range
Teaching gun handling and safety to novice shooters
Best 1911 BB Pistols
1. Springfield Armory 1911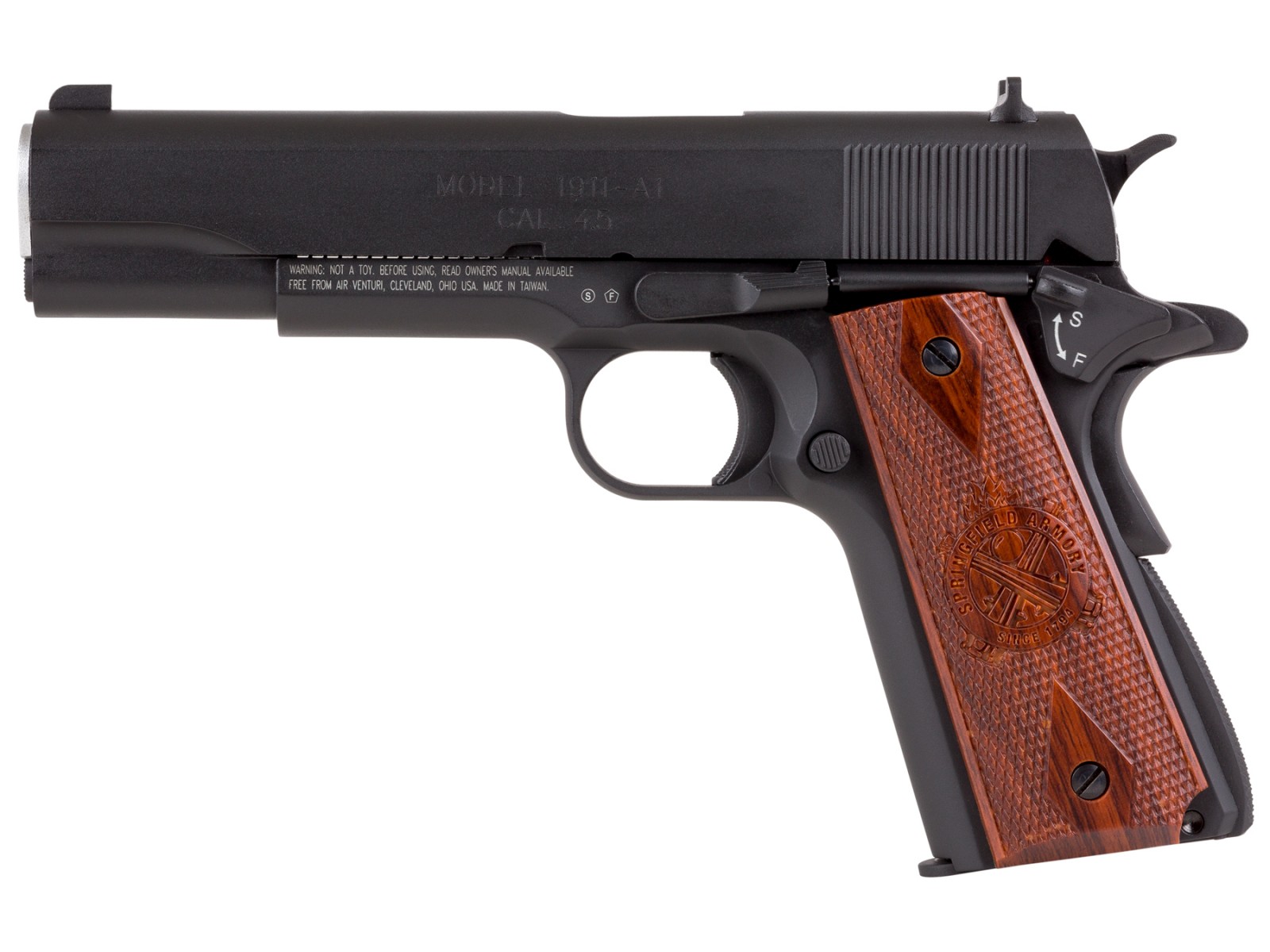 Product Details
The iconic 1911 platform is available as an air-powered replica in the Springfield Armory 1911 bb pistol. This officially licensed near 1-to-1 Mil-Spec .45 ACP 1911 replica is as close as you can get to the powder version without burning powder. It is nearly identical to its live-fire counterpart in both form and function.
The all-metal construction, with the crest embossed on the faux wood grip, completes the authentic replication. You'll be hard-pressed to tell the difference between them!
The Springfield 1911 bb gun would be a great addition to your collection. This 1911 replica is excellent for authentic handling practice that doesn't require a full-size range. Do holster work and improve your accuracy in the comfort of your home. It's easy, convenient, safer, and much less expensive to practice with bbs than live rounds.
Core Features:
Shoots BBs (18 bbs)
Uses 12-gram CO2
Full-metal Construction
Semiautomatic Action
Blowback-Action Slide
Officially Licensed by Springfield Armory
Why We Like It
We like it for the fun of shooting. The anytime, anywhere plinking fun of the 1911 bb gun can't be beaten. It's easy to handle, accurate out of the box, and has an easy trigger with realistic blowback action.
Things to Consider
It runs on CO2, so you'll want plenty on hand. Steel bbs ricochet off hard targets, so you'll want to use eye protection at every session, and you might consider using frangible bbs rather than steel.
2. Colt 1911 Special Combat Classic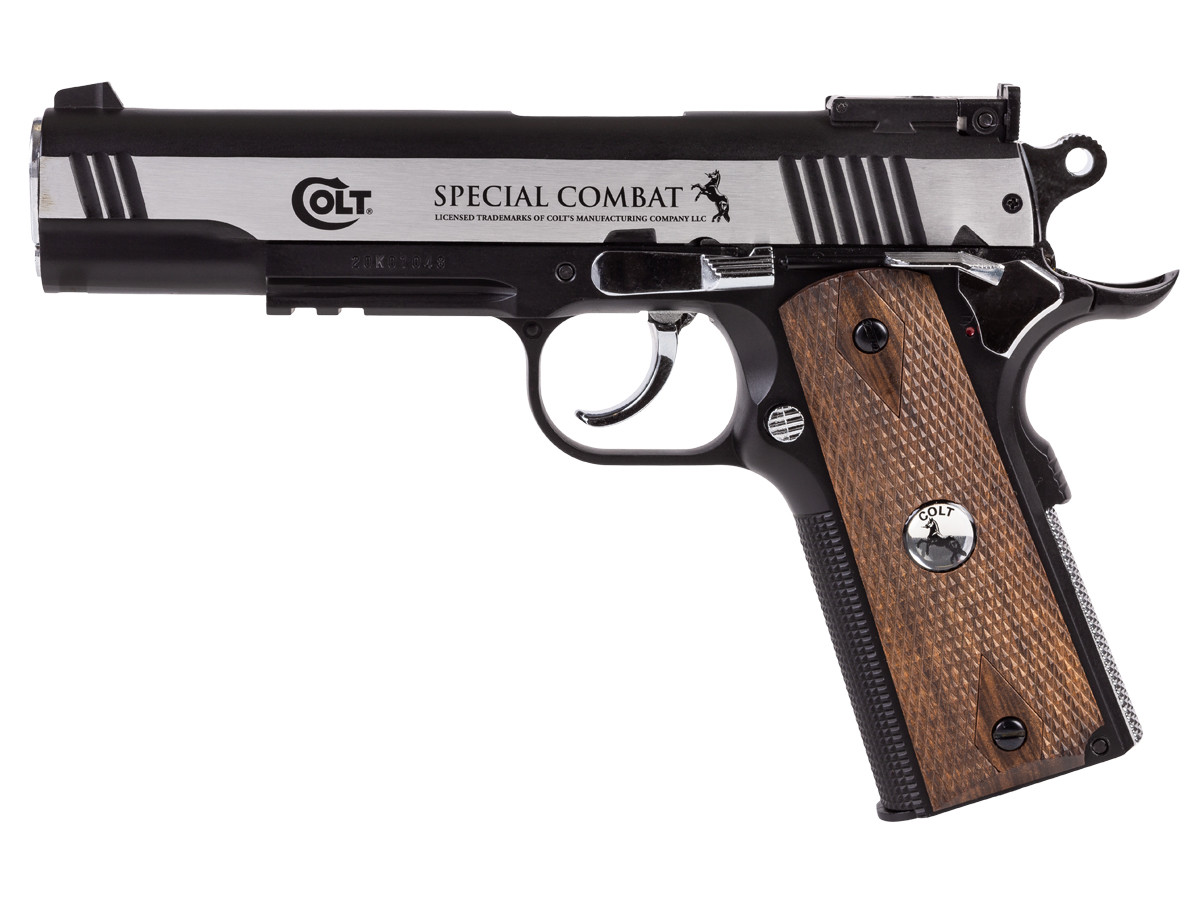 Product Details
Made to replicate the original M1911, the Special Combat Classic is an excellent bb gun replica for any 1911 collection. Get the look and feel of the original without the high purchase price or operating costs. Colt manufactured it first and they made the best versions. When you want a piece of history, you turn to the original, and that's Colt.
Why We Like It
It's just like the original, but safer and less expensive to operate. It holds 20 BBs and the CO2 in the removable magazine. It shoots about 100 rounds before the CO2 runs out. The Colt Classic is ideal for target shooting and plinking.
Things to Consider
The grip safety is nonfunctional, so the manual thumb safety is the only safety.
3. Air Venturi John Wayne 1911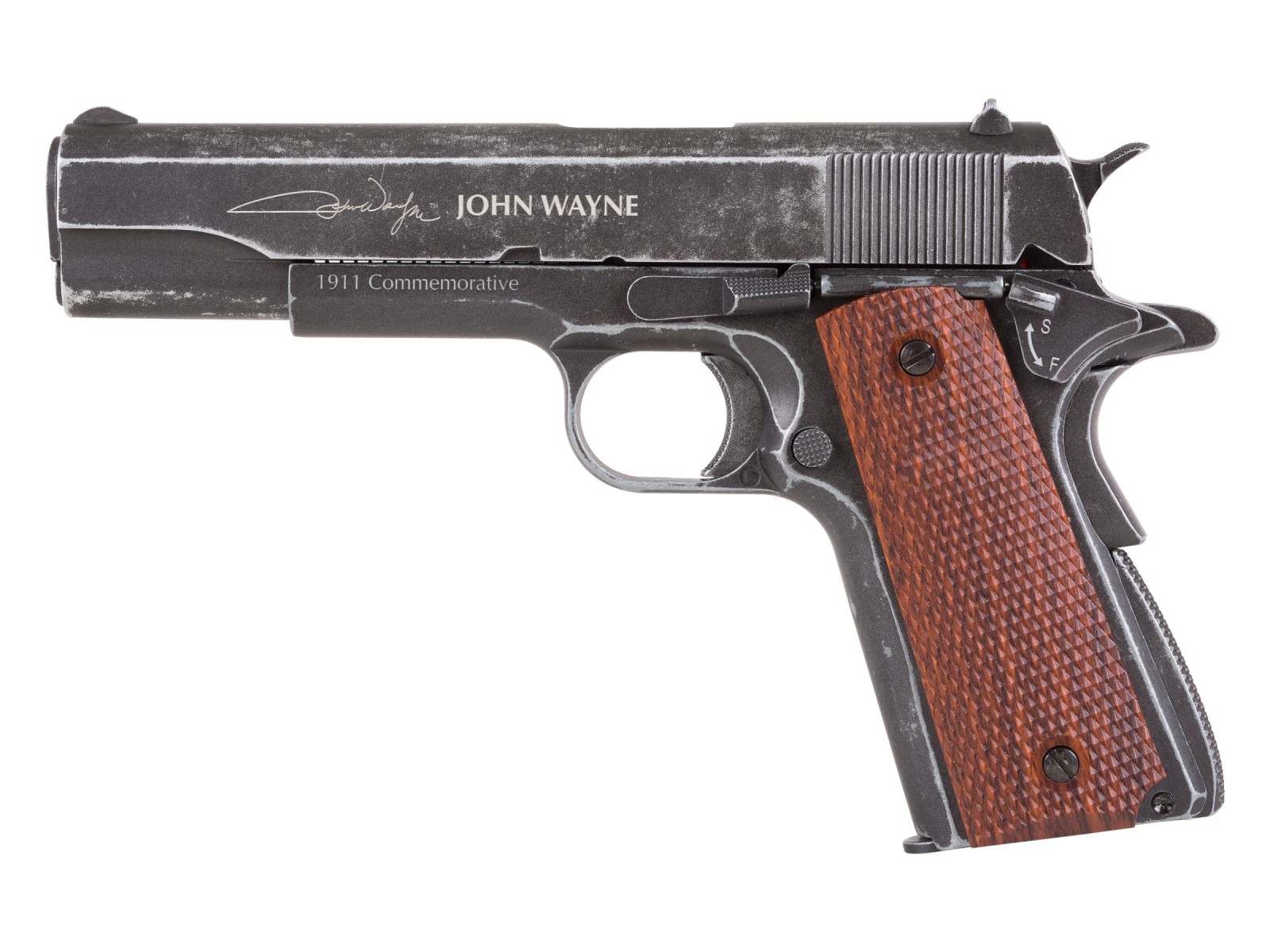 Product Details
This commemorative 1911 CO2 BB pistol embodies the spirit of The Duke as we knew him through his film career. Tough and rugged, ready to face whatever adversity lay ahead. The Air Venturi John Wayne 1911 adds grit to your collection.
Why We Like It
The authentic look and feel of the 1911, including blowback action, with the spirit and grit of The Duke. It has an 18-round magazine and sends bbs down range at 320 feet per second. You get hours of entertainment with reliable performance. It's easy to use making it beginner friendly.
Things to Consider
CO2-operated airguns are affected by temperature, so you'll want to keep it out of extreme heat or cold for the best performance.
4. Sig Sauer Emperor Scorpion 1911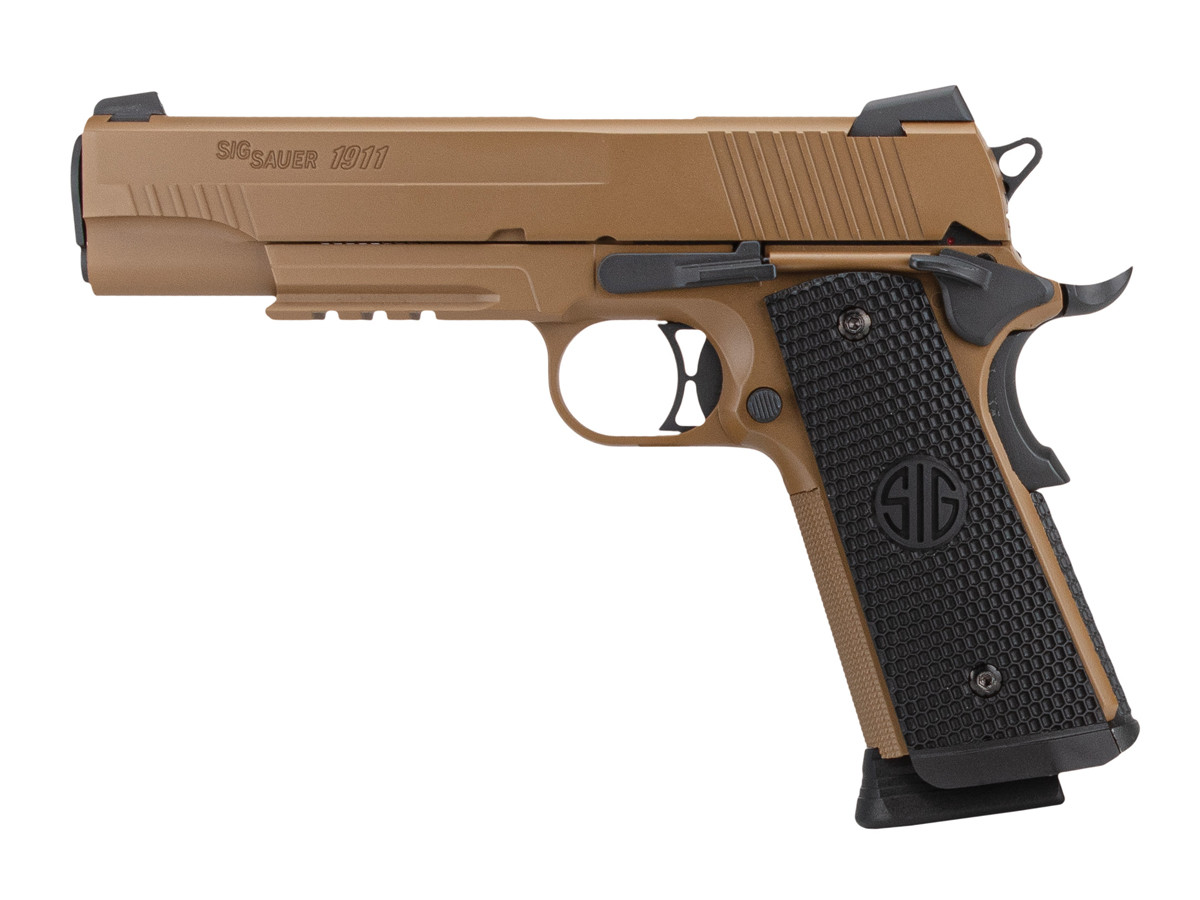 Product Details
This Emporer Scorpion 1911 bb pistol has full metal construction with polymer grips and is very realistic to the live fire version. It's perfect for at-home training sessions or backyard plinking fun. Whether you're a fan of Sig or the 1911 platform, you can't go wrong adding this BB gun to your collection.
Why We Like It
Excellent realism with the look, feel, and action. It has a 17-round mag and shoots 300 feet per second. It has fantastic build quality and makes a great handgun trainer.
Things to Consider
Side by side it's very difficult to tell the difference between the BB gun version and the live fire version. If you have both, you may want to store them separately.
5. Sig Sauer We the People 1911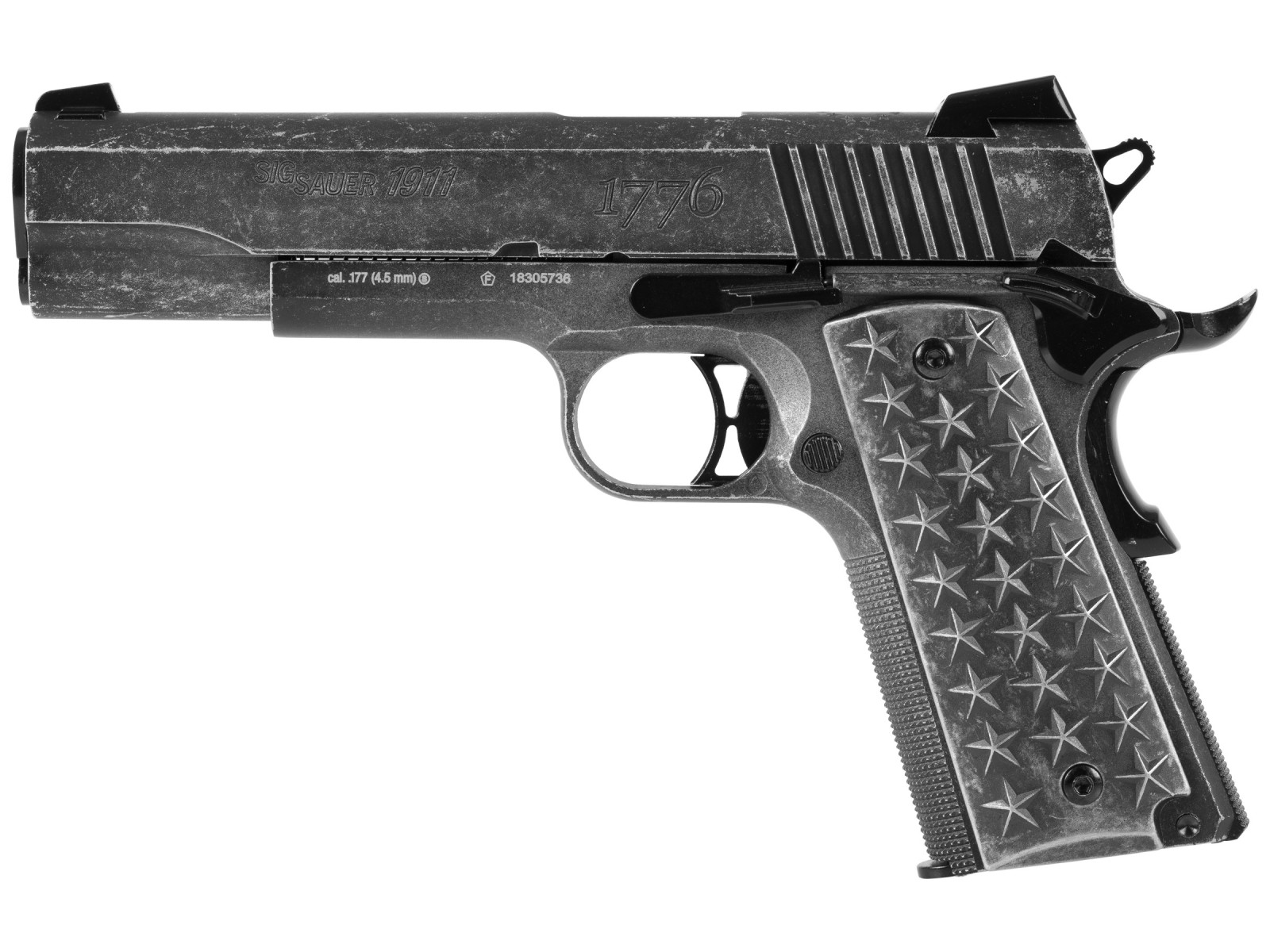 Product Details
This rugged All-American tribute to the US Constitution sits high on the list for any 1911 collector. This bb gun pistol features a full metal body with "We the People" engraved on the slide and stars on the grips. Whether you're looking for a unique peace for target practice or just showing off your patriotism, this We the People 1911 is sure to please.
Why We Like It
The weathered style embodies the toughness of Old Glory herself. It's an excellent way to show your love of America, freedom, and independence. It has a 17-round mag and shoots 340 feet per second. It's field-strippable and has a working grip safety.
Things to Consider
The metal grips may not be as comfortable as other models.
6. Sig Sauer Spartan 1911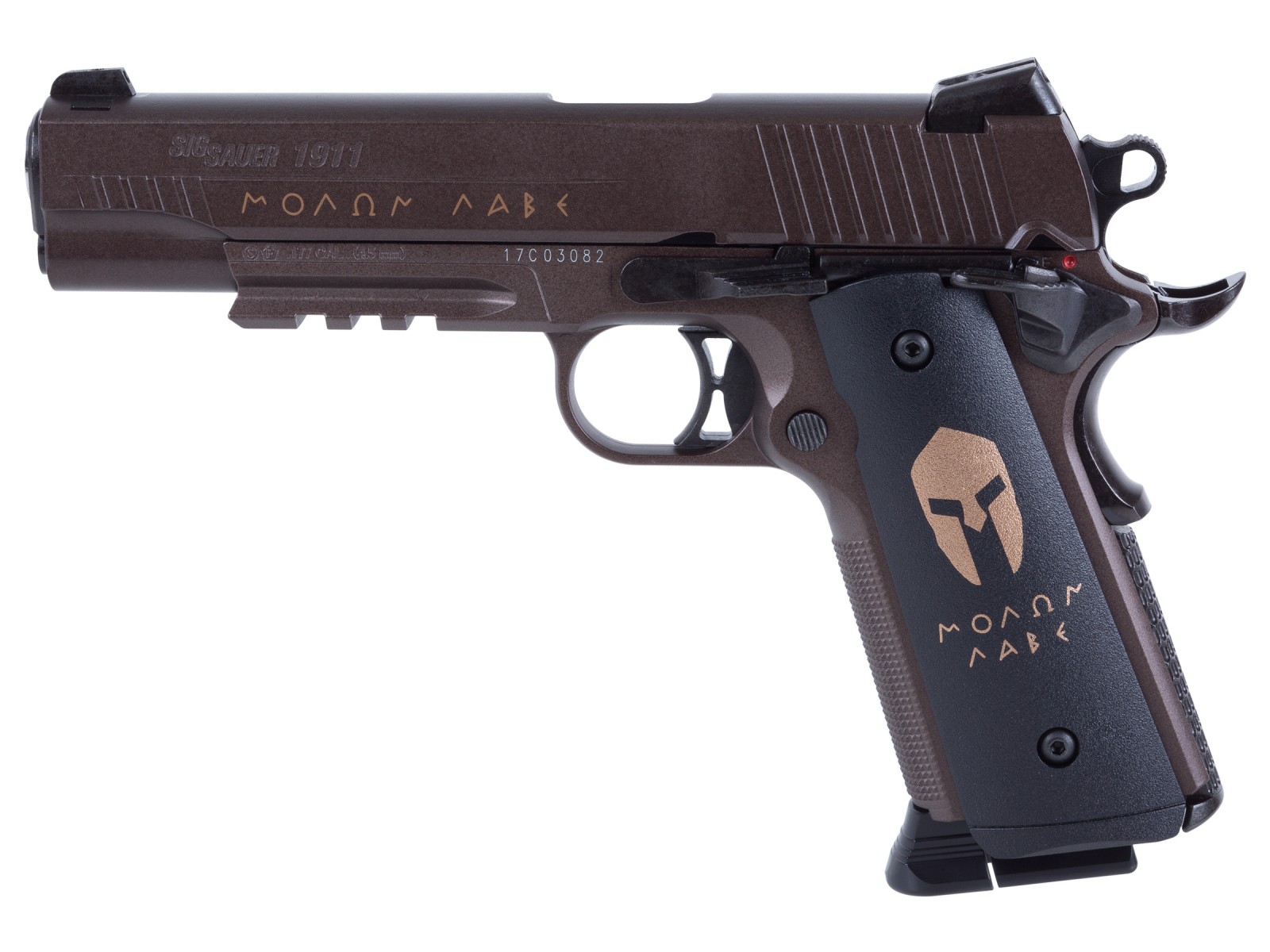 Product Details
The Sig Sauer Spartan 1911 CO2 BB pistol with its unmistakable look stands out from other 1911s. The skeletonized hammer and trigger add to its unique look. Modeled after the live fire counterpart, it has near 1 to 1 weight and handling, making it a great trainer.
Why We Like It
The grip safety, hammer, and mag release all function for extra realism. It has a 16-round mag, shoots 410 feet per second, and has a picatinny accessory rail. With "Molon Labe" engraved on the side, it embodies the Spartan attitude when Xerxes demanded their arms, "Come and take them."
Things to Consider
The sights are molded into the slide so they are not adjustable.
7. Barra 1911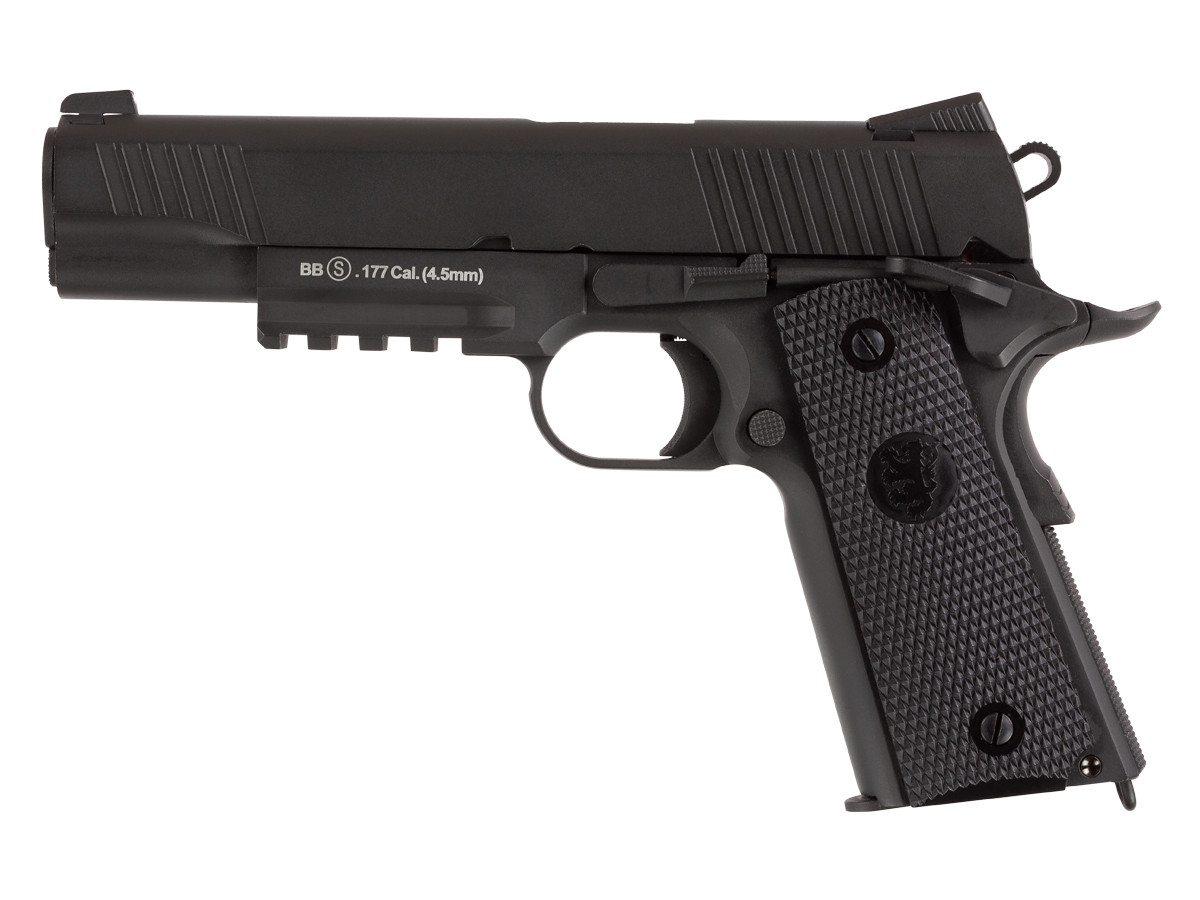 Product Details
The Barra 1911 looks incredibly realistic. It has a full metal frame, and blowback action when fired. The one-piece magazine holds 18 BBs and a 12-gram CO2 cartridge. It provides shooters with the proper weight and functionality of a live 1911 model. It has fixed sights and a picatinny accessory rail. For the most realistic 1911 BB replica, you can't go wrong adding the Barra 1911 to your collection.
Why We Like It
It's a very realistic trainer that saves time, effort, and money. Keep your range time close by shooting BBs in the backyard at a reduced ammo cost. And it's quiet, so it won't bother the neighbors.
Things to Consider
You'll want to keep plenty of CO2 on hand so your training sessions can last as long as you like.
Common Questions
What's so special about a 1911?
The 1911 beat out many different gun models through the military trials put on to find the best firearm for military use. Its reign began in 1911 when it replaced the revolver as the official sidearm and persisted until 1985 when it was dethroned by the Barretta 92F. No other weapon in history has had such a long-running use besides the sword.
Does the US military still use the 1911?
Though the 1911 is no longer the official sidearm of the main military service branches, a few special units do still use it. It is currently used more by other countries' militaries and law enforcement than it is by the US.
Can a civilian own a 1911?
The 1911 model handgun is very popular and therefore on the high side price-wise. Several manufacturers are still producing models of the platform that are available for civilian purchase. And of course, civilians are well able to buy any of our bb gun pistols or all of our 1911 replicas.