Air Archery, Air Bows & Air Bolts
Do you like the thought of bow hunting, but don't want to learn a whole new discipline? Now you can get the effect of bow hunting with the ease of a rifle. These arrow-shooting airguns add a whole new level to hunting. From medium game to large, there's an arrow shooting airgun to suit your needs. You can step into the world of air archery quickly and easily with these arrow rifles at the ready.
There are two main types of ammo used in arrow guns:

Arrows: Fits over a fixed tube barrel that fills with high-pressure air and propels the arrow forward at the head of the arrow. Umarex AirSaber, Umarex AirJavelin, and Benjamin Airbow all use arrows.
Air Bolts: Have a nock at the back that slides into the barrel of an airgun and locks it into place ready to fire. Seneca Dragon Claw, Seneca Wing Shot, Benjamin Bulldog, and other big bore air rifles, can use Air Bolts.

Take out those pesky critters tearing up your yard and garden or fill your freezer with meat for the season. Depending on the arrow gun you choose and the regulations in your area, you can hunt all season long and never get bored. Even changing up your ammunition at will.
Best Air Powered Arrow Rifles
Customer Favorite: Benjamin Bulldog (or Airbow)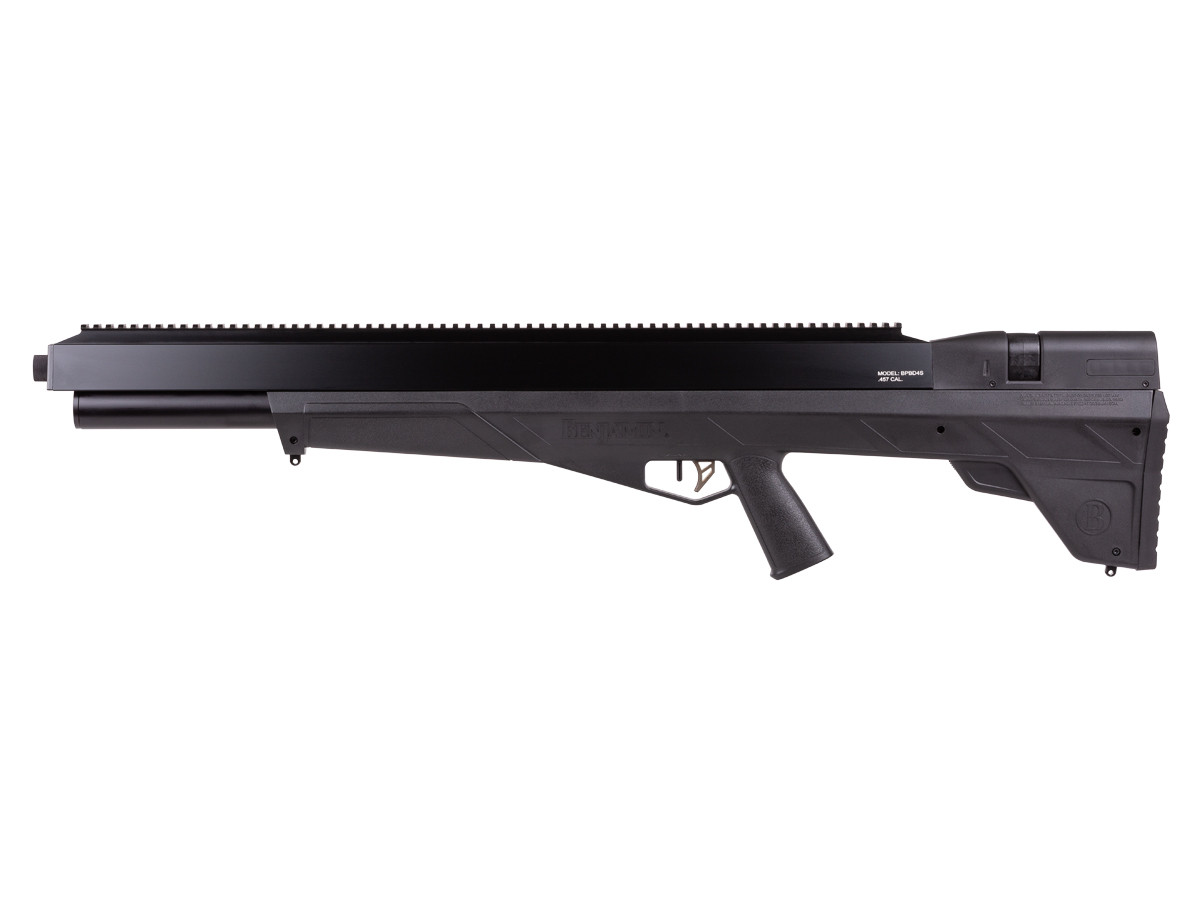 Product Details
The Benjamin Bulldog is a powerful big bore (.357 caliber) pcp air rifle that can also shoot Air Bolts (also available in an arrow shooting platform). It's light and maneuverable, which is perfect for hunting, and it's easy to set up and use in the field making it a customer favorite. With the full-length picatinny accessory rails, you could add all the accessories you would need for a long hunt or a short hunt, including night vision. It puts you in the realm of air archery without the difficulty of using a crossbow. You'll have the perfect pcp Air Bolt launcher that you can switch to slugs just by inserting the 5-round rotary magazine.
Why We Like It
Even though it looks cumbersome, it is a breeze to shoot and maneuver. It shoots with 450 FPE and can take medium game very effectively. Put that power behind a broadhead and you can easily move up to taking deer without them seeing what's coming.
Things to Consider
The bullpup design puts the action at the rear of the gun, which means relearning shooting mechanics. For those left-handed, you'll want to move the action to the left side, or you'll be readjusting your sightline every time you recock it.
Arrow Shooting Platform: Benjamin Pioneer Airbow
If you want to shoot arrows instead of Air Bolts, consider the Benjamin Pioneer Airbow. This airbow arrow rifle uses the same platform as the Bulldog, but is configured to shoot arrows with a fixed tube barrel and a quick detach quiver. Fill up the onboard air tank to 3000 PSI and you can get 8, full power, shot with 50 yard groups smaller than 2". In fact, you can get more power (168 FPE) with the Pioneer Airbow than you can with most crossbows.
Most Powerful: Seneca Dragon Claw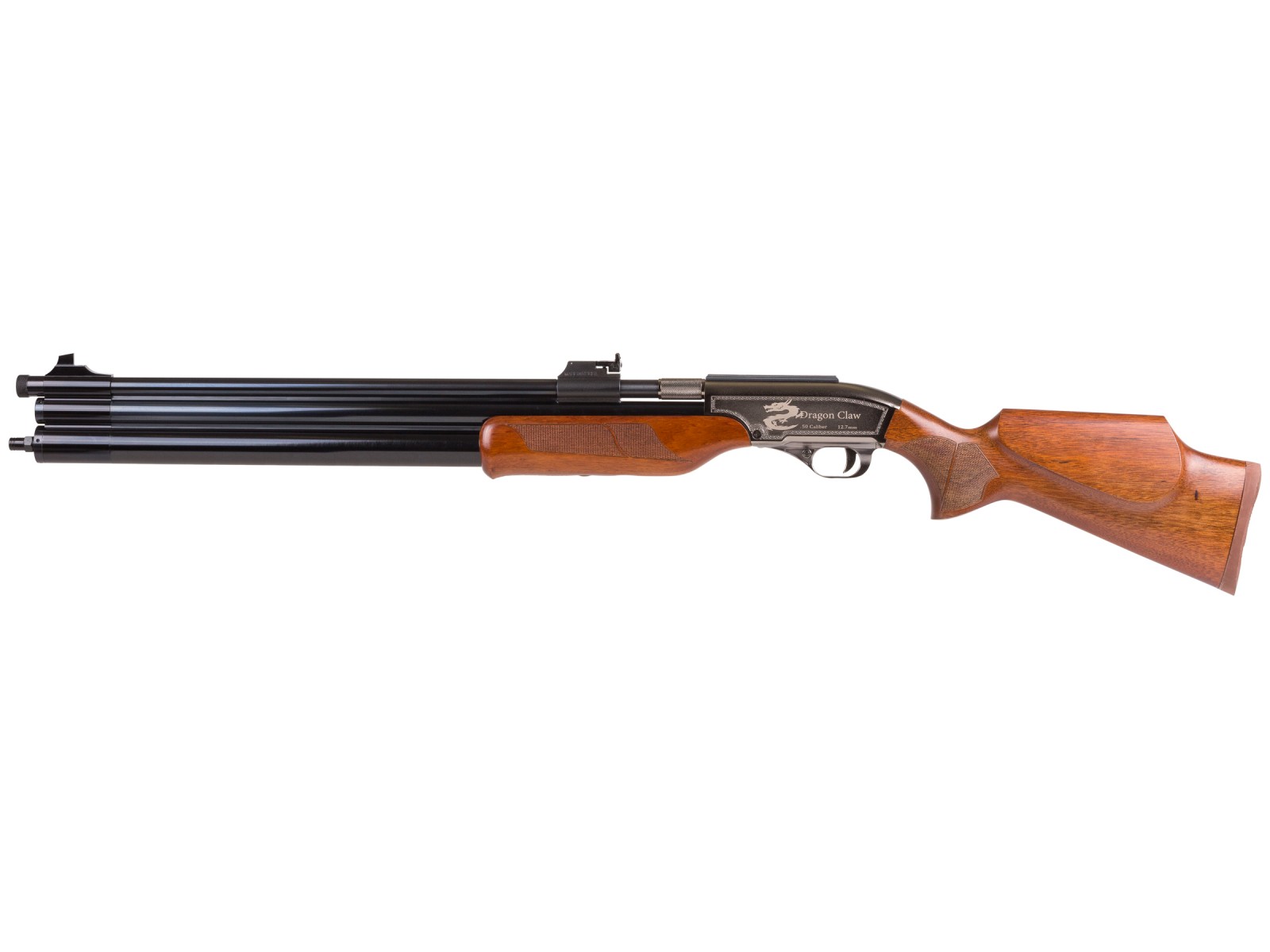 Product Details
The Dragon Claw is the perfect big game hunting rifle. And with its .50 caliber, simple design, and superb accuracy, it's no wonder it's one of the top-selling air rifles on the market. But, shoot it as a pcp arrow rifle and you have yourself the most powerful hunting setup you can find. Whether you're using .50 caliber slugs or Air Bolts, it can easily take everything from feral hogs to cape buffalo. You won't find a better air-powered arrow rifle than the Dragon Claw.
Why We Like It
Even though it's a big bore, you can shoot it at half power and take smaller animals at closer ranges. You aren't limited to just hunting large game with this gun. The cocking mechanism has two levels, stage one is low power, and stage two is full power. So if you're out hunting big game, and something smaller crosses your path, you can take that, too, without obliterating it or needing to change guns.
Things to Consider
It's loud enough that you'll need hearing protection. It's a field gun meant for hunting, not a plinker. You'll need range time to familiarize yourself with it, but once you do, it's sure to be your favorite hunting pcp rifle.
Best Selling: Umarex AirJavelin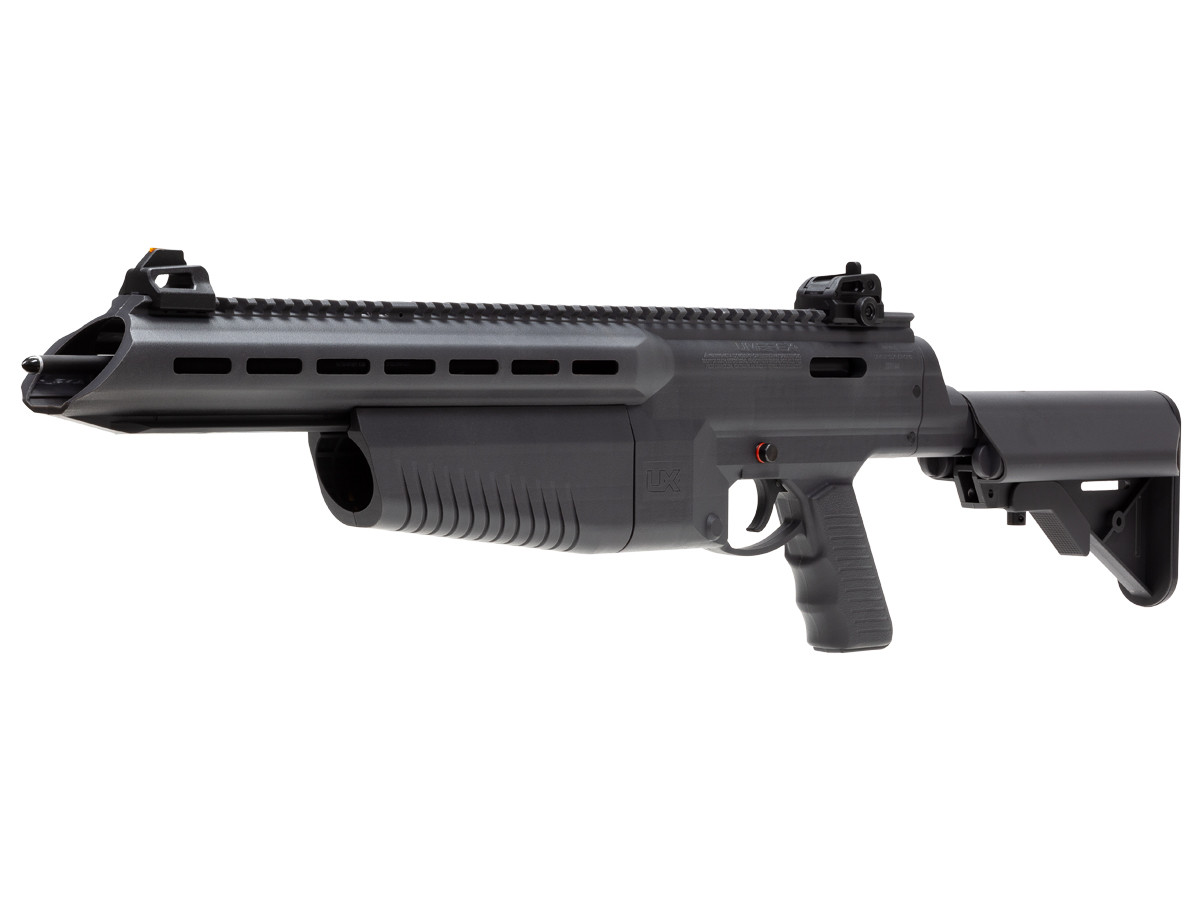 Product Details
Hunting small game has never been easier or more fun than with this arrow gun. It shoots a 170-grain arrow at around 300 FPS acheiving 34 FPE behind a razor-sharp broadhead. Squirrel kabob anyone? And since it's quiet, you can use it on a small property or in your backyard. Just grab an archery target and you're good to go. The AirJavelin is the perfect entry into air archery. Gophers and prairie dogs beware. Here's an arrow gun with your name on it.
Why We Like It
The front propelled arrow eliminates the archer's paradox, so your arrows fly straighter and hit their mark more cleanly. The full-length accessory rail provides lots of room for scopes and lights, while the M-Lok rails give you even more space for your quiver and bipod.
Things to Consider
It's powered by CO2, so it's temperature sensitive and you'll need to keep stock of CO2 on hand to use it. The accuracy is so precise that you'll need to change your aim point when you're practicing or you could ruin your arrows by shooting them into each other, like Robinhood.
Common Questions
What's the Difference Between an Arrow Gun vs Crossbow?
Arrow guns are air powered rather than string powered, provide a more stable arrow flight, and are easier to operate. With an arrow gun, you shoot an air bolt or arrow with the barrel of a gun, typically a rifle platform. The compressed air stored in an on-bark air tank provides the thrust for the projectile. With a crossbow, you shoot a bolt from a mechanism with a tensioned string. The tension built up between the limbs and the string of the crossbow provides the thrust for the bolt.
Many arrow-firing airguns push the arrow from the front which allows the air to expand inside the barrel through the arrow shaft leading to high velocities. This produces extremely stable arrow flight.
Using an Air Bolt in a big bore airgun, the bolt is pushed from the rear just like an arrow from a crossbow or vertical bow. Because the bolt is tightly fit against the bore it not only creates a stable flight but also imparts the rifling twist onto the bolt, resulting in very stable arrow flight.
Here's a visual example of an Air Bolt in flight:
Crossbows can be cumbersome in the woods with their crank mechanisms or rope cocking devices. By comparison, arrow-firing airguns could not be easier to load, cock and shoot. That can be a real plus when it's crunch time and you've got game in your sights.
Are Air Arrow Rifles Considered Firearms?
No, they are air powered and do not use any black powder to operate, so arrow rifles are not considered firearms.
Compressed air is a low-velocity powerplant when compared to black powder. The projectile from an arrow gun flies at sub-sonic velocities. The projectile from a firearm flies at super-sonic velocities. This is why the report from a firearm is so loud. Arrow rifles use compressed air to launch an airgun arrow between 300 and 1000 FPS. The effective range of most arrow rifles is less than 50 yards.
What Can I Hunt with an Arrow Gun?
Check the regulations in your area, but generally anything you can hunt with an airgun you can also hunt with an arrow gun. Because arrow guns are so much more powerful than bows and crossbows, they are not allowed during archery seasons but using them during the regular firearm seasons should be fine. Check out the hunting map to see if you can use an arrow-firing airgun in your state.
Shop Arrow Guns