This item is not eligible for coupon discounts
If you've always wanted a bullpup airgun, this is the one you should get! The Benjamin Bulldog is shrouded. That means this pup has a big bite and a small bark!
Not only is it a repeater, but it's built with accessorizing in mind. You can put a flashlight, scope, bubble level and/or laser on your rifle and be ready for any situation that arises from dawn til dusk. In fact, any optical accessory made for the AR platform can be easily added to your Benjamin Bulldog.
Offered in both .357 and .457 calibers, the Bulldog offers multi-shot capability with easy follow up shots coming by way of a side lever action. If you're left-handed, don't forget to order our service to switch the side lever to the other side of the gun. Producing around 200 FPE in .357 and up to 450 FPE in .457, the Bulldog can take medium and large game ethically and effectively.
Our tech department did some velocity testing, and here's what they found using an .35 caliber, 81-grain JSB pellet. The reservoir was filled to 3,000 psi for this shot string. The ending pressure was 1,900 psi:
Shot 1: 897
Shot 2: 908
Shot 3: 903
Shot 4: 892
Shot 5: 882
Shot 6: 876
Shot 7: 864
Shot 8: 848
Shot 9: 833
Shot 10: 817
Using the .457 Bulldog with the Benjamin 279 grain flat nose slugs, from a 3000 PSI fill. Approximately 2200 PSI remaining after 3 shots:
Shot 1: 769
Shot 2: 747
Shot 3: 719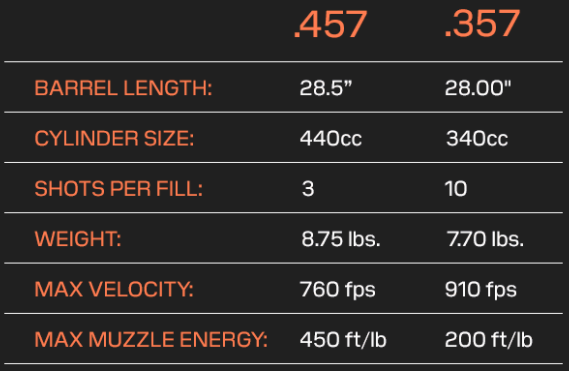 Bullpup design
Precharged pneumatic
5 rd auto-indexing rotary clip in .357
3 rd gravity fed tray in .457
Sidelever
Barrel Length: 28.00" in .357/ 28.5" in .457
SoundTrap baffle-less trapezoid-shaped sound suppression
.457 version includes M18 threads
26" long Picatinny optics rail
5.50" long Picatinny accessory rail (.357 version only)
2-stage non-adjustable trigger (stage 1=2 lbs., stage 2=3 lbs.)
Manual safety
Overall Length: 36" in .357/ 36.3" in .457
Ambidextrous synthetic stock
Rubber recoil pad
3000 psi max fill pressure
Cylinder size: 340cc in .357/ 440cc in .457
Shots per fill: 10 in .357/ 3 in .457
Weight: 7.70 lbs. in .357/ 8.75 lbs. in .457
Reversible bolt -- switch from right to left side (with our special service)
Foster male quick-disconnect fill fitting

When you look for optical accessories, the Bulldog's manual states this: "Use of 37mm tall (Absolute Co-Witness) rings, widely used with the AR platform, are recommended." You may also use other sighting systems suited for AR platforms.
Tech Tip: Some of the longer and heavier slugs will not fit into the .457 magazine and need to be single loaded. In our experience, this includes most slugs that are 350 grains and heavier.