.177 caliber is by far the most popular caliber in the world today, and it offers several benefits that the larger calibers just cannot compete with some of which are a higher velocity than .22 and .25, a flatter flight path to the target (called the trajectory), and typically you get more ammo per pound of lead purchased compared to larger calibers.
If you're small game hunting, pest control, Field Target shooting, 10 meter Olympic Style paper punching, or just plinking at tin cans in the backyard, it doesn't matter what your area of interest is within the airgun hobby, there is a .177 caliber pellet that is perfect for you.
Pellets can come in many shapes such as domed, wadcutter (flat faced that cut a clean hole in paper for easier target scoring) hollow point, and pointed just to name the most commonly used ones.
Choosing the right one that shoots the best out of your particular airgun is something you will have to find out yourself, but we can offer some experienced recommendations that other airgunners have found to consistently perform in a wide variety of airguns.
.177 caliber pellets are perfect for:
Target shooting
Metallic silhouette shooting
Plinking
Small game and pest hunting
Teaching new shooters the fundamentals of shooting
With hundreds of options to choose from it's difficult to narrow down our top picks, but here is where we would start.
Top 10 Best .177 Pellets
1. JSB Match Diabolo Exact .177 Caliber, 8.4 Grains, Domed, 4.52mm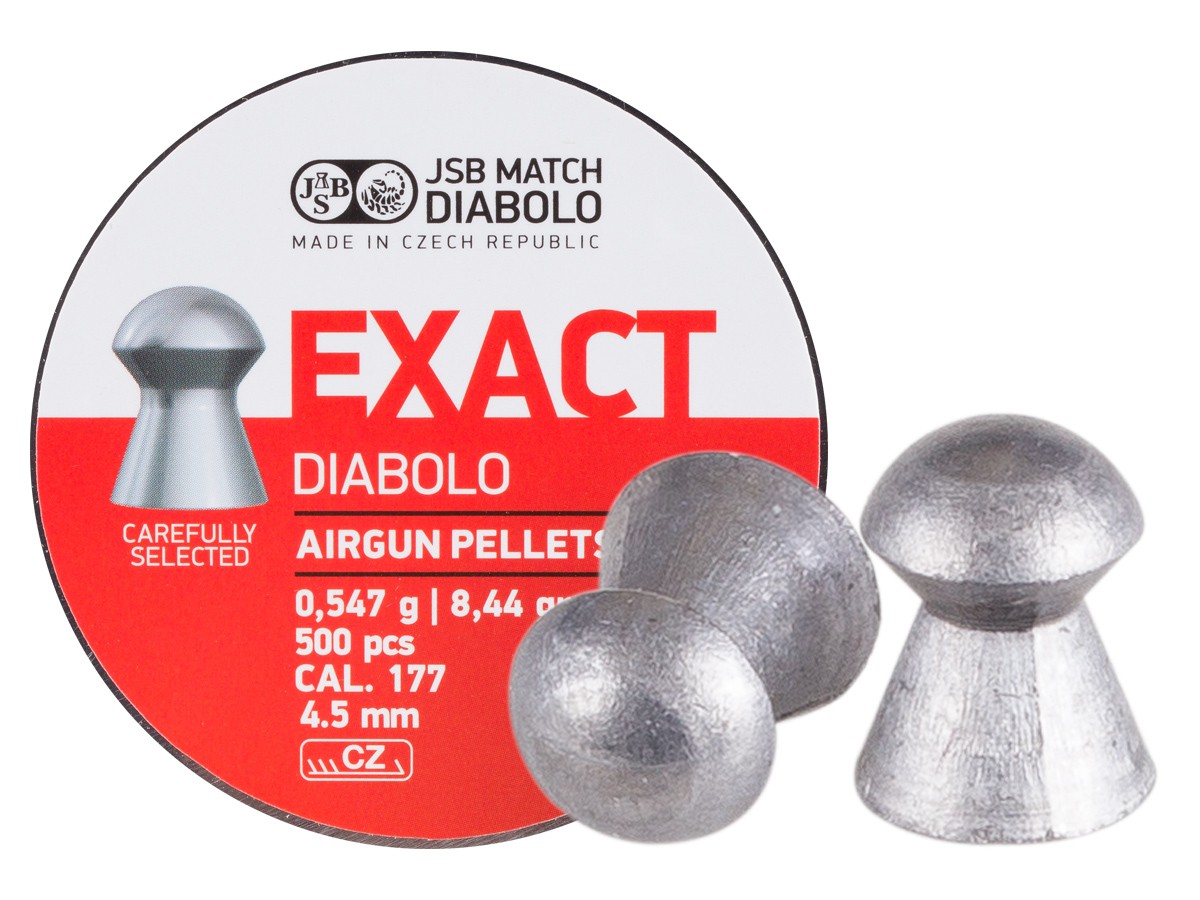 Product Details
JSBs are made in the Czech Republic, and are exported all over the world. They are known for their accuracy, consistency, and extremely high standards and tolerances in the manufacturing and the final product you receive. It's even in the name: Match, and Exact.
While talking about the name, Diabolo (not diablo) refers to the basic shape, 8.4 is the weight in grains, Domed is the head shape, and the 4.52mm refers to the diameter of the head of the pellet. If you look in the shooting bag of any experienced airgunner, you will probably find at least 1 tin.
Why We Like Them
Let's start with 1 word, QUALITY! They start with the lead they use, it is at least 99.97% pure soft lead, they melt it to remove any further impurities, then add a small amount of antimony, to obtain the optimal hardness of the final product and prevent oxidation. Each JSB produced is visually inspected by a real person using magnifying glasses to sort and remove any that have manufacturing defects.
The pellets are swaged, not cast, which means you will not have air voids in them to cause accuracy problems. The soft lead conforms to the rifling when fired to seal the barrel and give higher velocity, and give better accuracy, it also deforms easily when they strike the target, causing greater expansion, and transferring the energy to the target. They tend to shoot well in both medium and higher powered air guns. The domed head gives better down range ballistic performance at longer ranges. The different head sizes available allow you to "fine-tune" the one you need to get the best accuracy out of your individual rifle.
Things to Consider
Because of the high demand, they may often be out of stock. They may be a little more expensive than others, but you get uncompromising quality.
You may have to try different head sizes to get the best accuracy from your airgun. Because of the soft lead, if you drop a tin, they can be easily deformed.
2. Air Arms Field Heavy .177 Caliber, 4.52mm, 10.34 Grains, Domed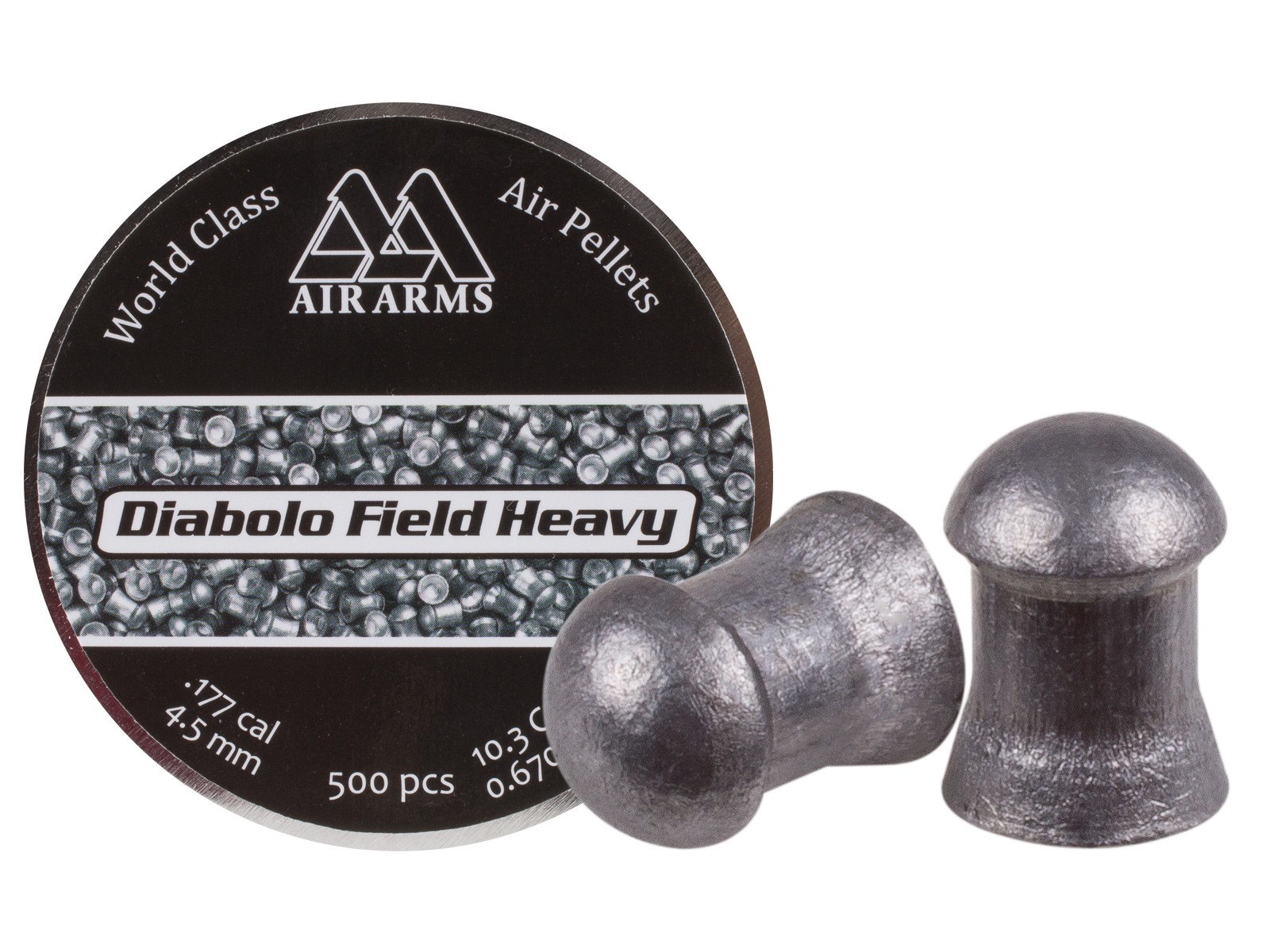 Product Details
When shopping for a quality airgun, there are a few names that are always mentioned first. Air Arms is a name that is always among those first few. That also extends to their line of pellets. They are a company based in England, that has a reputation for quality that is known worldwide.
This line is produced by JSB in the Czech Republic, but Air Arms provides their own proprietary dies and their own formulation for the lead mixture to be used. By not having to invest millions of dollars in production facilities, they can pass the savings to their customers by providing a top quality product at a lesser cost.
Why We Like Them
Extremely uniform size and weight for better accuracy and very clean, with little or no manufacturing residue. Pure soft lead for better deformation when hitting small game or pest.
One of the heavier .177 products which gives more energy down range, and less tendency to be pushed off target by the wind. They tend to shoot well out of both higher powered spring rifles, and precharged pneumatic rifles.
Things to Consider
They are heavier than the average .177 caliber, so they may not shoot well out of lower powered guns. It will also require more hold over at longer ranges than lighter ones.
You may have to try different head sizes to get the best accuracy from your airgun.
3. H&N Field Target Trophy .177 Caliber, 4.52mm, 8.64 Grains, Round Nose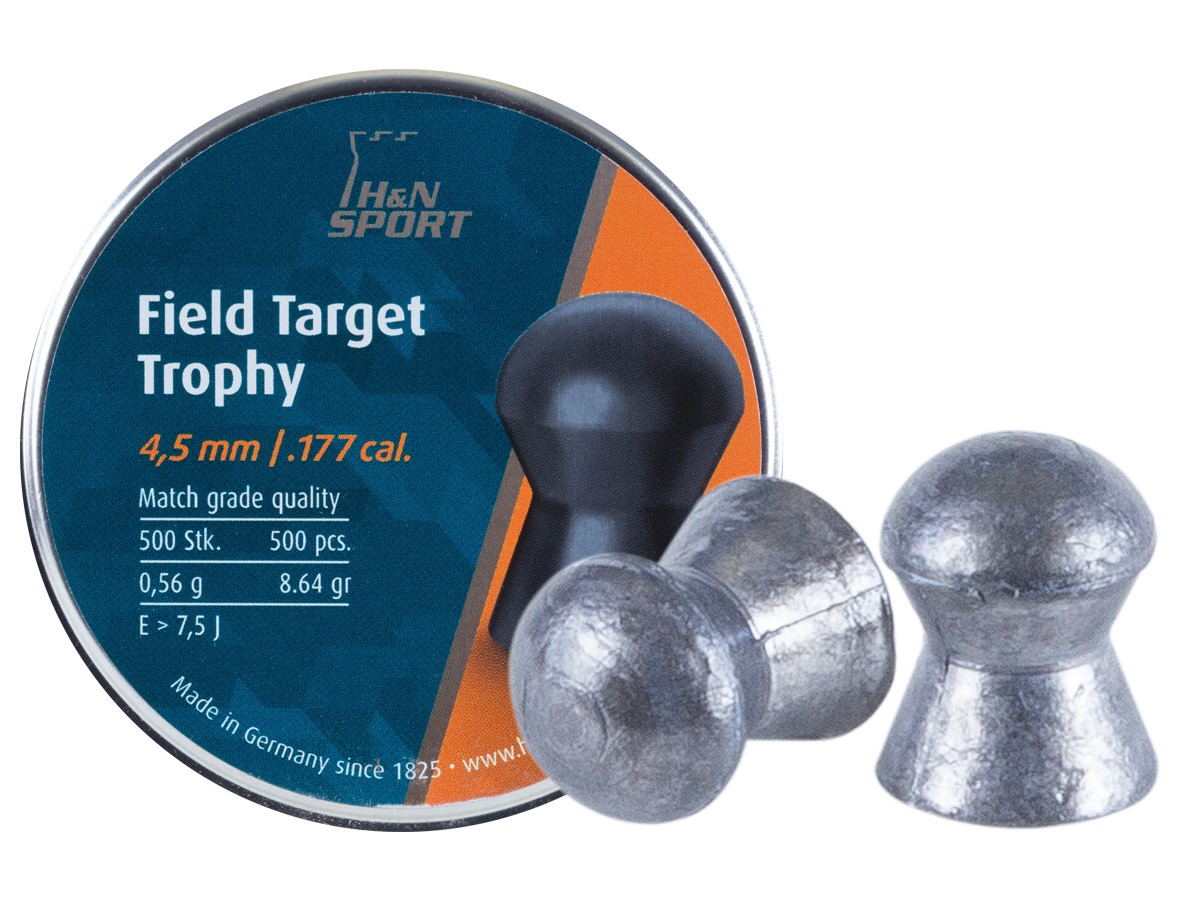 Product Details
The name H&N Sport (Haendler & Natermann) has been manufacturing lead products since 1825. In the 1950's they started making airgun ammo for many applications. They produce their pellets on their own machines, designed just for that purpose. Worldwide, hunters and competition shooters of all levels use H&N because of their extreme accuracy, uniformity, and overall quality. The company is based out of Hann. Mnden, Germany.
The 8.64 grain is a medium weight round nosed pellet designed for extreme accuracy while providing excellent performance on small game and pest.
Why We Like Them
Renowned German quality and precision manufacturing, these match grade pellets are at a reasonable price. Large rounded profile for better downrange accuracy and energy retention with excellent quality control.
The packaging of their tins show you the weight, and the minimum suggested energy levels they were designed to perform to their greatest potential.
Things to Consider
Due to overseas production, they may sometimes be out of stock due to the demand, and shipping delays and can be more expensive than budget options.
With different head diameter sizes to choose from, you will have to find the correct size that shoots best out of your airgun. You may find that they may not perform their best in lower powered airguns.
4. Crosman Premier Ultra Magnum .177 Caliber, 10.5 Grains, Round Nose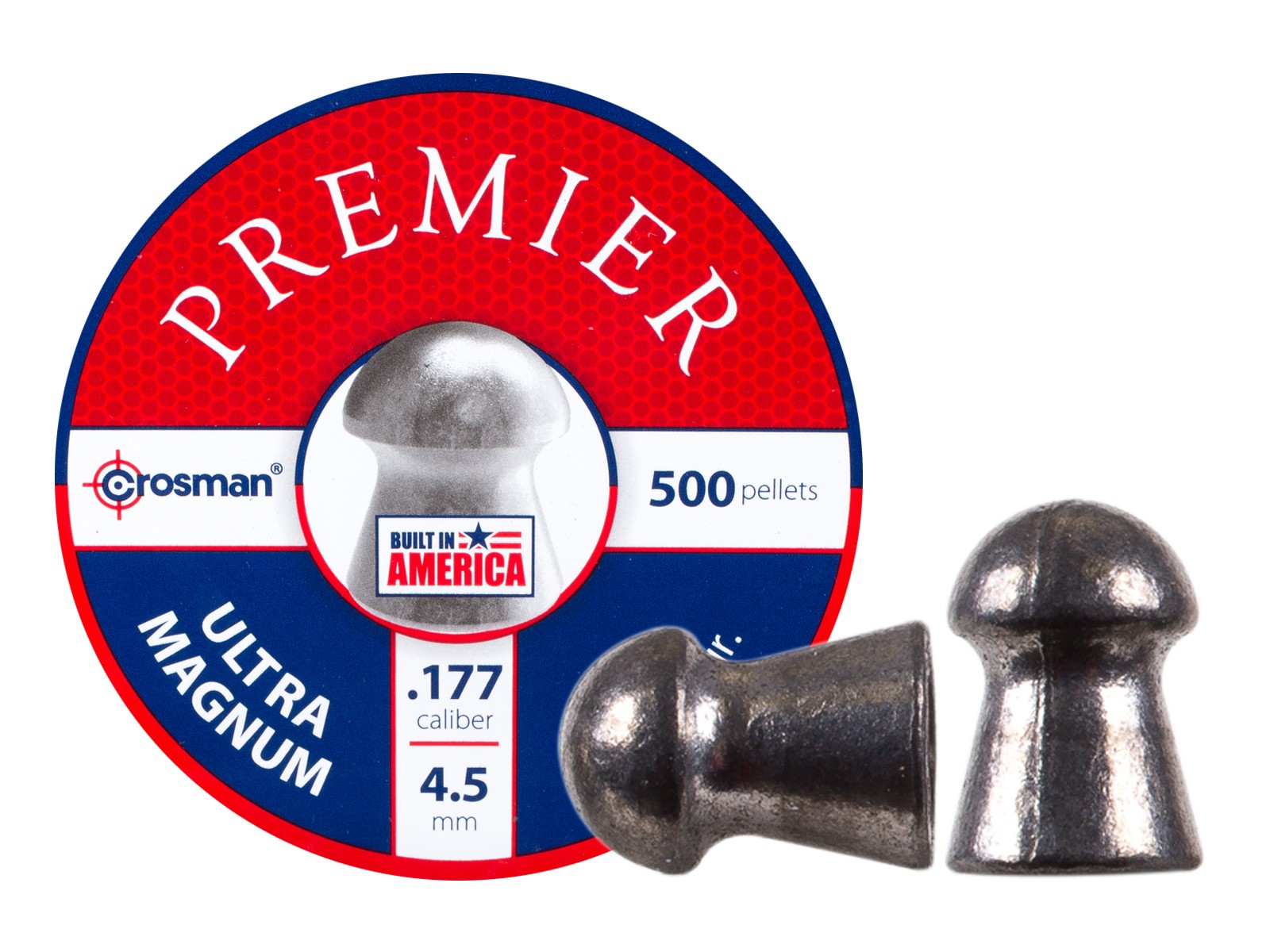 Product Details
The Crosman line of Premier's are without a doubt the most commonly used pellets sold in America.
The Crosman Corporation, is based in East Bloomfield, New York where many of their air rifles, and all of their ammo are proudly made in the USA.
The heavy 10.5 grain dome pellets are an excellent choice for small game hunting and target shooting from short to long ranges. You'll get more penetration, and kinetic energy down range from powerful precharged pneumatic guns, and high powered spring rifles. The heavier weight, and domed head will help counteract a crosswind much better than lighter ones.
Why We Like Them
First and foremost, the price! They are very affordable, but they offer excellent quality, at a budget price.
They tend to shoot well out of almost any air rifle. They are very consistent in weight, and head size. They are made from a harder lead/alloy mix than many other options on the market, meaning they are not damaged easily with handling or transporting them, and they penetrate deeper into the target because they do not deform as easily as a softer alloy.
The lid of the tin screws on, so it is not likely to come open if dropped or come loose in a range bag or pocket. They can be found at most sporting goods stores that sell airguns, and some big box stores.
Things to Consider
They may be "dirtier" than more expensive options, meaning they may not have been cleaned as well before being packaged for sale, so you may find small flakes of lead in the tins.
They do not offer different head sizes, so you can not pick the best head diameter for your particular gun. Being a heavier option, they will give you a lower velocity, which means you will have to hold your point of aim higher at longer ranges.
The tin lids are put on by machines, so sometimes they are hard to unscrew the first time you open them. They may be too heavy for lower powered guns, causing poor accuracy.
5. H&N Baracuda Match .177 Caliber, 10.65 Grains, Round Nose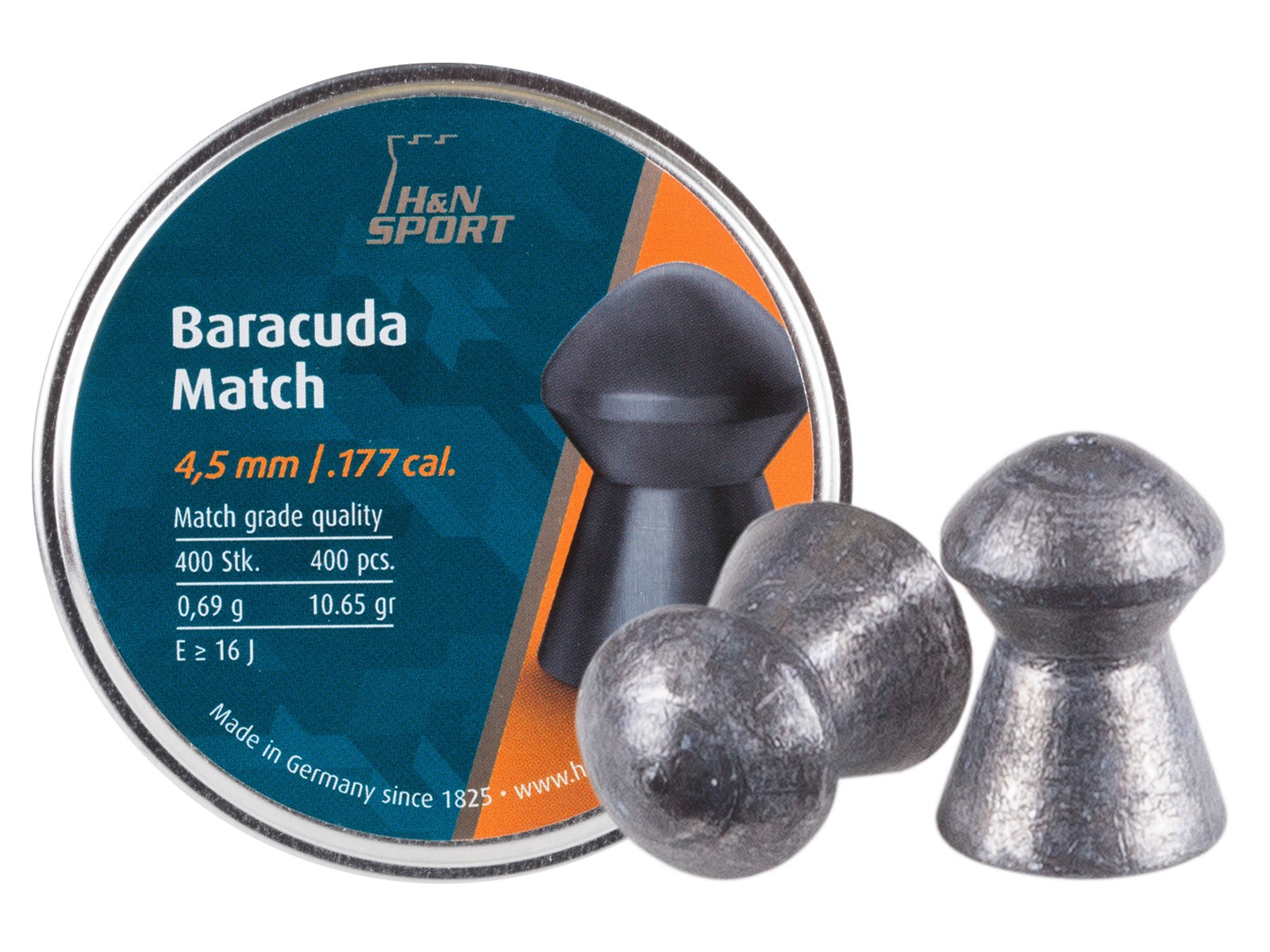 Product Details
These are specifically designed for competition and hunting at longer distances. It is made to match grade tolerances in both weight and dimensions, then undergoes rigorous quality control checks, before being sent to you.
It is both heavier, and physically longer than most other .177 caliber domed options, giving it superior downrange performance. This pellet is also designed to be shot in rifles capable of shooting at least 713 fps or faster. Because of its extreme accuracy at longer than average ranges, it is a preferred option with both long range hunters and field target shooters around the world.
Why We Like Them
H&N match grade quality which means you get a very clean product, washed and cleaned before packaging.
They provide superior accuracy at longer ranges and are available with different head diameters to get the best accuracy from your gun. It can be very accurate in some of the more powerful guns and due to their weight, they will retain a lot of its energy down range for better penetration compared to some of the others on this list.
Plus, the head shape helps with loading them into the breech of the gun.
Things to Consider
There are only 400 instead of 500 in a tin, so they are a little more expensive than some other options. They are slightly longer than some others and may not fit or feed in the magazine of a repeating air rifle.
Their weight is one of things we like, but they are a very heavy pellet for .177 caliber, so they will drop faster at longer ranges than ones that are lighter. You might find that they do not work as well in rifles that are not capable of shooting them faster than 713 fps.
6. Crosman Premier .177 Caliber, 7.9 Grains, Hollowpoint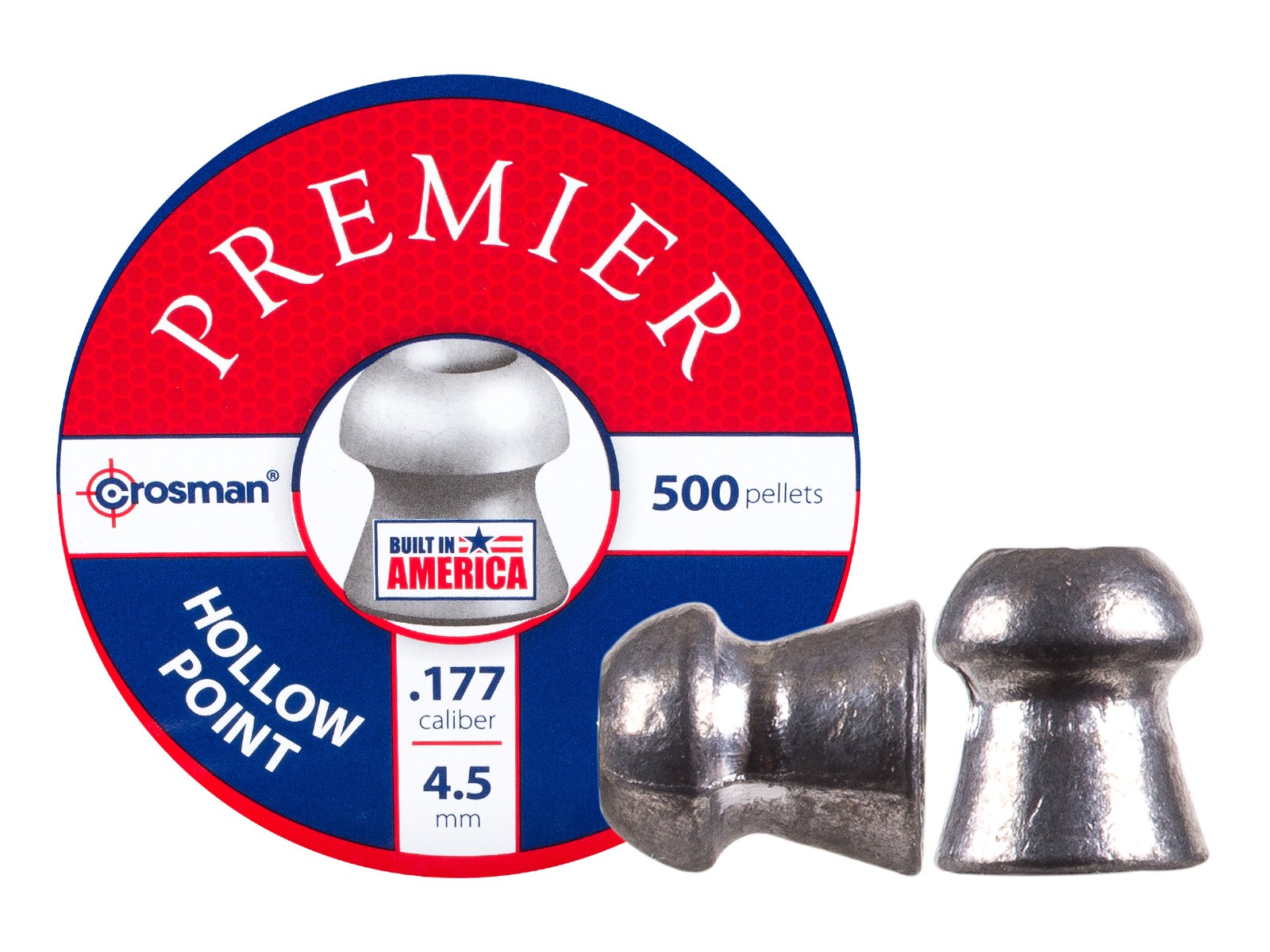 Product Details
The Crosman 7.9 grain Premier Hollow Points are the most widely used pellets in the United States. They are the go-to option for millions of airgunners for small game hunting, pest control, plinking and everything between. Every airgunner has at least 1 tin of them in their bag or ammo box.
They should be listed as general purpose because of how versatile they are. The modified dome head has a hollow point in the center, helping with expansion on small game, while the dome shape helps retain its velocity at extended ranges.
It doesn't matter if it is a pistol or rifle, whether it is powered by co2, precharged air, multi pump, or spring powered, regardless of the power level of your airgun, they seem to shoot well out of most of the guns on the market.
Why We Like Them
The price! With a retail price below 2 cents per shot, they are extremely economical to shoot. They are versatile and perform well at all distances, in hunting, plinking, and informal competition use. You can also find them at almost every big box store, hardware store, or sporting goods store.
The tops are screwed on to prevent them from spilling while carrying them and the hollow point design aids in expansion, and knockdown power.
Things to Consider
Crosman doesn't publish head sizes, so you can not choose different sizes for your gun. As a cost saving measure, they may not be cleaned of leftover debris from the manufacturing process or as well, compared to more expensive options, before packaging.
Some may have a small amount of flashing left over from the swaging process. They are made from a harder lead/antimony mix than pure lead pellets.
7. JSB Match Diabolo Exact RS .177 Caliber, 7.33 Grains, Domed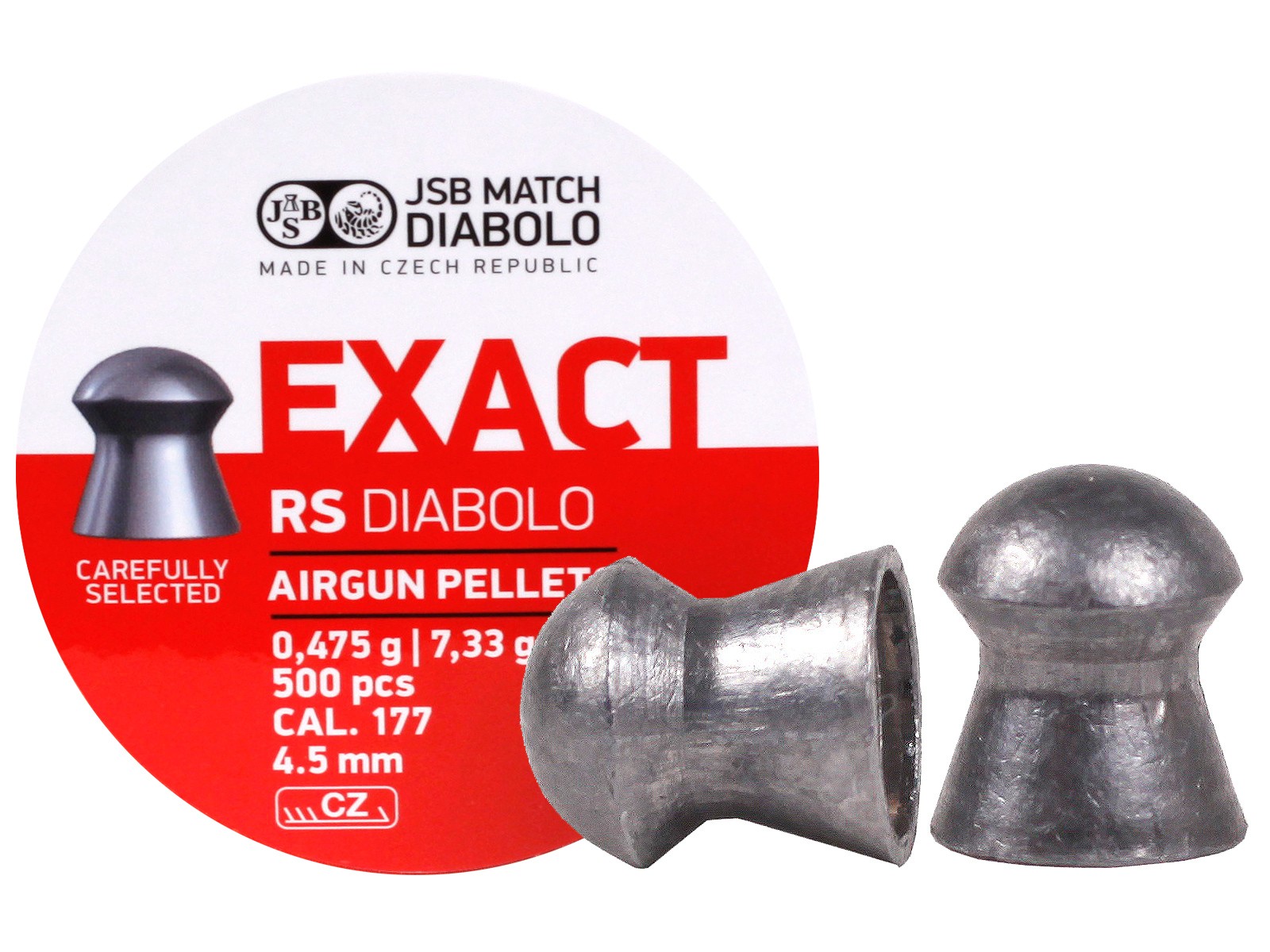 Product Details
The JSB Match Diabolo Exact RS' say a lot about them in their name. The JSB quality, the Match grade accuracy, the Exact precision and care in manufacturing, and RS, that stands for Rapid Speed.
They are lighter than others, thereby giving you a higher velocity, and a flatter trajectory to your target. They are considered by many shooters worldwide to be the most accurate general purpose pellet on the market. They are extremely accurate in many guns, and are perfect for lower powered single stroke pneumatic airguns.
Why We Like Them
They are a great all around option and perfect for lower powered airguns. Being lighter weight, they will shoot faster than heavier ammo, they will also transfer their energy faster, so they are less likely to over penetrate your small game or pest target.
You'll find them very reasonably priced for the accuracy they provide at short to medium ranges. The soft lead alloy will engage the rifling of your barrel better for increased accuracy. Plus, their light weight and diabolo shape bleeds off speed quickly so they do not travel long distances if you live in urban areas.
Things to Consider
The lightweight and the shape means you won't be able shoot beyond short to medium range distances. Unlike harder metals, the soft lead alloy means the JSB Match Diabolo Exact RS' can be easily damaged if they are dropped on a hard surface and do not shoot well with higher powered airguns.
They do not come with a screw on lid for the tin, making it easy for the tin to come open in handling.
8. RWS Meisterkugeln Rifle .177 Caliber, 8.2 Grains, Wadcutter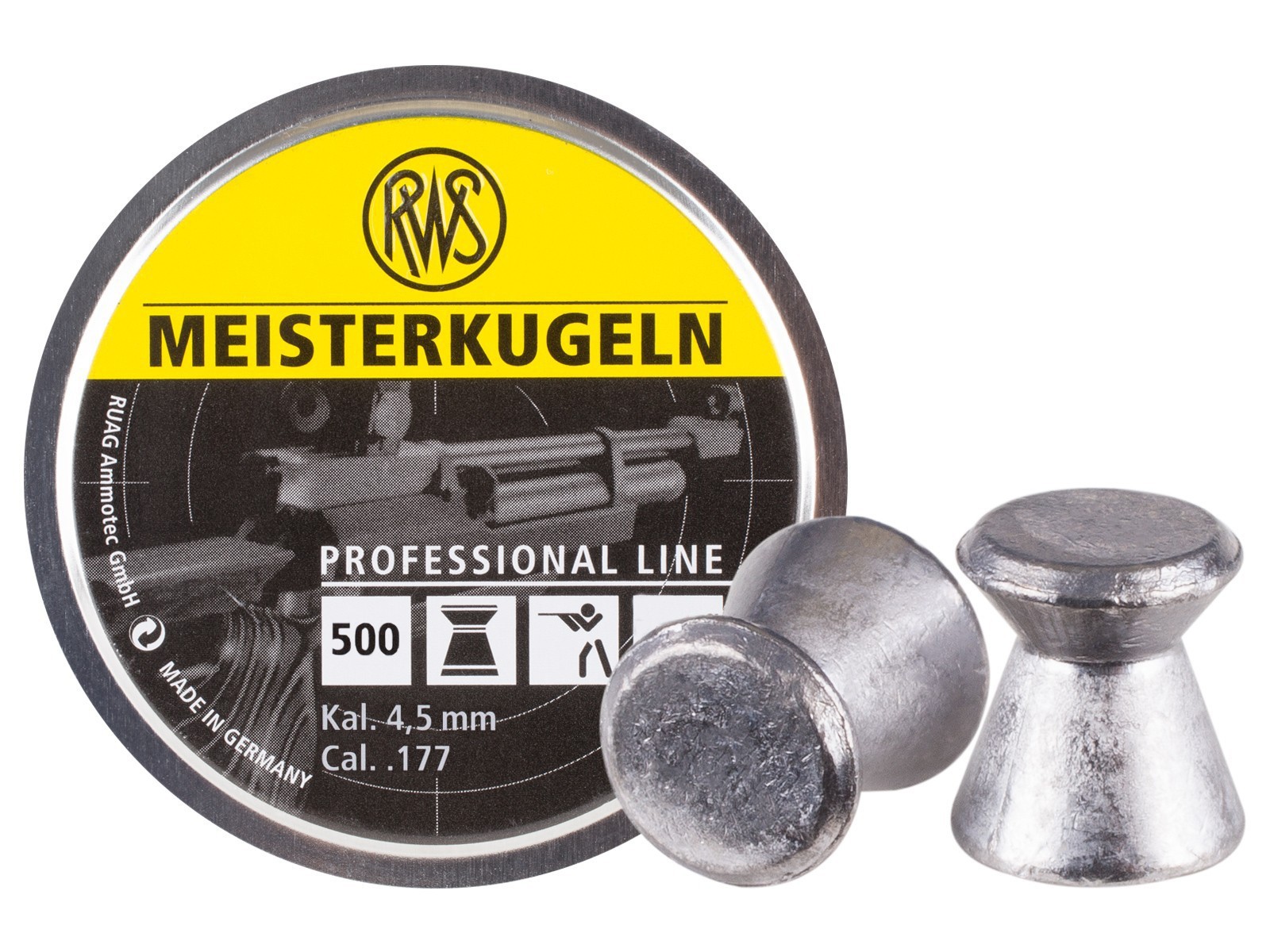 Product Details
After years of shooting we've found that all pellets are NOT created equal. RWS is shorthand for Rhinish-Westphalian Explosives Stock Company, that can trace its origins back to 1855 in Nuremberg Germany, when they started making priming compounds for firearms ammunition.
For more than 100 years, RWS has manufactured all of its ammunition exclusively at its headquarters in Frth-Stadeln, Germany. RWS continues that tradition by manufacturing precision ammunition for firearms and airguns for hunters and competition shooters of all skill levels.
The 8.2 grain Meisterkugeln (translates to english as Master Balls) is a slightly heavier flat nosed pellet that is engineered for Olympic grade accuracy. The wadcutter design cuts a clean hole in targets for precise scoring and quickly transfers its energy to your hunting target, resulting in quick humane kills.
Why We Like Them
Precision engineered for maximum accuracy out to medium ranges which is great for hunting, training, and competition.
You'll find that they shoot well in both pistols and rifles and are available in several different head sizes so you can find the best one for your particular gun. Very clean and well packaged.
Things to Consider
May not always be in stock, due to being manufactured in European but the main reason is due to the high demand.
The RWS Meisterkugeln is not meant for long range shooting and may not perform well at faster speeds. You'll also find the tins do not have a screw on lid, so they may come off during transport.
9. Crosman Destroyer .177 Caliber, 7.4 Grains, Pointed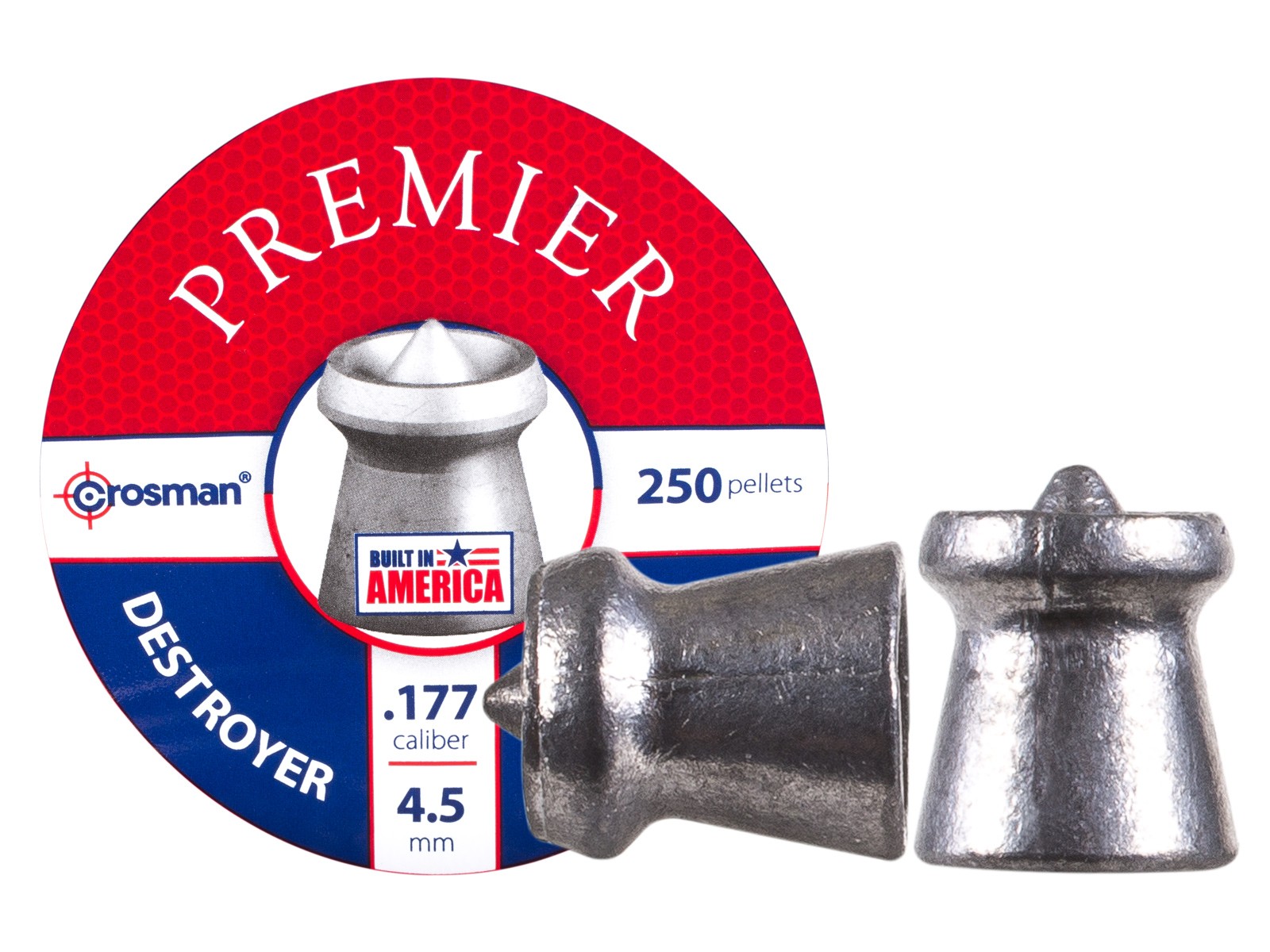 Product Details
The Crosman Destroyer is budget priced ammo that delivers premium performance. The Destroyer blends the best of several designs into one. It cuts clean holes in paper like a wadcutter, it has a pointed tip to cut the wind like pointed ones, and it has a large dished head like a hollow point for rapid expansion.
They are very popular with hunters, and plinkers alike because its medium weight makes it have a flat trajectory to the target.
Why We Like Them
The Crosman Destroyers are much less expensive than other pellets of similar quality and pretty consistent in weight from one to another. They are great for hunting and plinking because they expand rapidly and light enough for low powered airguns. So you'll find they shoot well out of a lot of different airguns.
Their smaller tins are easier to carry and they have screw tops. Plus, you'll be able to find them in stock in most big box and sporting goods stores.
Things to Consider
Due to their design, the small pointy tip could become damaged in handling or may cause them to not feed well in magazine fed guns.
They have a harder lead/alloy mix than some options. Plus, you can only find them in one head size which means you will have to try them to see if they work in your particular gun. Only comes in 250 count tins.
10. Gamo Rocket .177 Caliber, 9.6 Grains, Ballistic Tip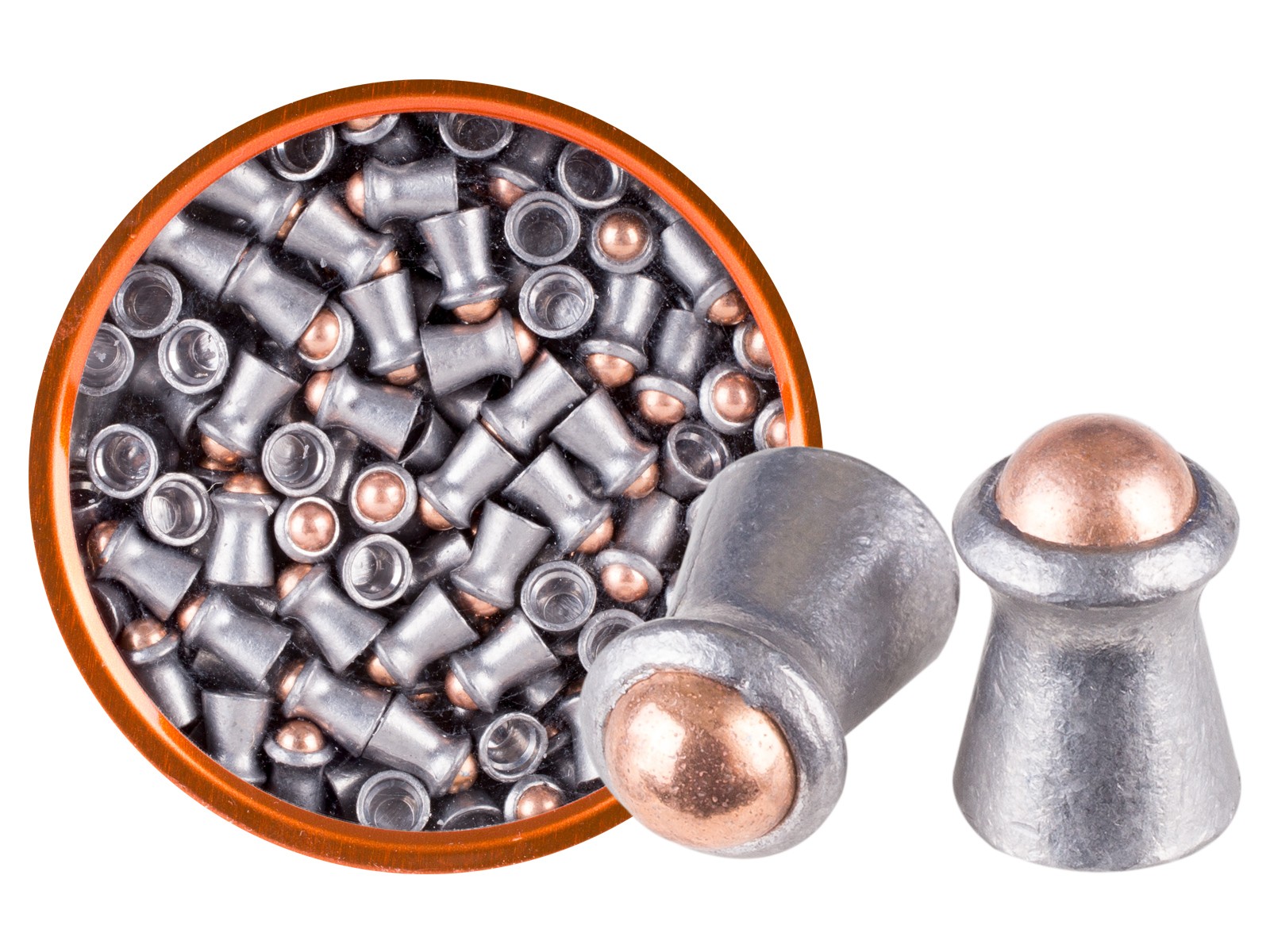 Product Details
The Gamo Rocket combines the weight and performance of a lead pellet but with a hardened steel tip to give enhanced penetration and shock with precision accuracy. The Rocket enhances down-range performance without any sacrifice of accuracy and consistency.
It is a medium to heavy choice that is hard hitting and accurate. The lead body protects your barrel from the hardened steel insert, but when the pellet hits your target, the hardened steel tip helps expand the lead body to a larger diameter to increase the transfer of energy to the target.
Why We Like Them
It is heavy which improves accuracy and the classic diabolo design provides more stability in flight. They work well in powerful pre-charged guns, and magnum spring rifles. And we like the hardened steel insert which increases penetration.
If you own a Gamo airgun, these pellets are designed for you! They work well in magazine fed Gamo rifles. And you'll never need to leave the tin open because the clear insert in the lid lets you see how much ammo you have left at a glance.
Things to Consider
Since they are heavier, they may not shoot well in lower powered guns. You will also find that they are longer than others, so they may not work in some magazine fed guns.
If you want to get maximum expansion and shock, you'll be required to have a rifle that can generate high velocity or fps.
They only come in 150 count tins and we do like the clear plastic lid insert to see how much we have left, it is a weak point and may crack if you accidentally sit on the tin.
What's the difference between .22 vs .177 caliber pellets?
The difference between .22 and .177 caliber is .043 of an inch, or 1.09 mm. The .177 caliber pellet, being lighter, will normally shoot faster and will tend to have a flatter trajectory than the .22 cal, and because of the smaller frontal area, will also penetrate deeper into the target than the .22 does.
With smaller targets like mice, rats, chipmunks and squirrels, the smaller kill zones require more precise shot placement to be effective. This is where the .177 caliber shows its precision target heritage.
When you buy a tin, you are actually buying a certain number of ounces of lead, that just happen to be in the shape of your favorite pellets. 0.177 caliber will typically weigh about half of what .22 caliber pellets weigh. That is why many manufacturers will sell a 500 count tin of .177 calibers and a 250 count tin of .22's for the same price - you get more shots for your money.
What .177 pellets are best for hunting?
Every pellet on this list has a proven history of taking small game, and pests and would be an excellent choice. But in the simplest terms, the best .177 caliber pellet for hunting is the one that shoots the most accurately in your gun. A slow moving hit in a vital area is better than a fast shot that misses the animal.
That being said, you do need a certain minimum velocity and power to humanely kill an animal, and that depends on the size and type of animal you are trying to take. Here are the best .177's for hunting by distance to the target:
For short range small pest animals such as mice, rats, small birds, other vermin or indoor pest control, the RWS Meisterkugeln Wadcutter 8.2 Grains will do the trick. The flat nosed profile dumps all of its energy into the target very quickly. With the correct power levels it will stop inside the animal, giving its full hydrostatic shock.
For short to medium ranges the JSB Match Diabolo Exact RS 7.33 Grains are perfect for targets up to a squirrel size. These pellets will transfer their energy quickly to the intended target.
For longer ranges, and larger animals, I would suggest heavier pellets like the domed Air Arms Field Heavy 4.52mm 10.34 Grains. They'll buck the wind which is better for longer shots and will deliver more energy to the intended target.
Can .177 pellets kill?
Yes, a .177 caliber pellet can kill a thin skinned small animal such as mice, rats, and small pest birds. A light flat nosed or hollow point pellet will transfer its energy quickly and is not likely to overpenetrate the animal which could damage something behind it.
Moving up to Eurasian collared doves, pigeons, crows, squirrels, and rabbits, a heavier .177 cal. pellet with an airgun that produces higher velocities will give adequate penetration to reach vital organs to kill a pest quickly and humanely.
If you're looking to hunt something larger than a rabbit, you should not use .177 caliber ammo. Larger animals take more energy and deeper penetration to humanely kill them, and with the weight of .177 caliber pellets, there is a limit to the energy you can produce.
People have taken skunks, raccoons, and even feral hogs with .177 caliber guns, but the shot placement, gun velocity, ammo weight and design all have to be just right. That is a lot of unknown variables that all have to come together at exactly the right place to make that shot happen. So stick with smaller pests when hunting with .177 caliber.
How far will a .177 pellet go?
That is a short question with a long answer. A typical medium weight diabolo shaped pellet can travel about 400 yards.
The distance it can travel depends on many factors, primarily on the ballistic coefficient of the pellet, velocity, and the weight. (The ballistic coefficient is essentially how much drag there is slowing the projectile while in the air.)
A long slender bullet shaped pellet will travel farther than the classic diabolo shape, because of its better ballistic coefficient.
The shape of a pellet is similar to a badminton birdie, and if you have ever played that game, you know you can hit it really hard, and it only flies about 30 feet. Yet you can hit a tennis ball with the same force and it travels much farther. That is because the tennis ball shape has less air drag than the badminton birdie.
Pellets are designed this way for stability, and so they don't travel extreme distances like bullets. They are also safer for urban environments because of the shorter maximum range.
Shop for .177 Caliber Pellets