By B.B. Pelletier
Last week's post about my old Silver Streak brought some comments that reminded me of an important concept – having an airgun that one can always go to in case of an emergency. Today, I'd like to tell you about one of mine.

My Blue Streak looks old compared to today's model.
Sheridan Blue Streak – my first go-to airgun
Although I've been an airgunner all my life, I didn't hold on to the guns of my youth, so the Blue Streak I bought in 1978 is the airgun I've owned the longest. As I mentioned in the Silver Streak post, I wanted a Sheridan as a boy, but it wasn't to be. As an adult with some control over my discretionary funds, I finally satisfied that itch.
The Blue Streak turned out to be everything I hoped for – and more. It was so smooth to pump compared to the Benjamin I remember having as a kid – a front-pumper pistol that I could barely work!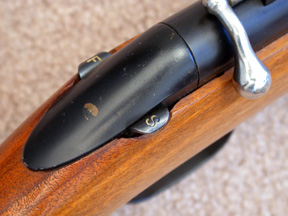 Push down the S for SAFE or the F for FIRE.
If the stock were off, you would see
that these two buttons are on a single rocker lever.
Sheridan – the best of the best
I have the model with the rocker safety that I believe is the pinnacle of Sheridan design. It's so easy to operate and the safety is manual, allowing me to decide where it should be. In my opinion, that's how all airguns should be made!
The stock is the full Mannlicher with a slightly fatter forearm that takes some of the effort out of pump strokes 7 and 8. Later guns have a forearm that swells where your hand grabs it, but mine is uniformly thick the entire length.
These two tips keep 'em like new!
Uncharacteristic for me, I read the owner's manual, which instructed me to always keep one pump of air in the gun to keep the valves shut. I did, and that's probably why it still works after 28 years and thousands of shots. I also oiled the pump mechanism periodically (with Crosman Pellgunoil), so the inlet valve seal and O-ring are as fresh today as when they were installed.
There are lots of .20-caliber pellets to choose from
When I bought the gun, only Sheridan made .20 caliber pellets. Robert Beeman changed that a few years later, when he decided that .20 was a perfect compromise between .177 and .22. Other types of pellets soon became available. Another 10 years passed and the British airgunners also embraced the caliber. Then, nearly every pellet maker in the world began to produce .20-caliber pellets.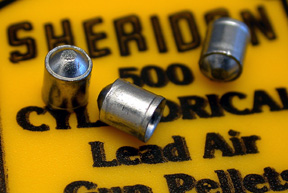 Early Sheridan pellets standing on their yellow plastic box.
I've never been tempted to put a scope on my rifle, as I find the open sights accurate enough. My best shot was a one-shot kill on a cottontail rabbit at about 35 yards, and the gun proved very effective! Several times I considered installing the Williams peep sight, but I always chickened out. I've had several other multi-pumps with peep sights, including a Supergrade Sheridan, and I didn't find any of them to be more accurate than my Blue Streak.
That brings me to my final point. My Supergrade was no more powerful nor accurate than my Blue Streak. That's probably why I tend to go to the Blue Streak when I need to Git-R-Done! You can still buy a Blue Streak today. Although the design is different than my old gun, it still has the same power and accuracy.