by B.B. Pelletier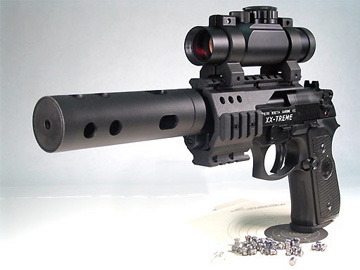 The XX-treme by Beretta!
It's Friday, and on Friday we play. All you action pistol fanatics have been patiently waiting for me to get around to this air pistol, so today's post is just for you!
Beretta XX-treme
Today's gun is the XX-treme by Beretta! This is a deluxe model based on the popular Beretta FS 92, which is the Umarex copy of the sidearm our military now carries – the M9. In firearm form, it's a 9mm semiautomatic, and in airgun form it's a .177 revolver that uses the Walther hidden clip.
The last Umarex pistol we looked at was the M1911A1 Colt on Nov. 10. When it comes to accuracy and power, the Beretta XX-treme performs about the same, but the special accessories make this a different model altogether. Here's what you get.
Wraparound Picatinny rail!
To start with, you get a wraparound Picatinny rail. One better than a tri-rail, the wraparound gives you all four sides of the gun to mount accessories. Though the XX-treme comes loaded with stuff, you can install even more after you buy it! And, the wraparound rail gives you plenty of places to mount it!
Time to check out the CONFIGURE button
If you haven't done this yet, you're in for a treat! Click here and let's go back to the Beretta XX-treme and click on the CONFIGURE button at the bottom of the description. Give it plenty of time to load. Now, you can see the gun with an optional tactical flashlight mounted.
Add a laser
A Daisy laser would make a nice addition, especially since Daisy provides a Weaver base that clamps to the Picatinny base on the Beretta XX-treme. (Weaver rings have a smaller crossbar and will clamp to Picatinny bases, though they should not be used on recoiling guns.)
More accessories and supplies
Get a speedloader, because you're going to shoot a boatload of pellets through this pistol! And, buy your powerlets in bulk! That way you won't run out and have to pay the higher prices at discount stores. You'll need pellets, of course. My recommendation is the .177 Gamo Match. It's one of the least expensive and yet it is often as accurate as other match pellets costing much more. It's also a lighter pellet, which will preserve all the velocity the Beretta has to offer. (This would be a great time to take advantage of Pyramyd Air's pellet promotion!)
How to make an airgunner happy this Christmas
The XX-treme would make a great Christmas present for a serious airgunner. It's rugged, fast and loaded with the tactical accessories action handgunners love.