by B.B. Pelletier
When you hear the name "Daisy," I bet you don't think of a single-shot BB gun. Most people probably think of the popular Red Ryder Daisy has made since 1938. But, there were plenty of single shots in the early Daisy lineup, starting with the first models in 1888. By the turn of the century, Daisy had added a lot of repeaters, but single-shots were still very prevalent. However, after World War I, the repeater ruled the day and single-shots were not as common.
In 1938, Daisy made a single-shot they called the No. 100 Model 38. It resembled the 1912 Model C made 26 years earlier but stood apart from the typical lever-action construction of the day. Besides the obvious lack of a cocking lever, this rifle has no visible screws. It's held together by rivets.

Daisy's No. 100 Model 38 is a simple single-shot BB gun that looks different than the traditional Red Ryder. It was made for younger children and also to be cheap.
Fixed sights
This was a budget BB gun, so the sights are fixed with no pretense of adjustability. In fact, the rear sight also serves to anchor the spring-piston assembly, which was a common way for BB guns to be made at the time. The riveted construction makes this gun a little harder to work on than a more conventional gun with a cocking lever.
To cock the gun, you break down the stock. I've taken a picture to show you how it works. Loading means just dropping a BB down the muzzle. This gun was produced starting in 1938, so it's built for .173″ steel BBs – the BBs of today.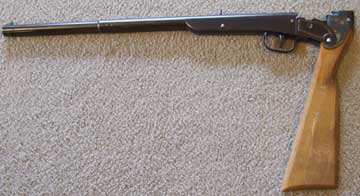 Broken open for cocking, the gun shows how much more leverage there was over traditional lever-actions. Though it was a youth gun, the Model 38 was powerful.
The age of the gun also means the piston seal is leather, so you have to keep it well-oiled to keep the power up. There is no oil hole, so drop the oil straight down the barrel and stand the gun on its butt for about an hour. Do that every couple of weeks, or as the power seems to drop.
What kind of power?
This model was made for younger children, but the mechanical advantage of using the whole butt as a cocking lever means it can be powerful. And it is! Mine has an air leak in the compression chamber because the tack-welded outer tube has broken open, and I still get 220-240 f.p.s. A good one will, no doubt, top 300.
Accuracy
My gun is not one to go by since it leaks air, but I get reasonable BB gun accuracy from it. I don't shoot it enough to really know the gun, but I'm sure little boys who shot their guns every day got pretty good with them.
Cost
It wasn't an expensive gun when it was new and it's still very affordable today. You should be able to find one in very good condition for $100 or less. I paid $50 for mine because of the damage. An equivalent grade of lever-action from the same time frame would bring $150 or more.
I have to admit that I never saw one of these when I was a kid in the 1950s. It wasn't until I started attending airgun shows that I saw my first one, but they aren't rare. You can always find several at any good collector's show. I admired them for many years before getting this one. Now, I'm thinking I should get a fully functioning gun to really give it a test.
Any of you old boys out there ever have one?