by B.B. Pelletier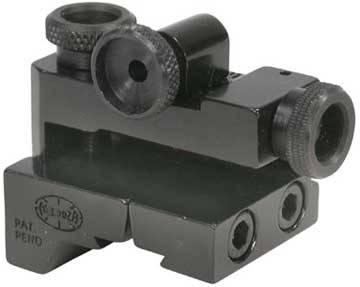 Mendoza aperture sight is well-made and a heck of a bargain!
Okay, something different today. Instead of a gun or accessory review, how about some inside information! In fact, how about a whole bunch of it?
Item 1. Mendoza sights
My long time readers know that when I tell you about a deal, it's for real. Well, here comes a deal! Mendoza makes a diopter sight that compares favorably with the Beeman Sport Aperture sight, which retails for $63.25. When Pyramyd Air purchased Airgun Express, they bought a lot of these sights, and they're just now making it to the website. The price of $19.99 is in line with Beeman's price for their sight back in the 1970s! I have held this sight in my hand at the SHOT Show and worked the adjustment mechanism; it's just as crisp as the Beeman. I'm buying 2 to put away for the future.
If you want an open sight instead of a peep, the same sight comes with an open notch at the same price. Both sights fit 11mm dovetails and do not have scope stops built in. I do not want to hear any crying six months from now when this deal is over (I have no idea when it will be over, but good deals do have a habit of expiring fast), so act now if this is something you need or want. Every target shooter should be acting on this!
These sights are well-hidden in the accessory list under the category LASERS, RED DOTS & IRON SIGHTS, and they are further buried near the bottom of the list, so it's time to learn how the scroll bar works. Or, just follow the embedded links in this blog.
Item 2. Weihrauch HW 50 peep sights
Once, again, we have a peep sight. This sight is the rear aperture (peep) unit that fits the Weihrauch HW 50 and ever other Weihrauch spring-piston rifle (they all have the same mounting system). For you collectors, this sight is not the same sight Weihrauch used to put on their model 55 spring rifle. Those were selling for $135 by themselves 12 years ago, so understand that this is a different sight. It will fit, but it's not the same configuration as the older model. Still, at less that $60, I don't know how anyone can complain. This one is also listed in the same category of the accessories.
Item 3. The Pyramyd Air garage sale!
Pyramyd Air has a huge inventory of odds and ends, ranging from Turkish spring rifles they decided not to stock to boxes of parts for current and obsolete RWS Diana spring rifles. There are piles of broken airguns that no one has the time to fix. And, they're finding more stuff daily as they clean out the five warehouse spaces they operate from. They've decided to all these things down to the International Airgun Exposition in Roanoke, Virginia. For two straight days (Friday, October 26, and Saturday, October 27), they'll sell all this stuff to the public at incredible prices.
The Roanoke airgun show is the oldest and largest airgun show in the world. It even attracts collectors from the UK. Last year, there were over 140 tables of collectible airguns, plus some new guns. I know that's small in gun show terms; but, when a single table may have $100,000 worth of collectible Daisy airguns, the magnitude of such a show comes into sharp focus.
This year's show will be exceptional. In the Roanoke Civic Center, where the airgun show is held, there will also be a large gun show on Saturday and Sunday, so the shows will overlap on Saturday. The price of admission to the gun show guarantees admission to the airgun show as well, and they're expecting several thousand additional visitors. Those people are not used to seeing an airgun show and many will be blown away by the huge number of collectible airguns for sale. Where a Benjamin 130 pistol in working condition might sell for $60 at the airgun show, it isn't unusual to see the same gun going for $250 at a gun show! That's going to make this year's show interesting, to say the least.
If you're interested in attending the airgun expo, it's open to the public from noon to 7 p.m. on Friday and from 9 a.m. to 5 p.m. on Saturday. Friday used to be the best day to attend, because some dealers started packing their tables at 1 p.m. Saturday afternoon (the show ended at 3 p.m.), but this year the airgun show will remain open until 5 p.m. to coincide with the gun show. That's going to have a tremendous impact on attendance, sales and other great things. Call show organizer Fred Liady for table reservations ($45/table to the end of September, $60 after that) and visit the website.
Item 4. "Other great things"
What all collectors hope for at a show is a bluebird. A bluebird is a desirable airgun that walks into the show in the hands of an attendee. Several years ago, I was present when a genuine military Girandoni walked into this show and sold in the aisles for $3,500 inside 30 minutes. Just this year, a similar air rifle in slightly better condition was sold in a European auction for 38,000 Euro (over $53,500).

Original Girandoni military air rifle recently sold for over $53,500!
Another time I was FORCED to buy three Daisy Targeteer pistols and six metal tubes of shot for $100 (the guy REALLY needed the money!). I sold two of them and four tubes of shot to someone else at the same show (who also got a great deal, by the way) for the same $100, just to get my pocket money back. I have many more stories about bluebirds that walk into airgun shows, and the key to all of them is traffic. This show will have many times the normal traffic, so who knows what wonderful things will walk through the door?
Item 5. Podcast has been fixed
Pyramyd Air just discovered that the last several podcasts have had the incorrect links for downloads. You could listen to them online; but if you downloaded them you got the same old podcast from some time in August. That's been corrected, so things should work normally from now on.
Item 6. New BB gun book
Gary Garber has just published a new book on Daisy BB guns made in Plymouth, Michigan. If you collect these guns or are just fascinated with them as I am, you'll want this large-format, full-color, 414-page reference book. Contact Gary at DaisyBBgunner@aol.com
The price for this soft-cover book is $60, plus $12 shipping by priority mail (in the U.S.).
New book about collectible Daisys by Gary Garber.