by B.B. Pelletier
Business first. USA Today is conducting a one-question poll about the Second Amendment. They want to know to whom you think it applies – to individuals or to states. Of course, they overlook the entire purpose of the Bill of Rights, which was to convince states to ratify the Constitution because, as originally drafted, it didn't enumerate certain rights OF THE PEOPLE. No promise that those rights would be addressed later would assuage the states, so 14 individual rights were drafted as amendments. After negotiation, they were reduced to just 10.
If you want to weigh-in on this question, go here.
Let's look at the accuracy of the Hammerli 490 Express. As mentioned yesterday, I already know the answer because shooting with open sights I already got dime-sized groups at 21 yards. I'm not that good a shot, and the sights on the 490 aren't that special. The gun must be contributing a lot.
Cleaning the gun
Several readers chimed in yesterday and mentioned how they cleaned the exterior of their guns, and one person mentioned that he sent the gun back, partly because he felt it was too dirty. Vince commented that he removed some sort of preservative from the outside that was brown-colored, which might be what people are thinking is rust.
While the gun was out of the stock, I took the time to spray the metal parts with Ballistol and give it a good wipedown. What came off was brown-colored, but the blued metal underneath was still finished pretty roughly. If appearances are important to you, this gun won't please you. For those who want a sweet-shooting airgun and can look past the finish, this one is a sleeper!
I should have also mentioned that the wood is dark red and without appreciable figure. However, it's shaped pretty well and not filled with wood putty in a lot of places.
Sight-in
I shot from a bag rest using the artillery hold with the gun placed on the backs of my fingers. I was wearing my bifocals, so the front sight was easily kept in focus. The aim point changed from side to side, depending on the pellet used. Once I was on target, I didn't bother keeping up with the changes. Since I couldn't see where the rounds were landing, it didn't bother me if they weren't in the bull.
Premiers
The first pellets I tried were Crosman 7.9-grain Premiers. After calming down, it was easy to keep five shots in close to a half-inch, despite the rather heavy trigger. The best group measures 0.497″, which is too close to a half-inch to argue. A benefit of the low velocity is that Premiers will not lead the barrel. You should be able to shoot indefinitely without cleaning the bore.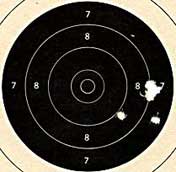 Five Premier 7.9-grain pellets went into this group measuring 0.497″ c-t-c at 21 yards.
Air Arms Diabolos
Next, I tested the new
Air Arms Diabolo Field
pellets – those new domed pellets from Air Arms that are made by JSB. They didn't group as well as Premiers, but they showed promise. I'll try them again with a scope. I zeroed the sights with these pellets.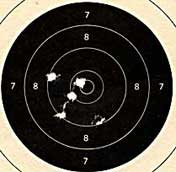 Air Arms Diabolo Field pellets were well-centered but didn't group as tight.
Hobbys
Finally, I tried
RWS Hobbys
, which grouped almost as good as Premiers. They shifted over to the right about 2″, but the groups were small and round, which indicates an accurate pellet.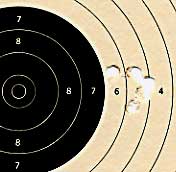 RWS Hobbys were almost as tight as Premiers.
Firing behavior
The rifle fires without much vibration. There's some, but it's over pretty quick. There's also a pronounced but light forward recoil.
Quick appraisal
If the 490 had shot these groups while scoped, I would be recommending it to you. The fact that it did so well with simple open sights is an eye-opener. I once called this rifle a "poor mans R7," based on velocity. Well, it's also one based on accuracy. If the trigger could be lightened, the rifle would be even better; but, looking at the design, it doesn't look like a simple fix will do it.
Next, I'll scope it and we'll see what it can really do.