Hammerli 490 – Part 4 Another great youth rifle
by B.B. Pelletier
Today, I'll scope the Hammerli 490 Express and test it again at 21 yards. Thankfully, the rifle has a scope stop built in. After yesterday's demonstration of how scopes and mounts move under recoil, I hope all of you are convinced. If not, prepare for a lifetime of "scope shift."
I installed a Leapers 3-12×44 Mini SWAT Mil-Dot scope in two-piece rings of medium height. No particular reason for choosing this scope other than convenience.
Quick sight-in, then on to shooting
After three sight-in shots, I was zeroed. I went back to the 21-yard bench and started shooting. Crosman 7.9-grain Premiers had been the most accurate with open sights, so I started with them. Would you believe I couldn't settle down? I shot group after group measuring about an inch c-t-c and my shots were stringing vertically. That's always due to hold with a springer, so I tried several alternative holds, but in the end settled back into the artillery hold described in part three.
The second time the rifle grouped better, but try as I might, I could not get the rifle to group any better than it did with open sights! It was very frustrating, because I know this gun can shoot. How am I so sure? Take a look at the one good group I managed to shoot and you'll see.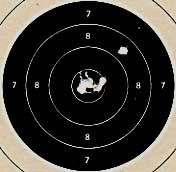 Best group of the day. Four Premiers in a tight cluster and one called flyer. I just wasn't able to get in the groove! The tight group is about what I expect this rifle to be capable of at 21 yards.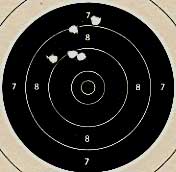 This is representative of how the rifle was shooting Premiers. I did better with open sights.
Hobbys?
The groups did get smaller, but nothing was smaller than the half-inch I shot before
. Thinking it was the pellets (yeah, sure!) I switched to
RWS Hobbys
that had also done well in the open sight test. But they didn't group any better this time, either.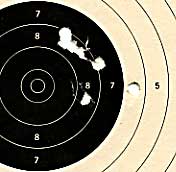 Hobbys wouldn't group for me, either.
Velocity recheck
One last thing I wanted to do was check the velocity after all this shooting. The rifle is partially broken-in now, and I wanted to see what that did to the velocity.
Premiers settled down to 504 f.p.s., with a low of 495 and a high of 513. Hobbys averaged 496 f.p.s. with a low of 483 and a high of 508. So, the velocity is lower and more consistent. It's very close to the advertised velocity of 495 f.p.s.
What's up?
It's not the gun, the pellets the scope or the mounts. It's me, and I know it. This rifle should be able to lay them all on top of one another, but I just wasn't up to the task. I would like to blame the heavy trigger somewhat, but since I shot better with it the other day, I can't use that excuse, either. So, I'm setting the gun aside for a few days, and I'll try again.
Tom Gaylord is known as The Godfather of Airguns™ and has been an airgunner for over a half-century, but it was the 
Beeman
 company in the 1970s that awoke a serious interest in airguns. Until then, all he knew were the inexpensive American airguns. Through the pages of the Beeman catalog, he learned about adult airguns for the first time. In 1994, Tom started
The Airgun Letter
 with his wife, Edith. This monthly newsletter was designed to bring serious reports about airguns to the American public. The newsletter and
Airgun Revue
, a sister magazine about collectible airguns, was published from 1994 until 2002, when Tom started
Airgun Illustrated
-- the first American newsstand magazine about airguns. Tom worked for three years as technical director at
AirForce Airguns
, the makers of the 
Talon, Condor, and Escape
 precharged air rifles. Today, he writes about airguns and firearms for various publications and websites. He also makes videos, and you'll find short clips embedded in some of his artices on Pyramyd Air's website. Tom is a consultant to Pyramyd Air and writes under the name of B.B. Pelletier.