by B.B. Pelletier
More pictures from SHOT today.

The new custom Crosman Outdoorsman, 2250XE. This gun was rumored to cost $1,000 but actually sells for $269.99 directly from Crosman.
For you air pistol lovers, Umarex is bringing out several new models that should be well-received. The first is a BB gun copy of Smith & Wesson's newly famous M&P pistol. S&W made the M&P revolver famous over the decades. When the new pistol hit the market a few years ago, it was received very well. The Umarex BB gun is a 19-shot repeater that doesn't feature blowback, but it does come with a tactical light rail under the slide. This double-action-only pistol has fixed fiberoptic sights front and rear and comes in all black or a two-tone black with earth brown lower half.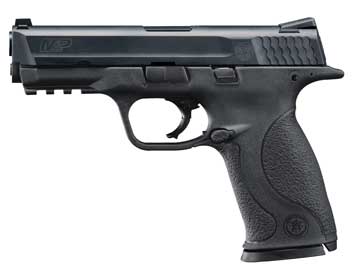 New S&W M&P BB pistol will have an attractive low price.
Another pistol that's going to receive a lot of attention is the new loaded PX4 Storm Recon. It has a compensator, a Walther dot sight and a tactical flashlight with a pressure switch on the grip.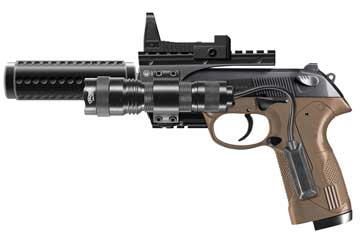 For 2008, the PX-4 Storm will also come as a Recon version, loaded with tactical accessories.
Believe it or not, I'm only skimming the new products that are being brought out this year by Umarex USA! As the year unfolds and Pyramyd AIR starts receiving some of the other new things, there'll be a lot more to see.
Over on the RWS Diana side of the house, there are two new .25 caliber pellets! That's right…the Superdome and Super-H-Point are now available in the big .25, as well as .177 and .22. The new pellets are obviously made for hunting, as they weigh 31 grains for the Superdome and 26 grains for the Super-H-Point. Both come 200/tin.
Many of you have already seen advanced photos of the new rifles RWS Diana will offer. The model 34 breakbarrel rifle will also be available as the Meisterschutze Pro, a scoped version with no open sights, a straight comb (no Monte Carlo profile) a muzzlebrake and a black rubber recoil pad. The Meisterschutze Pro Compact version of the same gun features a shorter barrel. The 34 synthetic-stocked Panther will also come in the Panther Pro (scoped) and Panther Pro Compact versions.
The magnum model 350 will also be sold as the Feuerkraft version, which has a longer forearm, no hood over the fiberoptic front sight and a straight comb. It will also come as the 350 Feuerkraft Pro Compact, with a scope and a shorter barrel.
The beautiful model 46 underlever is now a Stutzen, with a full-length stock and a tasteful schnabble tip. Only in .177 at this time.
The popular model 52 sidelever will come in a special Luxus version with a deluxe basketweave skip-checkered walnut stock (the refer to it as Scottish checkering). My buddy Earl McDonald flipped over this one when he saw it in the Umarex booth.
But for me, the really big news in Diana air rifles for 2008 is the new Schutze, a re-issue of the youth-sized Diana 24. I get lots of requests from parents and grandparents for recommendations for good youth air rifles, and the cupboard has been pretty bare until now. The Diana 24 was always a hit, not just with kids but adults, as well, and I'm delighted to see it back on the market. For now, the rifle is available only in .177 caliber.

The new RWS Diana Schutze is a youth-sized breakbarrel. Velocity in .177 will be 580 f.p.s.