By B.B. Pelletier
Before we begin, some announcements. All you who have been waiting for .22 caliber round balls, Gamo has come to the rescue. Pyramyd expects to get them in July, so get your orders ready. Be sure to lay in a good supply, as you never know when they'll be out of stock again!
We have one student for the Field Target course in August. Wayne will drive all the way from Ashland, Oregon, to Cleveland if we're able to hold the first course this year. I need a few more definite students before I can get this course off the ground, so please check in if you think you can come. I'm tentatively thinking about holding it August 18 through 22, but that's not locked down, yet. Please let us know if you think you can come this year.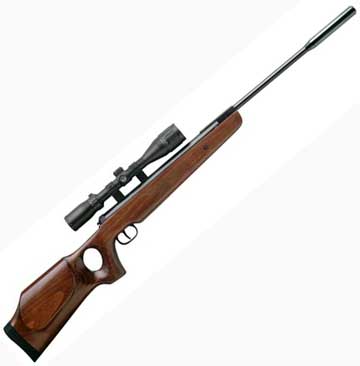 A beautiful breakbarrel from Ruger. Diana, are you watching?
Today, we'll start our look at Ruger's Air Hawk Elite. One of our readers asked if this rifle is a copy of the RWS Diana 34. At the time I said I didn't think so, but now that I look at it, it seems to be similar – though it has some differences as well. I didn't look at it that carefully at the SHOT Show, but now I have one to test thoroughly.
This is the upscale model that comes with a 3-9X40 scope and mounts, so there's nothing but pellets to buy. Hopefully, I'll be able to tell you which ones after this test. All Ruger rifles are available as .177 caliber only at this time. If they're successful, I would think, at some point, they'd bring out a .22.
Selling at $180, the Air Hawk Elite is positioned against the RWS Diana 34 Panther, except that the Panther costs $7 more and doesn't come with a scope. It is, however, a formidable gun to take on, so many shooters will be watching this one. Actually, since it comes with a large muzzlebrake and a scope, I guess it's positioned against the RWS Diana 34 Meisterschutze Pro, so the price difference is much greater.
The stock
The stock is an ambidextrous thumbhole that you will either like or not. I'm not a fan of thumbholes as a rule, but this one doesn't seem too bad. It isn't as large as many that have come to market recently, and I can get used to it. The wood looks like beech and is as well fitted and finished as anything Europe makes. The black ventilated recoil pad is also fitted very well.
The trigger
The adjustable trigger looks similar to a Diana T05, with one major difference. The blade is METAL. It's as if someone who knows the American airgun market was listening to all those complaints. It's a small feature to add, but one that will win Ruger a LARGE vote of confidence from the average airgunner. I'll report on the trigger-pull in the second report, but I'll tease you by saying I'm surprised how light and smooth it is!
The safety comes on automatically when the rifle is cocked, but it's located in a place at the center of the end cap where the thumb can release it easily. Also, this rifle can be uncocked by pulling the trigger and riding the barrel closed.
Metal finish
I have to stop to remind myself that this rifle is made in China, because I cannot really see any difference between it and a German-made Diana. The metal is all nicely polished and deeply blacked. This is a rifle of which you can be proud.
Muzzlebrake
A large hand-filling muzzlebrake provides a convenient handhold when cocking the rifle. It's decorative, only, and does nothing to quiet the rifle. But this is a spring rifle that needs little quieting.
No scope stop!
They cut the 11mm dovetails directly into the mainspring tube, but they didn't put a scope stop on the gun! In the year 2008, with everything we know about spring guns, this is an unforgivable oversight! No amount of clamping pressure alone will stop a scope from slipping on these rails, and something will have to be done. I 've had readers recommend BKL scope mounts as a solution. Since my numerous phone calls and emails to the company went without an answer, I won't recommend them. There needs to be a positive mechanical scope stop put on this rifle. I will test it with the mounts they sent and see if they can hold on tight enough. A simple hole drilled into the spring tube or a metal plate held on with a metal screw would have sufficed. How could they have overlooked that?
No scope stop! How could they do this in 2008?
Ball-bearing breech detent
Just like the Diana 34, the Air Hawk has a ball-bearing breech detent, which means the rifle opens and closes like a dream. The cocking link is articulated, which is different than the Diana 34. Instead of a metal bridge on the underside of the mainspring tube, they used channels in the stock to hold the link parallel to the spring tube. There's a pronounced crack as the barrel is first broken, so hunters will have to be careful it doesn't spook their quarry.
Next stop is the chronograph.