by B.B. Pelletier
Today, I'll test the accuracy of the BAM B26-2, and I earned my keep on this one! The .22-caliber B26 had been an easy shooter, and I was expecting the same from this .177 thumbhole B26-2, but it didn't turn out that way.
Accuracy testing took place on two separate days, as a thunderstorm abruptly ended day one. However, I did learn some interesting things.
Loosey goosey!
For starters, all the screws on the rifle and one on the scope mount were loose! I tightened the four stock screws, the barrel pivot bolt and locknut and a windage screw on the B-Square ultra-high mount I had to use. Speaking of that ultra-high mount, I had to use them because the rifle's high cheekpiece made it impossible for me to see the scope when it was mounted in a medium-high mount. I can usually adapt to just about any stock, but not this time! Remember that if you plan to buy one of these.
Firing behavior
The shooting behavior is very smooth with just a trace of vibration. This is a pleasant gun to shoot. The trigger lets off light, but not as crisp as I'd like.
Let's shoot
So, use high mounts and check all the screws. Okay, I was ready to shoot. But the rifle wasn't. At 25 yards, my first group of Crosman Premier lites went into a 3″ group! I noticed that they dropped deep into the breech, so I figured the barrel is overbore, like some of the old Chinese rifles used to be. I started searching for fatter pellets.
Air Arms Diabolo Field pellets didn't fix the problem. They were just as scattered as the Premiers. So I tried RWS Superdomes. Surprisingly, the groups tightened to maybe 1.5″. No prize, but it's moving in the right direction. Beeman Kodiaks grouped about the same as the Superdomes, so I didn't pursue them. Then the storm hit, and I took a break for a day.
The next day
I started the next day apprehensive, because the rifle hadn't revealed any secrets. I started with RWS SuperMags and did get a 1″ group. Now I was getting somewhere, but those groups alerted me to something else. If you notice, the pellets are grouped around two centers.
Five RWS SuperMag pellets are distributed three and two on the target.
JSB Exacts are also grouped around two centers.
Eureka!
Next I tried JSB Exact 8.4-grain pellets. They were about the same as the SuperMags, and still gave me the mysterious two groups for five shots. And that's when it hit me! I was dealing with a harmonic! The gun has some kind of vibration pattern that the artillery hold cannot resolve. Whenever that happens, and it doesn't happen that often, you try shooting directly from the sandbag rest. Of course, it worked. Almost.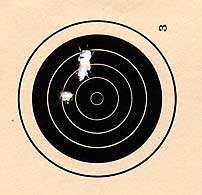 Resting the forearm directly on the sandbag gave me this group of JSB Exacts at 25 yards. There are four pellets in the top hole.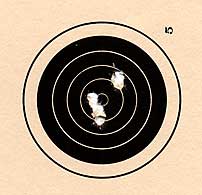 Here's another group of of JSB Exacts. They're grouped three and two. There's a harmonic that needs to be dealt with, but all these shots fall on a dime.
The groups I got were now pleasingly tight for 25 yards, but they still exhibited two different centers. So, something is not quite right, but at least we now know the B26-2 has an accurate barrel. I bet if I went back through all those other pellets I'd get better groups now that I know this.
There's still improvement to be made, but I've taken this rifle as far as I want. If I spent a lot more time refining the pellet and hold, I'm sure I could get all those pellets into one tight group. In case you're wondering, I checked all the screws at the end of the test and found them all still tight.
Overall evaluation
I find the BAM B26-2 to be a very nice airgun for the money. It's sensitive to hold and I don't care for thumbhole stocks, though this one isn't too bad. The trigger is nice, but not as crisp as a Rekord. I like the .22 caliber standard B26 better than the .177 -2.