by B.B. Pelletier
I will be leaving for the Roanoke Airgun Expo on Wednesday morning and will not be back until the following Tuesday. I'm asking all you old-timers to step in and answer questions for me while I'm on the road. There are 951 different blog reports as of today, and I get questions on all of them, so while the most recent two or three days always look busy, I have to answer questions that arise from reports I wrote as far back as March of 2005. I don't expect you to even know those questions have been asked, but any help you can give me with the current reports frees up a lot of time for me. Thank you.
And this is a final reminder for all of you about the Roanoke show. I'm driving 1,200 miles one way to be there, and Tim McMurray flies in from California. Many years we have visitors from England and Europe, and there have been more than a few Hawaiians – so don't cry about the price of gas. If you want to be immersed in airguns, this is the best possible place to do it.
One last note. Dennis Quackenbush opened his order book for big bore air rifles this past Saturday and filled it in two hours. That's 50 orders. He anticipates deliveries starting in December of this year.
On to today's blog!
Many of you are sitting on the sidelines wondering if the world of precharged airguns is for you. Some of you have begun saving for a PCP and are still researching the best deal. And many are looking to buy used, as I did with my first Daystate Huntsman. You want a top-quality rifle and one that hopefully has all the bugs shaken out, but you don't mind buying a generation or two older model to get what you want at a good price. That's the same path I followed on several purchases, and I think it's a solid one.
Reader Volvo has most recently taken this path and bought a 2-shot Webley Raider, a rifle that was available several years ago. He bought the rifle without any way to fill it, so his first challenge was to find a way to do that.
When his report is finished, I'll post my observation of his experiences. You fence-sitters will do well to read what he says, because he's doing the same things you're now contemplating. Here's Volvo's report….
My first PCP
by Volvo
This is for Kevin because he wants to know; for Wayne because he's my major justification. Yeah, honey, I buy a lot of airguns, but nothing compared to this Wayne guy; and last but not least, for B.B., as I'll need his advice.
PCP No. 1, day 1 – Monday
A late appointment meant I did not get home until about 8:00 pm. I saw the box still on the front stoop. The wife and kids have learned the long boxes are for dad, so they seldom bother to bring one in, much to my chagrin.
After dinner, I opened it up, my wife commented it was different and she liked the looks of it. My youngest said I better not be spending their Christmas present money. (No, I'm not).

My wife thinks this rifle looks better than most.
BG_Farmer, I would guess you would not approve. It has gold on the triggerguard and fill plug. Also, Webley Raider in gold on the side. I'm guessing that's what attracted the wife to it. I prefer blued, but I ordered it sight-unseen for $395.

An attached 2-shot magazine means you can't check to see if a pellet is loaded, so I fired it to make sure is was empty. "Dad, that's too loud. Go downstairs."
In the confines of the basement, it was even louder. So, a PCP with no shroud means getting the hearing protection out of your range bag. 

This rifle won't work like the spring guns for late night shooting or suburban backyard critter protection. I guess the Benjamin Discovery would sound the same–very, very loud.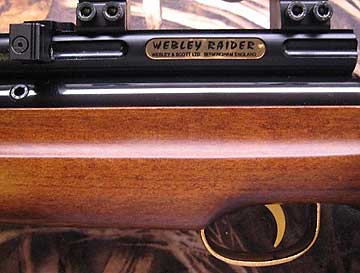 Here's the left side of the action.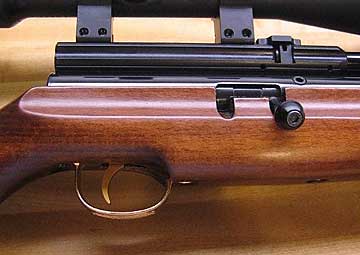 And here's the right side. Pretty, no?
Pyramyd Air carries the Tibet Almond stick that I apply to the stocks of used guns. A heavy application hides most scratches. I put it on the entire stock and let it sit overnight. The rifle has nice blue/black on the metal and a wide, flat forearm similar to a centerfire varmint rig. Little over 7 lbs. without a scope and 37″ long. 

Other then "new old stock" this Webley is no longer available. PA is sold out. Best I can tell it was offered for about 7 years.

PCP No. 1, day 2 – Tuesday
In the morning, I put a quick coat of wax on the stock. With the 2-shot magazine, I can't run a couple patches down the barrel. I give it a generous rub down with Beeman MP-5 on the outside metal. A quick wipe with an old white t-shirt reveals no rust, so I'm happy. That evening, I decide to put a few shots over a Chrony.
The rifle has no fill gauge, which means one less part to fail, but it also means I have no clue how much air is in it. The Discovery has a gauge. The Webley manual says the maximum fill is 200 bar, but they recommend 190 bar. It really doesn't matter, as I have no hand pump for it yet. You can get the Discovery with a pump included for less than what I paid for just this rifle.

I took a .22 pellet (14.5 grains according to my scale), and it averages 850 fps. My Chrony lacks the printer, so I just shoot a short string to get an idea of the charge in the rifle and its performance. The basement PC takes me to the energy calculator in the Pyramyd Air articles, where I learned that the energy with this pellet is 23.27 foot-pounds.
I picked a 6-18x Bushnell Trophy scope that's too long for most of my current spring rifles but will fit fine on the Webley. It was originally on a Beeman R1, and then moved to an RWS 850. My first shot at about 36′ misses the Gamo trap altogether, as does the second.
I go to plan "B"….an old, larger Beeman quiet trap at 24″. The round strikes low and left. I dial in as much up and right as I can. No use. It's at the limit of its adjustable range. Maybe I owe the 850 an apology. It was late, so I'll try again this evening.