by B.B. Pelletier
Guest blogger
Vince is rebuilding a Markham BB gun for Wacky Wayne, and here's the second part of that project. If you'd like to write a guest post for this blog, please email me.
Bloggers must be proficient in the simple html that Blogger software uses, know how to take clear photos and size them for the internet (if their post requires them) and they must use proper English. We will edit each submission, but we won't work on any submission that contains gross misspellings and/or grammatical errors.
Today we'll see Part 2 of Vince's project to rebuilt Wayne's Markham model D BB gun.
Methuselah – Part 2
by Vince
First of all, before I even get started, let me make one point perfectly clear–yes, I'm probably the first one inside this BB gun in the past 100 years, but it is most certainly not a violation of Dee-Dee's honor by any means! I'm inside the same way a surgeon is inside. I've got a job to do. I can make it better, faster, more accurate. I can give Wayne something that almost certainly no one else in the world has.
And so I continue resolutely onward. In Part 1, I covered the basics–getting Dee Dee operational again. And I largely succeeded; the gun was now quite capable of holding its own against any number of cheap BB guns at standard BB gun ranges. I couldn't help but wonder about something when I took a good look at the removable shot tube.

Obviously this is not a horribly complicated part, especially since it's all soldered together (like the rest of the gun). A tube is a tube, right? And since THIS tube is a bit oversized for modern steel BBs, it should be beneficial to replace it with ANOTHER tube–one sized for the ammo we use today.
So $12 + shipping later, a shot tube for a Daisy 499 Avanti Champion graces my threshold. I lay them side-by-side and start trying to figure out how I'm gonna make this work (not IF, mind you, but HOW).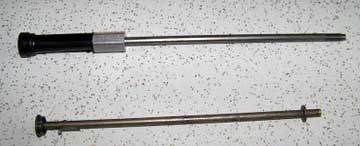 As you can see, the Daisy tube is a fair bit longer. Or is it? Taking them apart tells a different story.

So I'm gonna have to make it longer as well as adding all the do-dads to it. I'm starting to get a fair idea how I want to proceed, so I start at the easy (breech) end first.
As you can see in the previous picture, there's a disk soldered to the shot tube about 1/2″ from the breech end. All this does is help center the tube so it's easier to install. Daisy thoughtfully threaded a portion of the 499 tube in the same general area. I spin a 5/16″ NF nut on it and–voila!–I've got a centering guide.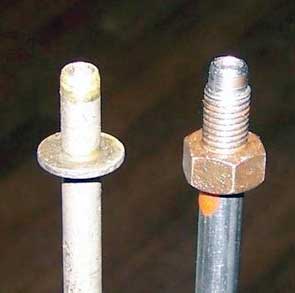 Centering guide is uncomplicated technology–just a nut.
Notice that the end of the Daisy barrel is turned down to a smaller diameter. The overall OD of the new shot tube is 5/16″–but the breech is necked down to 1/4″, the same as the Markham tube. Absolutely perfect for fitting into the compression tube plug. I'm beginning to wonder if Daisy was trying to make things easy for me.
Now that the rear of the shot tube was taken care of, I started working on the front. I rummaged around in some of my many junk bins and found an old 3/8″ OD steel fuel/brake lining tube that was almost 4″ long, plus a washer that fits over it.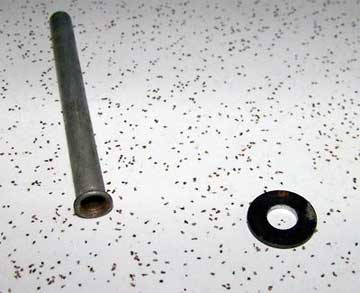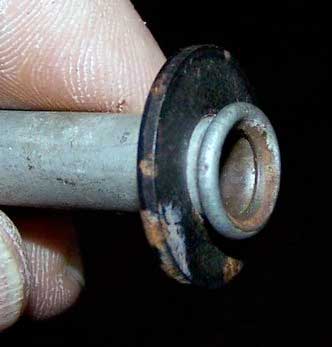 Stuff I found in my junk bins will find their way into the Markham.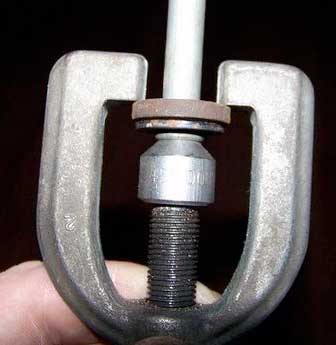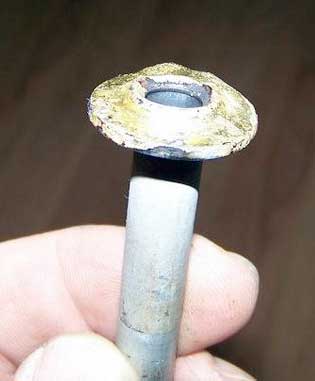 The whole thing is held together with a flaring tool to keep it reasonably square. Then, I brazed it back together–not pretty but I'm not done with it.
Yes, the brazed pieces are ugly, but that's why God invented bench grinders. For the rest of this write-up, we'll call this the outer tube. I brazed it, by the way, for a very simple reason: I knew I was going to have to do other hot stuff to this assembly. If I'd soldered it at this point, it probably would have come apart in one of the following steps.
If you look at one of the pictures of the original Markham tube you'll see a tab mounted about 3/4″ back from the muzzle. This locking tab secures the shot tube in the gun. You insert the tube, rotate it clockwise and this tab engages a locking lug. I figure that the easiest way of mimicking this is with a roll pin pressed into the outer tube.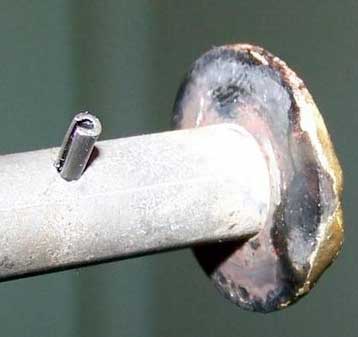 Roll pin makes a handy substitute for the locking tab found on the original gun.
I had inserted a 5/16″ drill bit into the outer tube before pressing in the roll pin to make sure the pin didn't protrude inside. Obviously there's not much meat in the thin-walled outer tube to grab the pin, so I brazed it in place.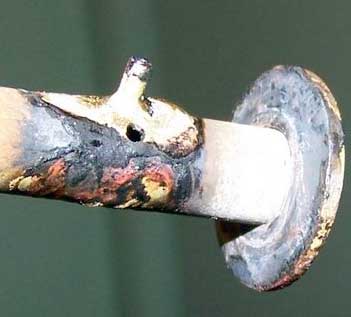 More brazing. This time it was the roll pin. Read on to see why there's a hole. Yeah, ugly. It'll get better.
More ugliness, but now it's real secure. Two notes here, by the way. First, see the extra hole? That was a boo-boo. I drilled it a little too close to the muzzle. Second, this is not the first roll pin! I originally tried brazing it with my oxy-acetylene torch, and the lil' pin sticking up soaked up the heat so fast it melted away. This time I used a propane swirl torch (not your $10 Bernz-O-Matic) that does light-duty brazing without getting hot enough to actually melt the steel.
Last thing–there's a collar that fits under the muzzle washer on the Markham shot tube and centers it on the barrel shroud. Serendipitously the ID of the shroud turns out to be 5/8″ and the OD of standard 1/2″ copper water pipe is (drum roll, please) 5/8″! Perfect fit, so I chopped off a 1/4″ piece of copper pipe and soldered it to the underside of the washer
The collar has now been fitted underneath the washer.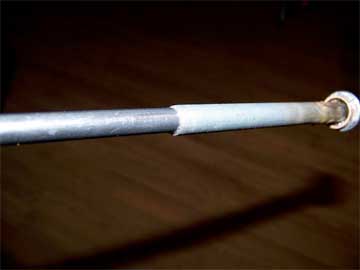 The last major step was sliding the Daisy shot tube into the outer tube and soldering them together, just like a sweat fitting.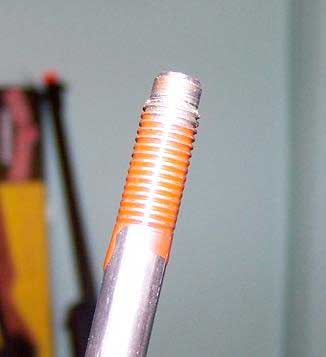 I smeared some Vibra-Tite VC3 on the breech threads.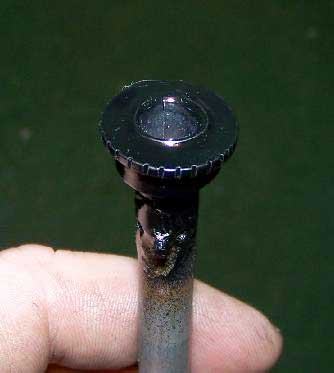 This is how it looked after I ground it down a bit, added some grooves and painted the muzzle end.
Before putting the guide nut on, I ground down and painted the muzzle end of the new tube assembly. I also cut little grooves around the circumference of the muzzle cap so Wayne can still grip it after chowing down on those greasy fries. The rest of the new tube assembly requires a bit of filing and fitting here and there, but after about 15 years of work it's finally finished.
And no, I didn't pretty-up the part that goes inside the gun. That's not gonna help the gun shoot one iota better. That brings up the really big question: Does it shoot one iota better?
Well, yes, it does. Several iotas, in fact.
First iota is found at the chrony, where the better-fitting barrel means less air leakage around the BB and an additional 50 fps. So, Dee-Dee is now in the 220s. Funny thing about loading it, though–the BB takes a LOT longer to roll down the barrel and into the cone that's supposed to hold it, and sometimes it doesn't even jam itself in there hard enough to hold properly. The fix is simple: follow BB's 499 loading procedure. Load the gun before cocking, and the cocking stroke helps suck the BB down the barrel and lodges it into the holding cone. That seems to do it.
No complaints about the chrony results, but the BIG payoff is on the target paper. With standard Daisy BBs (and a temporary, makeshift rear sight) the gun pulled off a couple 5/8″ groups at 15′. Not quite as good as BB did when he tested the 499, but not bad at all, in my opinion. Besides, the rear sight on it at this time is pretty pathetic–blurry, blurry and really blurry. I gotta do something about that.
A guess this is gonna turn into a three-parter after all.