Introduction by B.B. Pelletier
Guest blogger
Mel is a European blog reader who visited the 2009 IWA show–that's the European SHOT Show. He was kind enough to write this guest blog and provide these photos for us so we could take a peek at some different airguns. If you'd like to write a guest post for this blog, please email me.
Bloggers must be proficient in the simple html that Blogger software uses, know how to take clear photos and size them for the internet (if their post requires them), and they must use proper English. We will edit each submission, but we won't work on any submission that contains gross misspellings and/or grammatical errors.
News from the 2009 IWA
by Mel
I had the opportunity to visit the IWA in Nuremberg. For those who don't know, it is Europe's largest sporting arms and outdoor exhibition and a good place to see what airgun makers have in the pipe. My visit there was not airgun-related, and the following report far from being comprehensive. But if you are interested to see a few of the new developments, join me on a little stroll through the IWA.
Ceska zbrojovka
Let's start with Czub, maker of the Slavia 631/634 springers and the Cz 200 that most of you know as the Air Arms S200. It is now available with a beautiful adjustable one-piece stock. This model is also fitted with Cz's diopter and 5-shot bracket magazine. Both accessories are already available.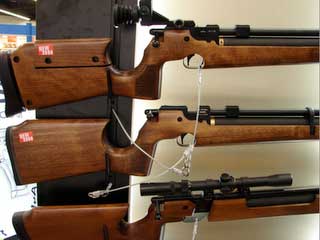 Cz's new adjustable stock–and not the last one you'll see.
Cometa
Cometa is a Spanish company that sells mainly in Europe. Their new Fusion rifle is based on their 400 model and is equipped with an adjustable stock and a muzzlebrake that is meant to increase accuracy by stripping off the turbulent air.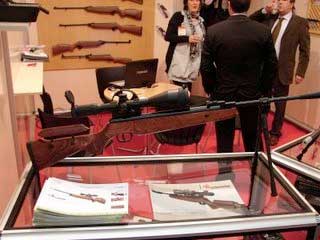 This rifle has a silencer; the original Fusion comes with a small stainless steel brake.
Gamo
Did we have any adjustable stocks yet? The new Gamo SOCOM is another breakbarrel that follows this trend.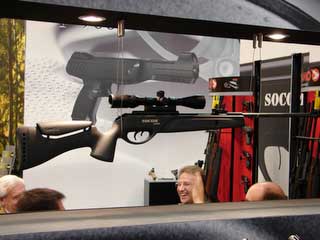 Gamo's new SOCOM rifle. Note the big air pistol advertisement in the background.
Diana
Diana had quite a few new products in their booth. Their new LP8 breakbarrel pistol looks a bit like the pistol equivalent of the Panther 21. Its 580 fps power, scope rail, aluminum frame and the mentioning of its low price makes sure we will hear more of it. Diana also introduced the model 470 Target Hunter–I guess they want a slice of the HW97/TX200 cake! It looks like it uses the model 52 action. Take a look at their catalog for more news. Also, have a look at the new color options for the Panther 21 and the new compact Panther 31 rifles. The catalog is complete except for one new model–the new 56, which is also available with an adjustable stock.
Crosman
I don't have to tell you Crosman exhibited the new Marauder PCP! Who am I to comment on it? You'll find high-quality pictures on the Pyramyd AIR website and a thorough review by BB when the time comes. And, of course, there was the Recruit–a rifle based on the Powermaster with an adjustable stock.
Norica
Another Spanish manufacturer that exports guns to America–the Hammerli Storm, Razor and Nova rifles plus some Beeman breakbarrels. They decided to put some of their existing models in a glossy red/grey plastic stock: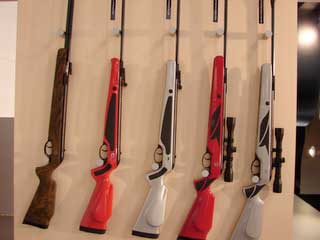 In case you wondered, the stocks feel just as they look–hard and very smooth.
Based on their big advertisement videos, their new flagship is a new line of bullpup rifles. What looked like a PCP at first glance turned out to have a very conservative single-shot breakbarrel powerplant. Hmm…bullpups get used by military forces because they can have a longer barrel at the same overall length, at the expense of a long linkage between trigger and sear, and a line of sight that sits far above the barrel. The latter is not so bad for a military rifle, it helps to manage recoil and the resulting sighting problems on short ranges are negligible when your target is torso-sized. But a spring-piston airgun has no need for a long barrel. You could build a conventional airgun with the same length as the bullpup without sacrificing power or accuracy–and we tend to shoot at targets that are a lot smaller than the distance between bore and line of sight than Norica's new bullpup allows. [Editor's note: The problem with bullpup sighting is extreme parallax.]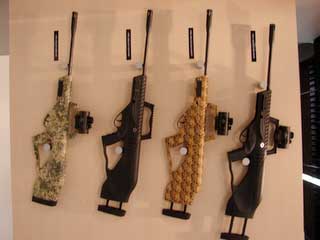 Here they come in tactical black, digital camouflage green and "Aunt Judy's psychedelic carpet from the '60s" brown! The stock is adjustable, of course.
Hatsan
You've never heard of Hatsan? Sure you have. Hatsan is big. Think Gamo-big. They make the Daisy spring airguns; they make the new Pneuma PCP sold by Hammerli; they make the Walther Falcon Hunter and the Talon Magnum; and they make the Webley Jaguar, to name just a few! It's not the topic of my blog entry to discuss my fear what may happen when airgun manufacturers cease to make airguns and slap their names on a wild mix of products made by someone else. So, let's just say that Hatsan is really, really big and the first thing you see when you enter IWA is a very large Hatsan poster at the entrance.
Their flagships at this IWA were the PCP that has already hit the market, and their Torpedo line of underlever rifles. What makes these guns interesting from a technical point of view is the loading mechanism–the complete barrel can be moved in a sleeve to insert the pellet. [Editor's note: See the new Daisy from the first SHOT Show report this year.] What's really new is the model 95, a breakbarrel equipped with a shock-absorbing mechanism that seems to be simply a dampening plastic tube around the front screw that holds the action and stock together.
Norconia
Norconia is an importer of the Chinese Norinco airguns to Germany. This sounds like a boring company to US readers, but take a look at what they had in their booth: A real blast from the past–a Sharp Inova! This multi-pump pneumatic with its highly efficient blow-open valve was made in Japan and is now considered a sought-after rarity in the Western world. Production never ceased. It's made by Cannon Air and ZOSCN, but import stopped long time ago. Seeing this rifle available again will increase the heartbeat of many multi-pump pneumatic fans!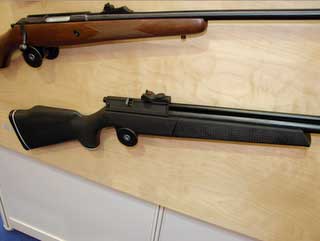 A real (plastic stocked) Sharp Inova! I was allowed to shoot a puff of air with it. I did so without cocking. It definitely has the original hammerless valve.
And now for something completely different
I must admit that I didn't expect much technical innovation in this economically shaky time. So far it was mostly true–a truckload of adjustable stocks, a traditional PCP here, an underlever version there, but nothing that I'd count as something really new. Until I came to the Armscor booth. For many years, this Philippine company has been the maker of a small line of CO2-powered airguns with the classic Crosman 160-style layout. You know what I mean–single-shot CO2, bolt pulls back, striker for the knock-open valve, etc. Frankly, this was not the place where I expected to find something out of the ordinary. But there it was–a beautiful .22 caliber PCP with an unusual mechanism. Mr. Chua, the chief designer, was in the booth and allowed me to handle the rifle. One could clearly see that he was proud of it and liked it a lot, which seems a good sign to me.

The picture was taken with permission from the Armscor page. You won't find airguns and pellets so close together at IWA!
What makes the rifle so special is its cocking and loading mechanism: A breech part swings to the side to give access to the free-floated barrel. This design carries a lot of advantages in it: First, there's no bolt probe behind the pellet, and the air passage channel in the breech part is curved. Both considerably increase the efficiency. Second, you can inspect the bore visually. Third, you can load a pellet without having to cock the rifle, which can be done when the rifle is already on the cheek by gently pushing the hammer with the thumb. The external hammer can also be decocked if needed. The power is adjustable with a wrench, but Mr. Chua said the rifles will be factory set for a 60-shot string at 850-750 fps (with normal weight lead pellets), as faster pellets enter the trans-sonic range and become less accurate. Thus, the rifle is advertised at the average 800 fps. What refreshing and rare honesty in today's airgun world! Other than that, it has a very good trigger, a threaded muzzle end, pressure gauge on the underside and a removable air tank with quick-fill valve on the front. I couldn't shoot it to test the velocity and, much more important, the accuracy. The PDF on their page looks promising but isn't proof. I left their booth feeling that this rifle will quickly win a lot of hearts when it is sold in the Western world!