by B.B. Pelletier
Before we start today's report, another word about the Pyramyd Air moving sale on Saturday, May 30. Or rather a picture. This was sent to me by Pyramyd Air owner, Josh Ungier. It is one of several WALLS of airsoft guns they will have for sale.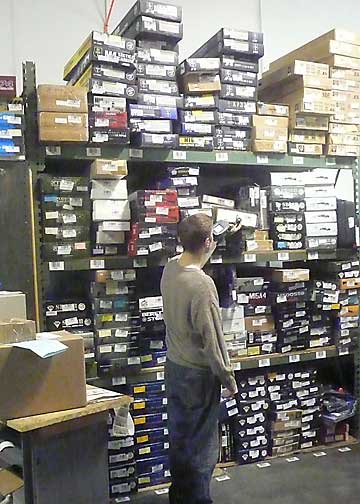 There will be many more piles of airsoft guns like this. These have all been expertly repaired.
For those who tuned in late, this sale will feature all the old stuff Pyramyd Air doesn't want to drag to the new building they bought. There will be plenty of airguns, parts, accessories and more. If you want to buy new things (things online now) from them, bring a list of what you want. They will also sell new stuff to you. You will not be able to enter the warehouse, so that list of things is important. All the sale items will be located where you can look them over at your leisure.
Okay, let's get into the accuracy test for this old Haenel. It was a perfectly calm day and I set up a target at 25 yards. The top velocity of the rifle is below 400 f.p.s., so I didn't see the need to stretch it out any farther than that.
How does she shoot?
This old gal was rebuilt and refinished by Jim, who did a fine job of it. But I wondered how it would behave in .22 caliber since the small powerplant seemed better-suited to .177. This test would tell. The firing is solid, with just a thump at the end of the piston stroke. The trigger is a single-stage and has a long pull you can feel, but absolutely zero creep. It's hard to get started, but once moving, it pulls through rather easily.
RWS Hobbys
The first pellet I tried was the RWS Hobby, which at less than 12 grains is very light for a lead pellet. You'll recall in part three they were the fastest pellet tested, going an average of 385 f.p.s. Surprisingly the sights were pretty close to "on" at 25 yards. The first group I shot was also the best group of the day, at 1.438 inches for five shots.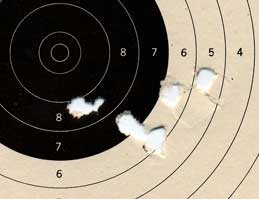 Hobbys provided the best group of the day, at 1.438 inches for five shots.
RWS Meisterkugeln
I tried RWS Meisterkugeln pellets next. Only three of five pellets hit the target paper. That was a new experience for me! Needless to say, they were retired quickly.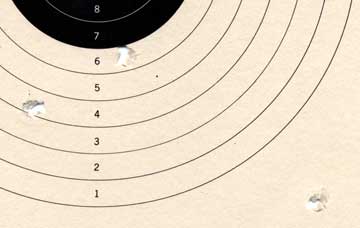 Meisterkugeln hit the target only three times out of five.
Check the technique
By this time, I was being very careful to check my holding technique, although I suspect this rifle doesn't really need it. Both the Hobbys and the Meisters fit the breech very loosely, so I hoped a larger pellet might do better. But Hobbys are already large. What else was larger?
Beeman Silver Bears
Beeman Silver Bears are larger than Hobbys, it turns out. And they're less than a grain heavier, so they might have been the ones I was looking for.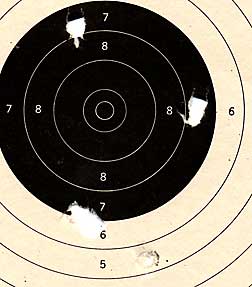 Five Silver Bears went into this 2.711-inch group.
But no, they proved not to be. Stringing more vertical than horizontal, the Silver Bears grouped in 2.711 inches for five shots.
I then shifted back to Hobbys, but this time there are only four holes in the target. One of them is open to a greater extent than the other three, so it's possible the fifth shot went through it, but I can't see any positive evidence.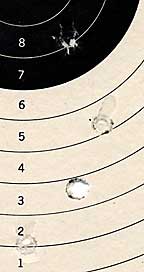 Four (or five) Hobbys went into this 2.077-inch group. It's taller than it is wide, though, which means I might not have been able to see the sights very well.
I was going to shoot 20 shots for you with the Hobbys; but after losing one pellet off the target (maybe), I decided against it. The vertical stringing of the group is indicative of a poor sight picture.
The bottom line seems to be this. The Haenel Model 1 is a nice old vintage springer that would be okay in .177 but is maybe too underpowered for the .22-caliber it's in. A couple groups seem to string vertically, which means I'm not getting a good, repeatable sight picture.
For me, this now becomes a plinking rifle. It's a minute-of-pop-can gun at 20 yards and a Necco wafer blaster at 10–for me. I'll treat it for what it is–a fine vintage air rifle that's been brought back to life by a very skilled craftsman.