by B.B. Pelletier
Every year the NRA holds its general membership meeting in a different major U.S. city to allow a portion of their 4 million members to attend. A trade-show exhibit is held in conjunction with these meetings to allow manufacturers of guns and related products to showcase their wares to the public. Admission is free to NRA members, and non-members can attend for a small fee. This year's show was held in Phoenix.
While the space in the exhibit hall is only about one-fifth the size of the SHOT Show, the attendance is almost triple. I'm sure the NRA set a new record for attendance this year. The Phoenix Fire Marshall actually stopped people from entering the exhibit hall on Friday, the first day, because he felt the hall was over-crowded. They held things up for 45 minutes, all the while more people were walking in the front door to register. When they saw the situation was going to get worse, they opened the hall once more. And Friday wasn't the busy day! On Saturday, a significantly larger crowd attended.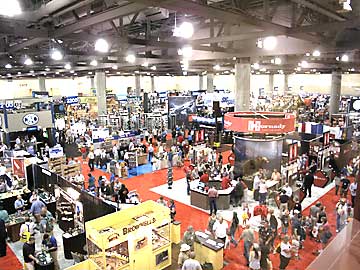 This is about one-quarter of the display floor. Late afternoon, when the crowd had died down.
One super thing about this show is the airgun range. Anyone can buy a ticket to shoot a wide variety of airguns–both rifles and pistols–on this range. The range opens before the show does, so several hundred earlybirds can have some fun while they await the opening of the exhibit floor.
In the past, the NRA has concentrated on having 10-meter guns on the range, because that's their major focus with airguns. But Pyramyd AIR took over sponsorship of the range this year, and there were all sorts of different sporting airguns–including a couple big bores that were demonstrated periodically. All U.S. dealers were invited to attend and several actually did. You could have shot a Marauder or an FX Royale or gulp–the EDGE!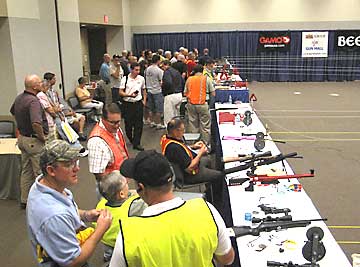 The airgun range was popular all day long. This is a quiet time, believe it or not.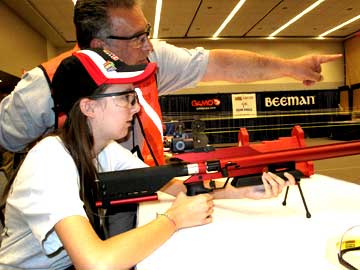 This lucky young lady dragged her father to the airgun range just to shoot the new AirForce Edge.
I spent a lot of time at the airgun range, because that's where I can see the public's reaction to airguns. This year, there was a special experience in store. I saw a blind man shoot a 10-meter target! Yes, the NRA has long had a special program that reaches out to disabled shooters, and there aren't many disabilities they cannot overcome. Vanessa Warner is the NRA manager of Disabled Shooting Services, and she was on the range helping people learn to use the special equipment her group makes available around the country. While I was there, she helped a shooter whose aneurism had caused stroke-like symptoms.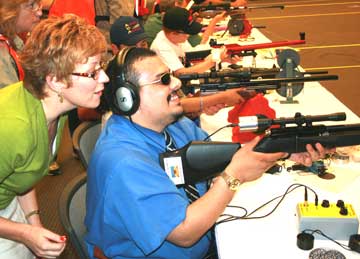 He's blind, yet he shoots. Thanks to NRA manager Vanessa Warner's special equipment and coaching, this sightless shooter is able to hear the target and to hit the bullseye! This scene was shown on the local FOX nightly news. Rifle is an FX Royale. Photo provided by the NRA Blog.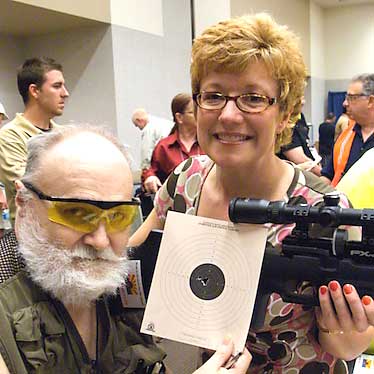 This shooter was in an electric wheelchair and had difficulty with upper body strength. Thanks to a special gun rest, he shot this group with an FX.
And they didn't limit the age of the shooters. One young fellow couldn't have been more than five, yet he shot everything he wanted, which included the Edge, a Gamo Big Cat and a Talon.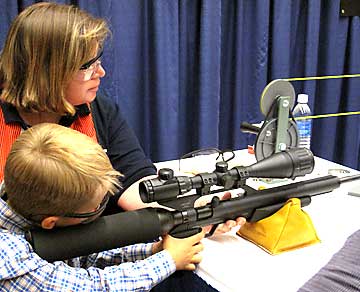 His feet don't reach the floor, but there wasn't an airgun he couldn't shoot.
At noon, 2 PM and 4 PM every day of the show, Chris Lieb of Pyramyd AIR demonstrated a Dragon Slayer to the public. The range was cold and all eyes were on him as he explained about the .50 caliber rifle. To demonstrate the gun's power, he blew up an apple and a 2×4 downrange. Chris passed around a .50 "pellet" for everyone to examine.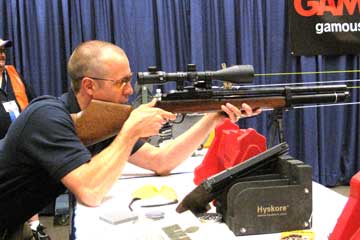 Chris Lieb aims for an apple with the Dragon Slayer. Everyone paid attention!
The exhibit floor was set up similar to the SHOT Show, only the booths were much smaller. I made it to all the airgun exhibitors and to a lot of accessory exhibitors, as well. Hopefully, there will be one or possibly two new lines of optics coming to Pyramyd AIR soon, and the features on them are unlike any you've seen thus far.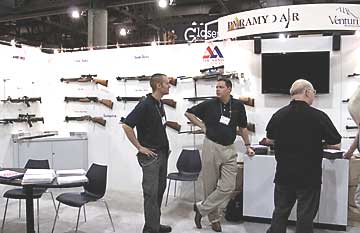 My home off the range was the Pyramyd AIR booth.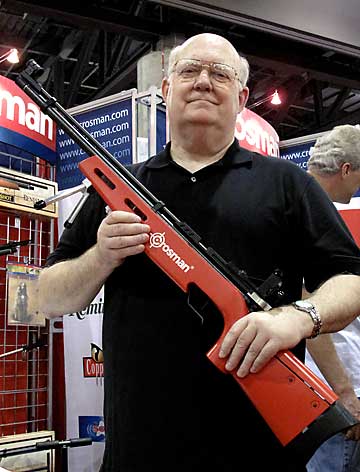 Crosman is almost ready to bring out the new Challenger PCP, which will be either a 10-meter rifle or, in different trim, a field target rifle.
I bought several exciting things at the show that Pyramyd AIR doesn't stock (but I wish they did!). Maybe I'll show them to you next week–if you like.
The show ended on Sunday after, what I feel, must have been a record turnout. While riding on the Phoenix Light Rail, I listened to the conversations of folks who didn't attend the show and heard some heartwarming comments in support of gun ownership. Of course, this was in Arizona, which is still a free state.
Many of those who attended were carrying weapons, and not all were concealed. The buzz of the show was the action taken by Montana's governor, who defied the federal government on gun ownership on May 7. Basically, all federal laws were declared null and void for guns, silencers and ammunition made in Montana and sold and used there. There is talk that if the feds intervene, Montana may vote to secede from the union. Texas is primed to follow for this reason as well as some others. So the anti-gun movement may now come to realize how the citizens of this country feel about their actions.