Evanix Blizzard S10 – Part 3
by B.B. Pelletier
Quick announcement: Pyramyd Air has told me that Norica is aware of the need for a more robust muzzlebrake on their Goliath carbine, and all Goliaths shipped to Pyramyd Air will have stronger ones than the one on the pre-production model shipped to me for testing.
Now, on to today's blog.
Today, we'll look at the accuracy of the Evanix Blizzard S10–a report some people have been awaiting for a long time. And I have some interesting news to share.
Recap
The Blizzard is a quiet gun. I was reminded of that when I shot it. It's louder than a Marauder, but it also has a lot more power. It also has a very nice trigger. And the stock, which is made in the best European fashion, leaves nothing to be desired. But what about the accuracy? Well, let's see.
As you examine the 10-shot groups that follow, know that I was adjusting the sights as I went. And some groups were shot without adjustment, which explains why they are so far from the bull. All shooting was done from a rest at 50 yards. I waited out the wind and shot between gusts. I shot 20 shots (two groups) before refilling, because that seems to be best for this rifle. There are more good shots available from a charge, but not another 10, which is what the circular clip holds.
JSB Exacts
I started out with the 18-grain JSB Exact, because the Air Arms domes I was also going to use are the same as 15.8-grain JSB Exacts. The groups were surprising, as they were reasonably good for 50 yards with several awful wild shots. I was shocked to see what I had thought would be the best pellet of all come out so bad. More puzzling was the tight group within the 10-shot group that suggested something else was wrong.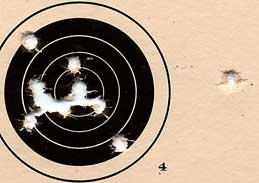 18-grain JSBs look promising at 50 yards, then they throw a curve ball to the right. There was no wind when that shot was taken. What's going on?
Eun Jin
The single 50-yard 10-shot group I fired with Eun Jin domes was horrible. It measured 2.68 inches. So, I quit shooting that pellet. Then, the very next group, shot with Air Arms 16-grain domes, turned out to be the second-best group of the day.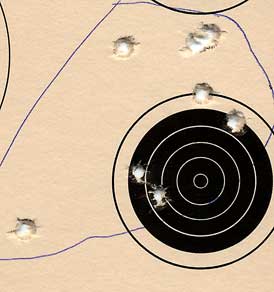 Eun Jin pellets were not going to shoot on this day!
Air Arms Domes
Ten Air Arms domes, which are the 15.8-grain JSB Exact, went into a 1.087″ group at 50 yards. That was followed by another group with the same pellets that measured 2.09″. Yes, there was wind on the day I shot, but I was pausing for windless spells. My groups should have been within a couple tenths of one another when shooting with the same pellet.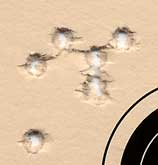 Immediately following the Eun Jin group, I shot this group of 10 Air Arms domes that measures 1.087″. Clearly this rifle wants to shoot.
Then I shot a 1.056″ 10-shot group of Air Arms pellets, the best group of the day, followed two groups later by one measuring 2.88″. Now, I was pretty certain that I knew what was wrong. Do you know what it is?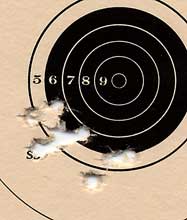 Nice group of 10 Air Arms pellets measures 1.056″ at 50 yards.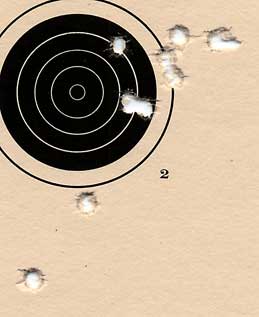 Two groups later I got this 2.88″ group with the same Air Arms pellets. This isn't right!
Whenever a baffled rifle shoots inconsistently like this, there's usually just one cause. Some of the pellets are touching one of the baffles on the way out, destabilizing them. Some Daystate rifles used to have this problem, because they had very small holes in their silencers. The solution was to enlarge the hole through the baffles. The funny thing is that doing that doesn't increase the sound! I don't know why manufacturers make these holes so small.
And the pellets were completing the story with the Blizzard, because the biggest Eun Jin pellets wouldn't shoot at all, while the smallest Air Arms pellets wanted to group, but were sometimes inconsistent. So the larger the pellets are, the less likely they will shoot well in this rifle.
Because the barrel shroud simply unscrews, it will be easy to test my theory. I'm going to re-run this test without the barrel shroud installed, and we'll see if there's a difference in accuracy and consistency. My instinct tells me that this is a very accurate rifle, if it's given half a chance.
In fact, Edith just brought to my attention that a recent customer review for the Blizzard states the same thing…a customer experienced the same problem of pellets getting clipped. He drilled out the hole of of one of the tubes in the baffles, and that solved the issue. He also mentioned that there was no change in sound from the larger hole.
And now for something capricious and wonderful!
We shall play a guessing game. I will show you three photos and you will tell me what they mean. There is no prize for guessing right except the satisfaction of being first to uncover a mystery.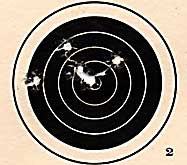 Five shots at 20 yards, But from what?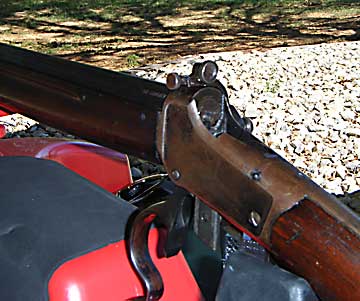 The shooter. What in the world?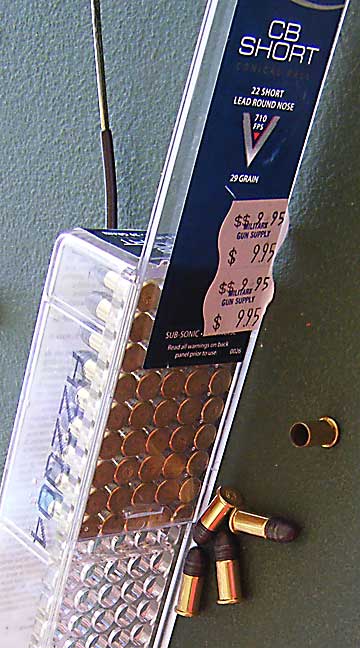 The ammo. Does it start to make sense?
So, what am I showing you and why? That's our game. When someone guesses close, I will reveal the whole plan.
Tom Gaylord is known as The Godfather of Airguns™ and has been an airgunner for over a half-century, but it was the 
Beeman
 company in the 1970s that awoke a serious interest in airguns. Until then, all he knew were the inexpensive American airguns. Through the pages of the Beeman catalog, he learned about adult airguns for the first time. In 1994, Tom started
The Airgun Letter
 with his wife, Edith. This monthly newsletter was designed to bring serious reports about airguns to the American public. The newsletter and
Airgun Revue
, a sister magazine about collectible airguns, was published from 1994 until 2002, when Tom started
Airgun Illustrated
-- the first American newsstand magazine about airguns. Tom worked for three years as technical director at
AirForce Airguns
, the makers of the 
Talon, Condor, and Escape
 precharged air rifles. Today, he writes about airguns and firearms for various publications and websites. He also makes videos, and you'll find short clips embedded in some of his artices on Pyramyd Air's website. Tom is a consultant to Pyramyd Air and writes under the name of B.B. Pelletier.