by B.B. Pelletier
Before I begin today's report, I neglected to show pictures of our cats on Christmas. So, here they are…the Gaylord feline herd.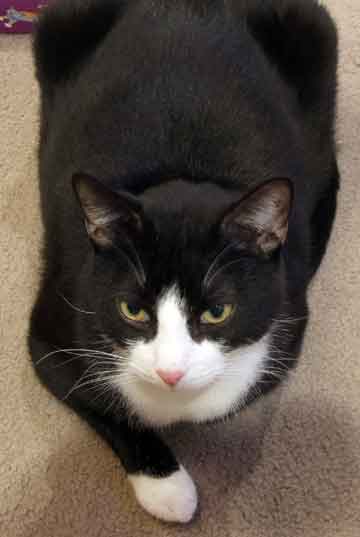 Punky is a recent addition to the herd. He was living outdoors under the neighbor's car until we invited him to join us and win the kitty lottery. He's a tuxedo cat, though he doesn't act snooty. He's the real puppy dog of the house–demanding attention and petting all the time.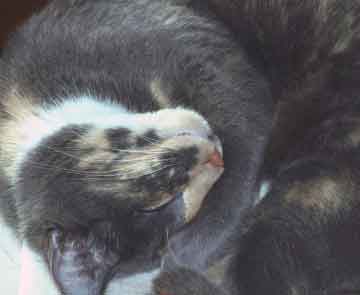 Dale Evans was our first new kitty in Texas. She is a feisty calico who rules the house.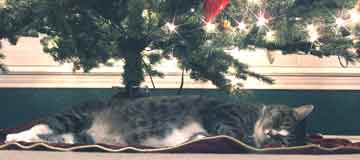 We got Roy Rogers as a kitten to be Dale's playmate. Now, he's a 25-lb. Baby Huey with the voice of a kitten in the mass of a bobcat. He's very shy and only Mirfee Ungier, Josh's wife, has ever been able to pet him on the first attempt, though Wacky Wayne got to meet him this fall.

When they were younger and Roy was smaller, both cats often posed for pornographic photos. We were about to make a calendar when they both got scruples and started behaving in public.
Now, on to today's report.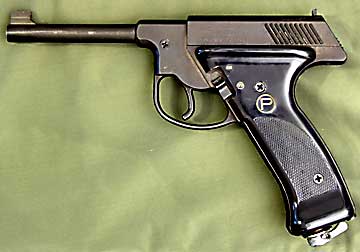 Healthways Plainsman is a very comfortable air pistol. It has a light, smooth trigger.
Well, it's been a while since I last reported on this pistol. November 5th it was–Guy Fawkes Day, for out British readers. For the rest of you, look up the Gunpowder Plot of 1605. How appropriate!
The last time I had the Plainsman in my hands, I was doing velocity testing for you with a gun that had a fast leak. Still, on low power, it got an average of 385 f.p.s., which is not too shabby. On medium power, it got 415 f.p.s.; and on high power, it went an average of 437. So, this big pistol can really cook when it wants to. And, even on low power, there's plenty of velocity for a lot of good shooting.
However, it had the aforementioned fast leak, and this is the real crux of today's story. For the 50-odd years I've been shooting airguns, and the past 15 during which I've been an active airgun writer, there hasn't been anyone in the United States who fixed this gun. Or, if there was, they were ensconced in the Witness Protection Program and known only to their neighbors in Wyoming.
So, all of you who wisely waited until 2009 to get into airgunning have avoided a lot of downtime if the Plainsman BB gun was the object of your desire. Because now there's a fixer. Doug Vorenkamp out in Washington State fixes these guns and has earned a spot on my growing list of valuable airgun repair stations that really do fix airguns and aren't just dabbling. Contact him at airguns@comcast.net or call him at 360-656-5123.
Doug told me originally that he would have to convert my gun from the 8-gram CO2 cartridges it used to the more plentiful 12-gram cartridges because he was unable to get the right o-rings for the original valve. He did replace the original valve with a new one, but left the cartridge size as it was, so I still use the smaller cartridges.
There was a Healthways Plainsman 12-gram adapter that came out in the 1960s, but my '50s-vintage gun didn't have it. Those guns that had it could use both sizes of CO2 cartridges. I'm glad to be running with the smaller cartridge, because that keeps me sympathetic to all those who have to use them. It just means that I can't buy CO2 for this gun at Wal-Mart. I order it from Pyramyd AIR.
What I want to find out today is how well the gun works after Doug's been inside. Let's get right to it, shall we? First, I'll test the pistol's velocity on low, medium and high power with Daisy BBs.
Low power
Well, low power really IS low power this time! After Doug's rebuild, the gun averages 268 f.p.s. on low power, which is not too far from what I estimated it would be based on the advertised number of shots per cartridge (100 on low). The spread went from 257 to 276, which if you read Part 2 is about what I estimated it to be. This is not bad. Doug has simply returned the gun to where it was when it came from the factory. It gives medium power and high power somewhere to go.
Medium power
The gun averaged 377 f.p.s. on medium power, so now there really is a significant difference over low power. The spread went from 362 to 395, though I did notice a cooling effect if I shot faster than one shot every 15 seconds. That was in a room at 79 degrees F.
High power
High power averaged 435 f.p.s., with a spread from 426 to a high of 456. Another significant power increase. The gun now has a real personality on each of the power settings. You'll note that high power now is right where it was on the original valve before the work was done. So, nothing was lost on the overhaul. In fact, a whole lot was gained because now the total number of shots on low power will be close to the 100 advertised. I shot about 55-60 in this test, because many failed to register on the chronograph. And I'm still grateful for my Christmas present of the Chrony printer, because now all I have to do is shoot.
But this test isn't over until I test the gun with Daisy Avanti Precision Ground Shot. Now that we know how that shot boosts the velocity, it has become a part of every BB gun test. On low, the average is 262 f.p.s., so not much difference. The spread was tighter, though, running from 259 to 265. On medium power, the average was 370 f.p.s., with another tight spread from 367 to 375. Once again, not much difference from the standard BBs. On high power, the average was 445 f.p.s., with a spread from 441 to 449. So, again, no real increase; just tighter spreads. Maybe the accuracy testing will show a real difference between the two BBs.
I have to pronounce the Vorenkamp overhaul a success, and we're now on track for the accuracy test.