by B.B. Pelletier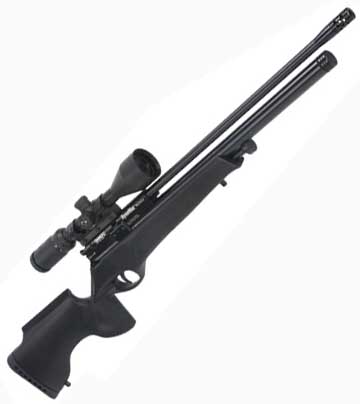 The new Gamo DynaMax repeater. Gamo product photo.
Before we start, the Friday Facebook event from 10 to 11 a.m., Eastern, is coming up tomorrow. I'll be answering airgun questions on Facebook on this Pyramyd Air Facebook page. To see the discussion, you must have a free Facebook account. You do not have to be a recognized Friend of Pyramyd Air to ask a question.
If you want to set up a Facebook account, register on the link provided above. Once you have an account, sign in and then click on the link above once more to go to the page. Please join me on Friday, if you're able!
Now, let's shoot the Gamo DynaMax PCP! I will say that this session went a lot different than the first time I shot the rifle. Then, I had the Gamo scope that came with the rifle mounted on the DynaMax, and the best 10-shot groups I could get at 50 yards were 1.5 inches across. That was because the scope has a large central dot that obscures a one-inch circle on the target paper, making it impossible to aim precisely.
The magazine was also feeding erratically at that time, so there were lots of jams and stoppages.
During the test I'm now doing for you, the magazine problems seem to have sorted themselves out and the mag now works flawlessly. I mounted a different 4-16x scope on the rifle, this one having thin crosshairs that enabled me to see things as small as 1/8″ at 50 yards. So, aiming was no longer a problem.
The day was perfect. Not a single breath of air moved, so shooting outdoors was like shooting inside.
H&N Baracuda
Sight-in took all of five shots, because the rifle was on target through a happy coincidence. The first five shots with H&N Baracudas after that looked very promising.

Five H&N Baracudas made a nice group measuring 0.493″ at 50 yards.
That was followed by a 10-shot group of Baracudas that measured 0.946 between the two widest centers. That's very acceptable accuracy at 50 yards. It was also the largest group of 10 Baracudas I shot.
From this point on, I didn't adjust the scope, so the other pellets will appear to move around the target a little, because they all shoot to a different aim point.

Ten H&N Baracudas made a nice group measuring 0.946″ at 50 yards.
Crosman Premier 10.5-grain pellets
Crosman Premier 10.5-grain pellets gave the tightest group of the day. Ten went into a group measuring 0.541″ center-to-center. That's on par with a custom-tuned Ruger 10-22 rifle shooting the best ammo. Please don't confused the 10-shot groups with the 5-shot groups, which will be smaller and also less representative of the rifle's true accuracy.

Ten Crosman Premier heavies made a nice group measuring 0.541″ c-t-c at 50 yards.
Air Arms 8.4-grain domes
Air Arms domes were not as good in the DynaMax. Ten of them went into a group measuring 1.192″ across the centers at 50 yards. They're probably going way too fast for accuracy.

Ten Air Arms domes went into this 1.192″ c-t-c at 50 yards.
A final group of Baracudas
I was filling the DynaMax from a pump, plus I had other guns to test, so these 10-shot groups were taking time. However, I did shoot a final group of 10 Baracudas, just to see where things stood.

Ten H&N Baracudas went into this 0.826″ c-t-c at 50 yards. This is a pretty good end to this test.