by B.B. Pelletier
Blog reader derrick38 sent me these 14 images and descriptions from the "Flag City Toys that Shoot" annual show in Findlay, Ohio. These pictures originally debuted on Another Airgun Blog, which is written by Nick Carter and derrick38, but we wanted to give the show some extra exposure. If you've never made it to this show, it looks like it's grown into quite a to-do and is worth attending. Maybe I'll make it to the next one!
If you've never visited Nick and derrick38's blog, you're in for a treat, especially if you like to see the work of talented people who are able to machine and create airgun parts. Since I'm vastly unskilled in this area, I bow to their expertise.
If you'd like to write a guest post for this blog, please email me.
Bloggers must be proficient in the simple html that Blogger software uses, know how to take clear photos and size them for the internet (if their post requires them), and they must use proper English. We'll edit each submission, but we won't work on any submission that contains gross misspellings and/or grammatical errors.
Now, it's show time!
by derrick38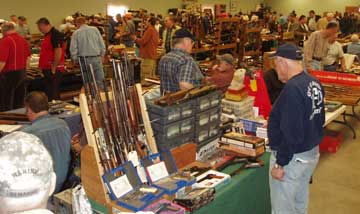 The show opened at 9 am, and by 10 it was pretty crowded.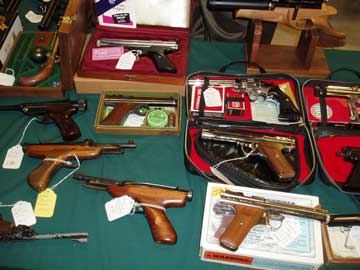 Lots of interesting stuff.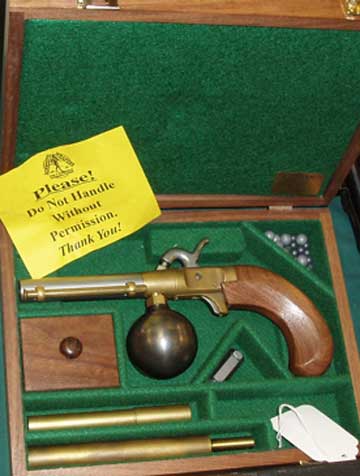 Note from B.B.: A contemporary ballflask pistol. If I had to guess, I would say it looks like it was made by Mike Reames of Ohio.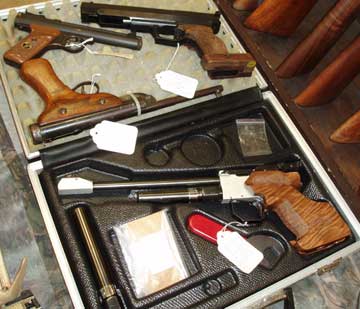 Note from B.B.: The bottom pistol looks like a Daisy FEG 92 to me.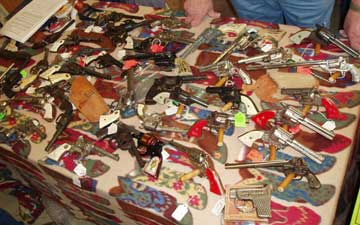 About half the show was cap guns and BB guns. Someone had a stack of folded-metal Daisy bayonets marked $200 EACH!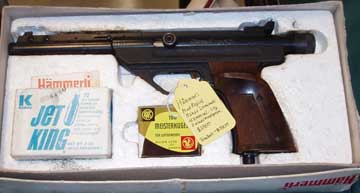 Quite a few Hammerli airguns. More than I've very seen in one place before.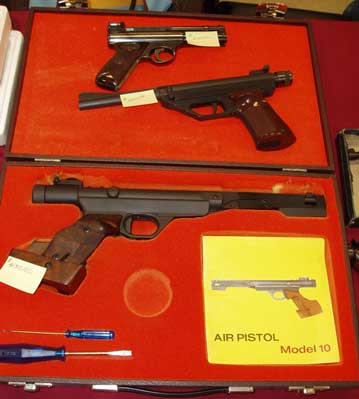 Note from B.B.: This was my first 10-meter pistol…a Diana model 10 target pistol (bottom gun).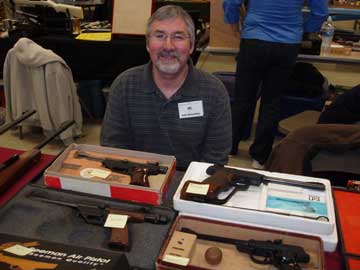 Walther and Hammerli target pistols.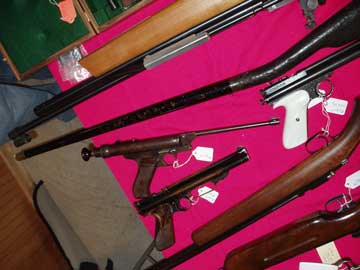 A Brown pneumatic. It was tagged at $1,350.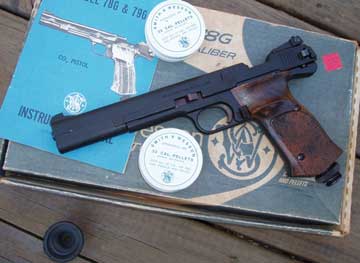 I bought this S&W 78G for $100. It was holding gas at the show. I took it outside and shot it a couple times. Allegedly, it had been holding gas since Thursday night. As I was shooting this picture on my deck, WHOOOOSH! Sounded like the valve stem seal. The seal on the cap appears original. So, I assume all the seals need to be replaced. Shouldn't be a problem.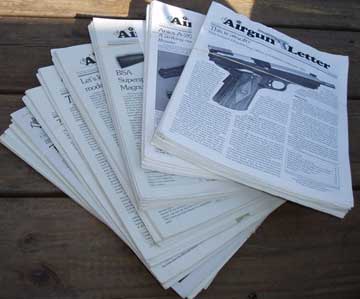 Look familiar? I bought every single "Airgun Letter" issue Ken Reeves had for sale. I already had a few, but friends have "borrowed" a couple here and there, and I probably never had more than 6 or 7 to begin with. I think this was actually my best score at the show.
Pyramyd Air sold only dented tins of pellets. They gave me the Pellet Pen loader on the left for buying 3 tins of .20 cal JSB Exacts. They brought rifles for display and took orders for them. Got the Vorteks from another vendor. Have never been able to find them in .22 cal before–not that I've actively looked. I'd always heard they were never made available. Obviously, that's not true.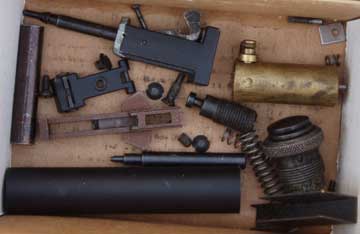 On the way out, I spied this box with a Daisy 790. It was touted as being complete. The price was pretty cheap, and I figured I could send it to Nick Carter or use it as parts for the 78G I'd just bought if it wasn't all there. It's not.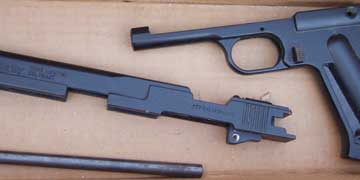 Note from B.B.: This is the frame and barrel housing of the Daisy 790, which was the final iteration of the S&W 79G.