by B.B. Pelletier
Testing and photos by Earl "Mac" McDonald
Before we begin today's report, I wanted to mention that last Friday's blog on using regular glasses in lieu of safety glasses received a lot of discussion, so we're going to pursue the subject farther. Dr. Mirfee Ungier, eye surgeon and wife of Pyramyd Air owner Joshua Ungier, will answer optic-related safety questions you readers may have. You can either email your questions to Edith or you can post them as comments to this blog. Either way, Edith will collect and forward the questions to Dr. Ungier, who will answer them in a future report.
While I was in the hospital, Edith posted updates to my condition on the blog. I've read some of these updates and discovered things about my condition that I wasn't aware of! To keep you updated, I wanted to let you know how I'm doing currently.
I'm still being fed intravenously and receiving daily IV antibiotics. I can take my IV, which is portable, and go out in public. I can sit at my desk about 3 hrs a day, but not continuously. That's how I write the blogs and answer comments. On Sunday, I drove my pickup truck around town and demonstrated that I can do that pretty well. I still have a drain in my side for the pancreatic pseudocyst, but the drainage has become quite small and the pseudocyst has shrunk to about the size of a marble. I may get the drain removed within a few weeks (my next scheduled doctor's appointment is June 29). I'm not back to 100%, but I'm sure a lot better than I was 3 weeks ago!
Now, on to today's report.
As we learned in Part 1, this SA 177 BB pistol is a fast-firing bundle of joy with a DAO action and a heavy trigger. Today, we'll learn about velocity.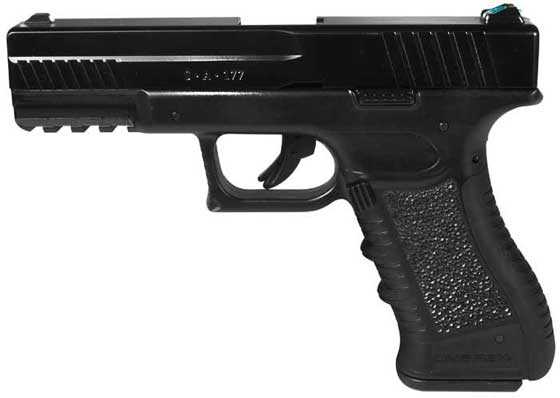 The SA 177 looks modern.
The stick mag holds 20 BBs, and Mac used the Umarex speedloader to fill it every time. The mag drops free of the gun with a push on the release button on the left side of the frame.
Velocity
Mac installed a fresh CO2 cartridge and started the velocity test with Daisy zinc-plated BBs. The average velocity was 410 f.p.s. with a spread from 403 to 427. That velocity held for a fantastic 100 shots! Fantastic both because of the high velocity and because of the blowback action. Did you forget that? The SA 177 is a blowback pistol.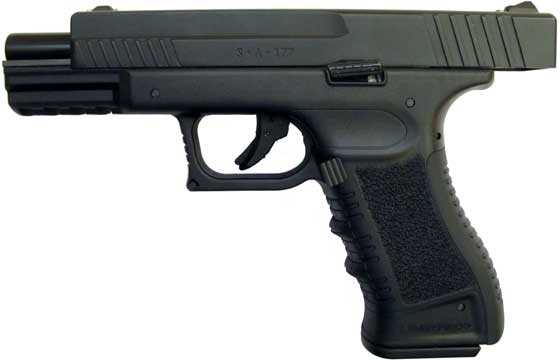 The metal slide blows back with every shot.
After 100 shots, the velocity for the next 10 shots fell from from 402 to 356, so the gun was clearly falling off the power curve. But who ever gets 100 shots over 400 f.p.s. with a blowback pistol? You usually get in the high 200 f.p.s. range on guns that deliver that many shots and also blowback.
So, you can figure on shooting five full magazines per cartridge. Of course, Mac was waiting 10 to 15 seconds between his shots to let the temperature normalize. Shoot faster, and you'll get fewer shots at lower velocity.
The trigger-pull is estimated at 10-12 lbs. My gauge doesn't read that high. So, double-action shooting requires very deliberate aiming to realize any accuracy.
Important note
Recently, we've looked at several BB pistols, and they've all had some unique features. But they also have had prices well over $100. The SA 177 sells for roughly half that much, so consider that when you evaluate this gun. Next time, we'll look at accuracy.