by B.B. Pelletier

My new R8 made me sit up and take notice!
Today, I'll look at the accuracy of my new Beeman R8. I waited until now to do this test because I wanted to be off the IV and be capable of doing my best with this rifle. Along that line, I have some good news to share about my condition.
Last Thursday, I went for a walk outdoors. It was about a half mile or less around my housing subdivision, but it was all I could do at the time. When I finished, I was tired for about an hour, but then something wonderful happened. I awoke out of the fog I've been in since this thing began in March. My head cleared and I was able to think clearly for the first time.
The next day I stretched the walk and the day after that I went about one mile. I'm doing that every morning now and it gets my blood flowing for the day. I have jump-started my metabolism with the result that I'm able to eat all I want (though not to excess) and I'm losing weight, because I'm building muscle to metabolize the fat. I feel wonderful, which is why I felt I was ready to give this rifle a fair test.
This R8 was represented to me as a very accurate air rifle. Well, I hear that a lot in my job, and it doesn't always work out. Often, what someone else thinks is accurate is different from what I expect. Then, there are other times when my technique can drag out a decent amount of accuracy from just about anything (except for the B3-1). But it's a real strain.
Then there are those very rare occasions when I get a rifle in my hands that does everything the owner has told me it could do. Those rifles are the natural shooters of this world, and they're as scarce as hen's teeth. I think this R8 is one of them.
I shot this rifle at 25 yards, which is the longest range I can get at my house. I'm not yet able to drive to other ranges, so I have to work with what I have at home, but 25 yards is a good test for a spring rifle.
It always takes me some time to get familiar with every new rifle, so the first 20 shots or so are not for record. Fortunately, last weekend, we were all advising reader rikib of the need for repeatable head placement to cancel parallax, so the lesson was still fresh in my mind. The Tyrolean stock on the R8 seems perfect for benchrest, because I can feel the spot weld precisely. It took a while to get into the groove. Once I did, I simply could do no wrong with this rifle. I actually had to adjust the scope off the aim point to leave a spot to put the crosshairs, because this gun wants to throw every pellet into the same hole! I knew where every pellet was going, and they all went where I expected them to go.
The first pellet
I had been told that this rifle really likes JSB Exact RS domes, and they should be seated deep in the breech. That's what I started with. The scope needed some adjustment to shoot where I wanted, and that allowed me to get comfortable with the rifle. I found my lips kissing the front edge carving of the high cheekpiece, which gave me the perfect repeatable feel shot after shot.
The first group I fired for the record was unnerving! I stopped at just five shots, because I just didn't want to screw up that group. I wanted to have something good to show you even if I couldn't hold 10 shots for a group.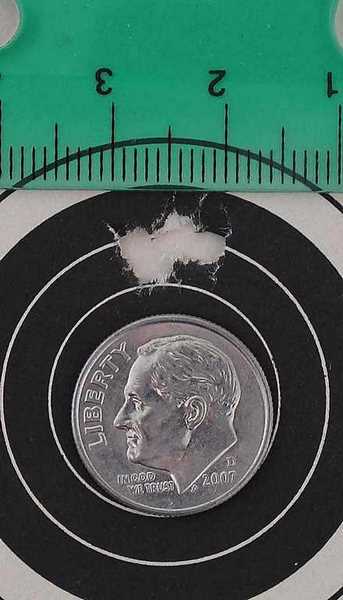 Five JSB Exact RS pellets shot into this group at 25 yards.
But I needn't have bothered, because it was easy to group 10 shots. This R8 groups like a fine PCP, and that's no exaggeration. If you do your part, you'll get a screaming group at 25 yards.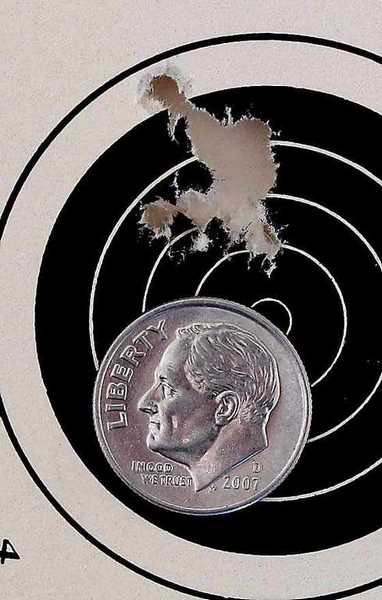 Ten more JSB Exact RS pellets went into this group at 25 yards. This rifle just puts them in there!
Crosman Premier lites
The next pellet to be tried was the Crosman Premier 7.9-grain dome.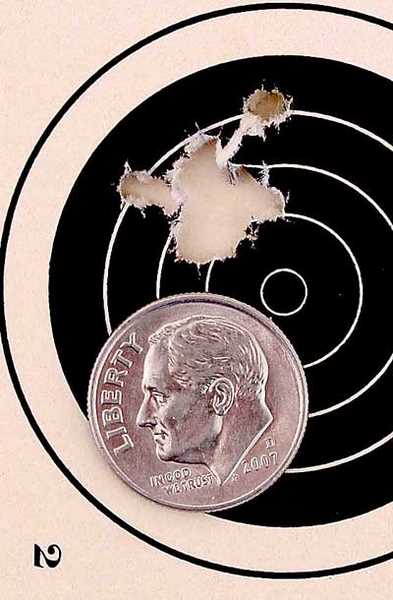 Ten Premier lites were just as tight as the JSB RS pellets at 25 yards.
H&N Field Target
The final pellet I tried was the H&N Field Target pellet. At 8.5 grains, these are from half to a full grain heavier than the other pellets I tried. They printed a slightly larger group at 25 yards, though it was all one hole, too.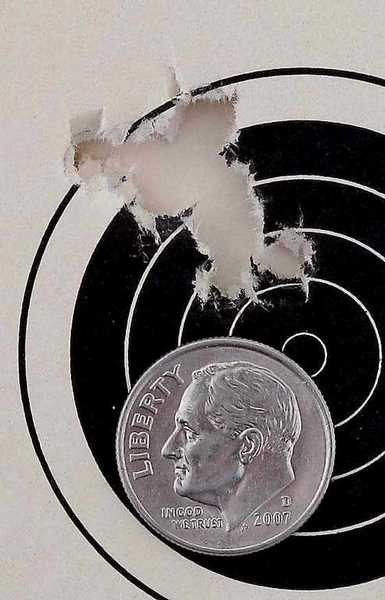 H&N Field Target pellets went into a slightly larger group at 25 yards.
The scope
The Burris 4.5-14x32AO scope is quite a piece of glass. Because of a bad experience I had with a Burris compact scope years ago, I've been off this brand, but the Timberline scope on this R8 has turned me around. This glass has the timeless quality of the old Beeman SS2 scope that still commands a place in airgunners' hearts and gun racks. It's clear, sharp and focuses as close as 21 feet on high power.
Wow!
This Beeman R8 is a natural shooter. Hold it correctly, and you won't miss your target. This particular rifle is beyond the norm because of the excellent Tyrolean stock. Normally, a Tyrolean stock restricts the rifle to just offhand use, but this stock allows for a good hold off the bench, too. That means it would probably work well in a number of hunting holds.
Besides being a knockout for looks, the stock complements the accuracy potential of the basic rifle. Lastly, kudos to whoever tuned it, because it shoots like a dream. A springer that's as accurate as a PCP doesn't happen every day.