Beeman R8: A classic from the past – Part 1
by B.B. Pelletier
Before I get started today, I'd like to remind all you BB gun collectors that the annual Daisy Get Together is coming up in Kalamazoo, Michigan, on August 22. It's open to the public from 9 a.m. to 3 p.m. and admission is $2. If that's not the best deal for an airgun show, I'd like to know what is. This is an advanced show, where the finest collectible BB guns in existence may possibly turn up.
For a flyer and more information, contact Bill Duimstra (616-738-2425 or ) or Wes Powers (517-423-4148).
Now, on to today's report. Wacky Wayne prompted this one. He asked a question about the R8 earlier this week; and, as I had recently acquired one, I thought it was time to share. Plus, I like giving you guys something interesting to chew on over the weekend.
The Beeman R8 was imported and sold by Beeman from 1983 through 1997. I had no idea it was that old or lasted so long until I looked it up in the new Blue Book of Airguns, 8th Edition. It was made in .177 only and produced 720 f.p.s. — presumably with lightweight pellets. I believe it was a kissing cousin of the Weihrauch HW50 of the day. It had Beeman R1 styling, which meant checkering on the pistol grip, a stock that extended to the end of the baseblock and a sharp contour to the cheekpiece. At 7.1 lbs., it was a slightly bigger brother to the R7.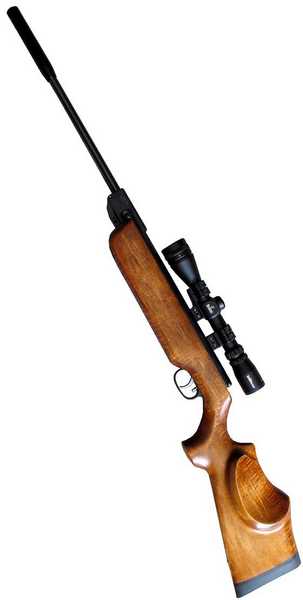 My R8 was customized inside and out.
As you can see from the picture, my R8 isn't 100 percent stock. In fact, it was extensively re-worked. Besides the stock, which I'll address in a moment, the action has all-new Maccari internals. It was tuned for smoothness but still has a powerful mainspring. The spring guide and top hat are custom, and the compression tube was burnished with moly for slickness. The piston seal is a Wasp.
The stock is Tyrolean but with an important difference. It's been thinned and canted to the left to align the shooter's eye with the scope. Often, the deeply cupped cheekpiece pushes your head to the left, making acquisition of the sight a chore, but this one comes up almost like an upland shotgun. That and the flat buttpad will help when benching the rifle. This rifle was created specifically for offhand mini-sniping.
Maccari supplied the shaped, high-grade, curly maple stock that was then reduced in thickness, sanded and stained with nitric acid. Eight coats of Permalyn were applied, then sanded and waxed to give the luster you see here.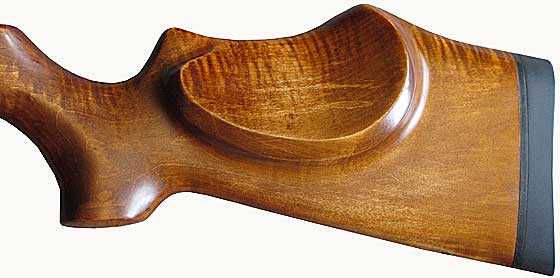 The butt was thinned to keep the shooter's face aligned with the scope. It's also canted to the left. The pistol grip has a palm swell.
The Beeman R8 has a two-piece, articulated cocking link that allows the cocking slot at the bottom of the forearm to be very short. That should make the firing cycle smoother.
The scope is also quite special. It's a Burris Timberline 4.5-14×32 without AO but clear at max magnification at 21 feet. It is an exceptional optic, and I hope to have more to say about it as I test the rifle for accuracy.

Burris scope delivers remarkable performance in a small package.
Although I currently need to use two hands to cock a 124 (weakened from my hospital stay), I can cock this one with one hand — easily. We'll look at velocity next.
Tags In
Tom Gaylord is known as The Godfather of Airguns™ and has been an airgunner for over a half-century, but it was the 
Beeman
 company in the 1970s that awoke a serious interest in airguns. Until then, all he knew were the inexpensive American airguns. Through the pages of the Beeman catalog, he learned about adult airguns for the first time. In 1994, Tom started
The Airgun Letter
 with his wife, Edith. This monthly newsletter was designed to bring serious reports about airguns to the American public. The newsletter and
Airgun Revue
, a sister magazine about collectible airguns, was published from 1994 until 2002, when Tom started
Airgun Illustrated
-- the first American newsstand magazine about airguns. Tom worked for three years as technical director at
AirForce Airguns
, the makers of the 
Talon, Condor, and Escape
 precharged air rifles. Today, he writes about airguns and firearms for various publications and websites. He also makes videos, and you'll find short clips embedded in some of his artices on Pyramyd Air's website. Tom is a consultant to Pyramyd Air and writes under the name of B.B. Pelletier.