by B.B. Pelletier

Well, it was inevitable. Just as I was reporting on the Umarex Steel Storm, somebody said they had heard that the new Umarex EBOS (Electronic Burst of Steel) was the better BB submachine gun. If you go looking for the EBOS, don't look among the air pistols. Even though the firearm it is copied from probably fires a pistol cartridge, the presence of a fixed shoulder stock has caused Pyramyd Air to place this BB gun among the rifles.
There will probably be debate over which of these three new BB submachine guns is the best for a long time to come. I won't get into that, but I'll review the same things on all of them so you can make up your own mind.
And a word on the accuracy testing of all three guns. I have ordered some RWS BBs that one reader praised for extra accuracy. I want to include these BBs in the accuracy tests of all three guns, plus I will also test the Daisy No. 25 BB gun. If there's a good enough result, I will show it. I will not test them with Daisy Avanti BBs because of the price and the fact that these are submachine guns.
For those of you who were wondering where the Drozd fits in among these new BB submachine guns, the EBOS would seem to be its direct competition. It has an electrically driven action that allows for two sizes of automatic bursts as well as semiautomatic fire. It also offers three rates of automatic fire during the two bursts — 300, 400 and 500 rounds per minute.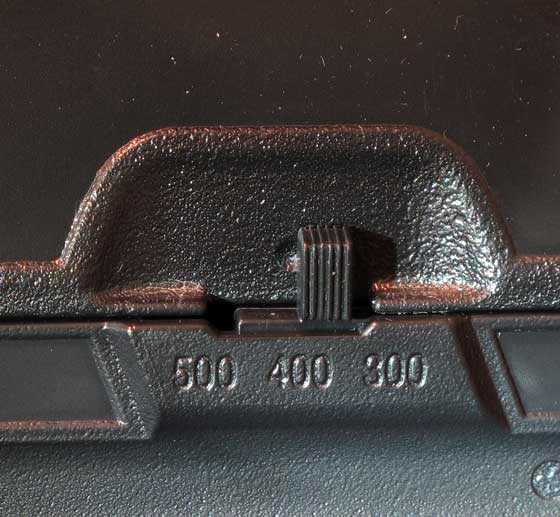 Three rates of fire are selectable. Semiautomatic fire (one shot per pull of the trigger) is selected by a different switch on the other side of the gun.
In reading the user comments, I see where someone has requested that the cyclic rate be increased to 800 r.p.m., so perhaps this gun will seem realistic to me after all. If it is, it will be much more to my liking, because I was trained on automatic firearms that shot from 400 to 900 r.p.m. I don't relate very well to the "carpet-rippers," as the high-rate guns are often called.
The EBOS advertises a muzzle velocity of 540 f.p.s., which, if true, will make it the hottest BB gun I've ever tested. The previous record-holder was an Anics pistol that's been obsolete for about five years. A velocity this high in a BB gun is almost a liability, what with the way steel BBs ricochet. I'll have to give some thought to how this gun needs to be tested, lest I blow through my Crosman 850 BB trap.
The EBOS uses 88-gram CO2 cylinders, or what Crosman likes to call AirSource cartridges. Of course, you don't want to forget that Umarex has their own Walther-brand cartridges. These larger cylinders fit into the part that becomes the stock of the gun. The gun features a built-in, 24-shot forced-feed BB magazine fed from an onboard 400-shot reservoir.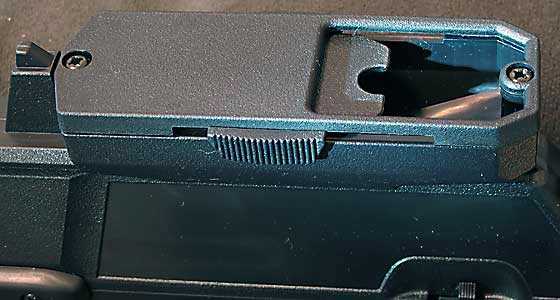 Just pour in up to 400 steel BBs.
Now I am going to do something I almost never do, but in this case the facts are so blatant that they warrant a comment. The price point of the EBOS is so much lower than the Drozd Blackbird that I seriously wonder if it is going to cut into the sales of the Russian gun. Usually, when there's a small difference, even up to $50, there wouldn't be much competition, but the EBOS is nearly one-third the cost of the Drozd Blackbird, which also accepts 88-gram cartridges. That may change demand in the market.
Some design features explained
Of course, this gun is mostly plastic on the outside and very lightweight — 3 lbs. without BBs and a CO2 cartridge installed. And I want to draw your attention to two design features that are visually misleading. What appear to be Picatinny mounts on both sides of the gun are simply decorative embellishments. They will not hold any thing. The two true Picatinny rails are on top of the receiver and at the bottom. Also, what appears to be a thread pattern behind the muzzle is actually a series of concentric plastic circles that do not accept any muzzle attachments.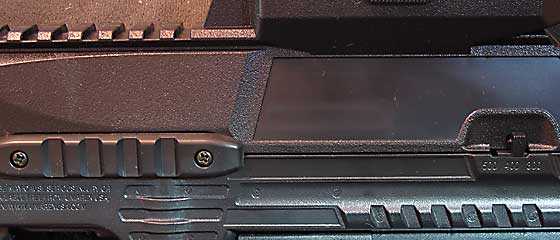 Although the sides of the gun appear to have Picatinny rails, they're simply decorative. The real Picatinny rails are at the top and bottom of the gun.
Sights adjust
There has been some criticism of the top-loaded BB reservoir, and I don't understand why. The adjustable sights clear it fine and so will most dot sights. It isn't a hindrance in any way I can see. The rear sight is adjustable for both windage and elevation, and I can't wait to try it out. This is the only one of the three BB submachine guns I'm testing that has a stock. That makes the open sights workable.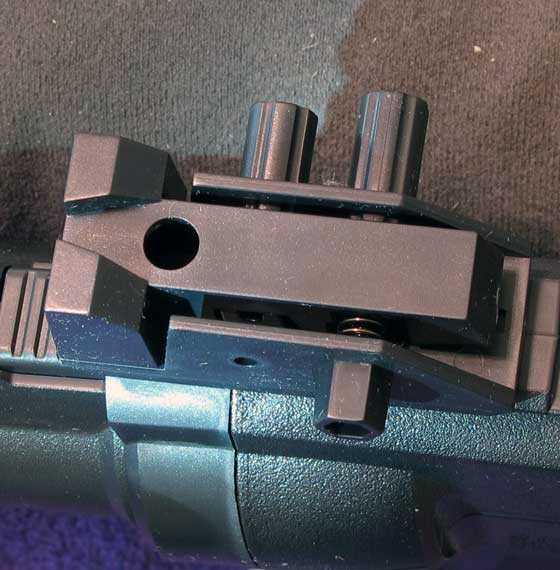 The rear sight adjusts in both directions.
The EBOS seems to be the biggest and baddest of the three newcomers. But testing will show all.